Today is the last day for SLLIS families to let us know if you're interested in a tuition-based Pre-K seat! Tuition is on a sliding scale, so many families could qualify for financial support. If you're interested, please complete this quick form:
https://tinyurl.com/sllisprek
. You can find further details about enrollment in the Downtown Pre-K Cooperative Program here:
https://5il.co/169d9
. We hope your three and four-year-olds will join us!

We've updated our calendar for the current 2021-2022 year and finalized the calendar for 2022-2023! Changes for this year include moving the last day of the year to May 26, 2022! See the images attached or go to
https://www.sllis.org/browse/20228
to print your copies!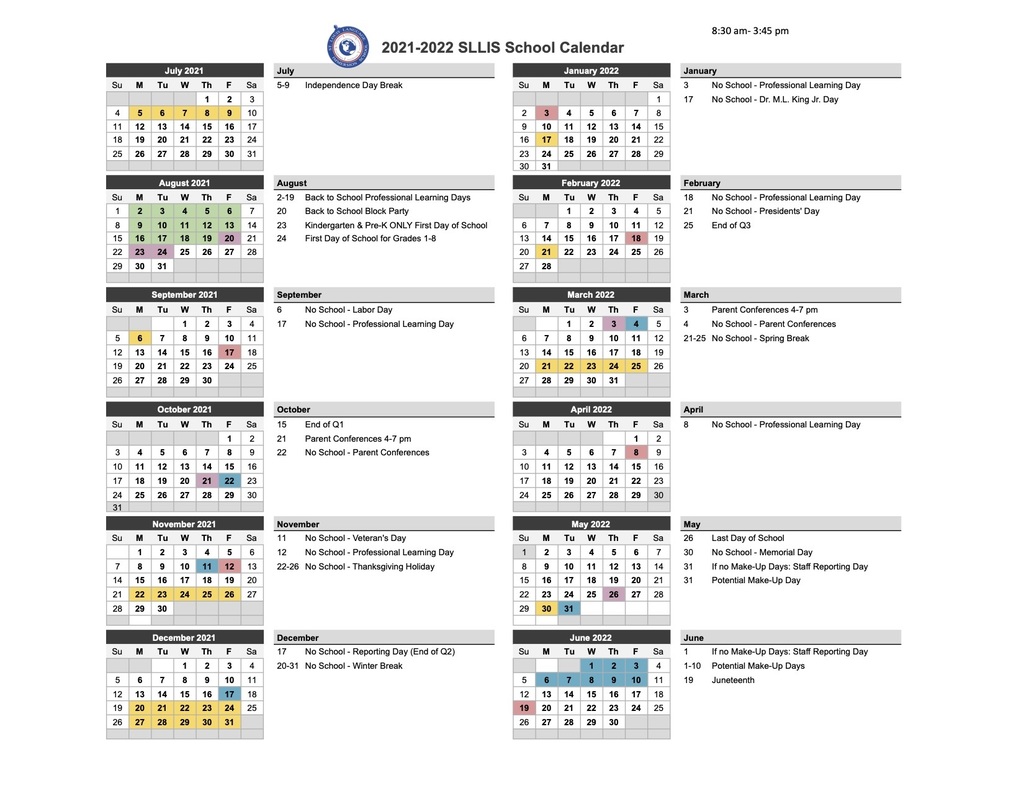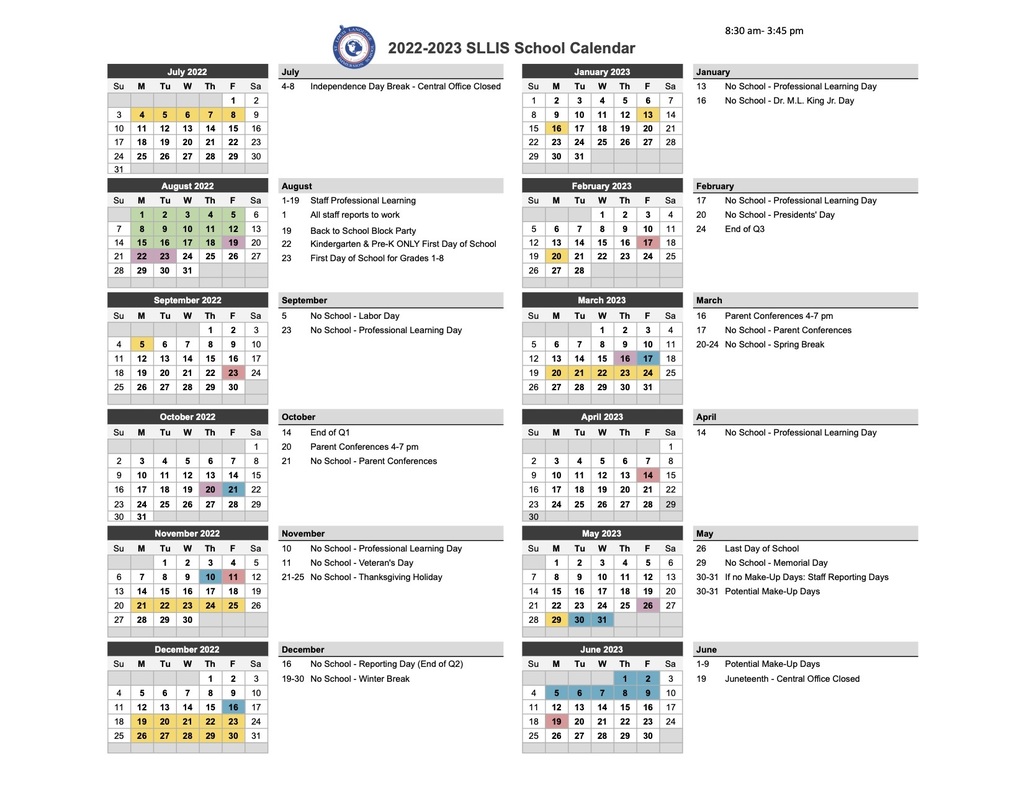 SLLIS is hiring!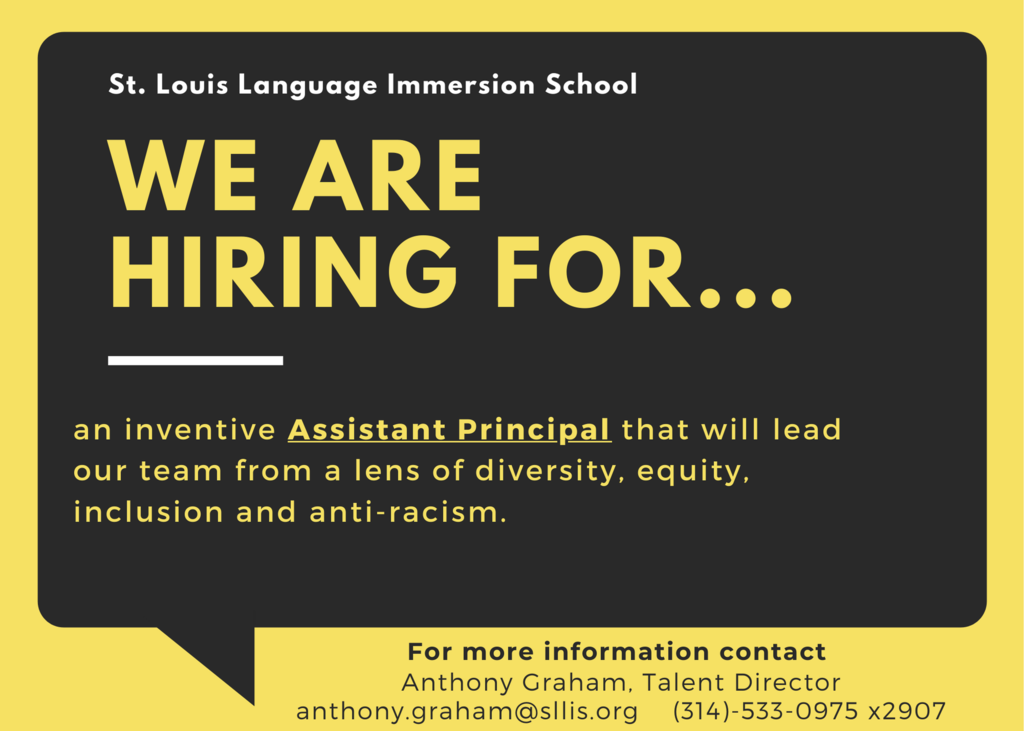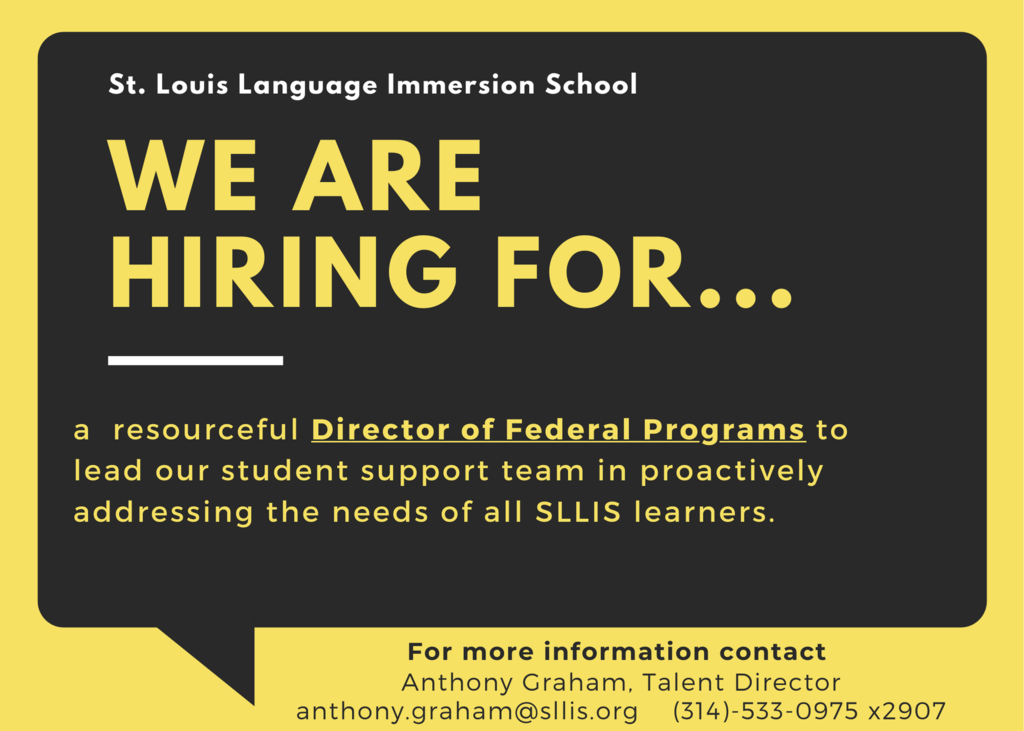 Join us for another Middle School open house on April 12! Details attached!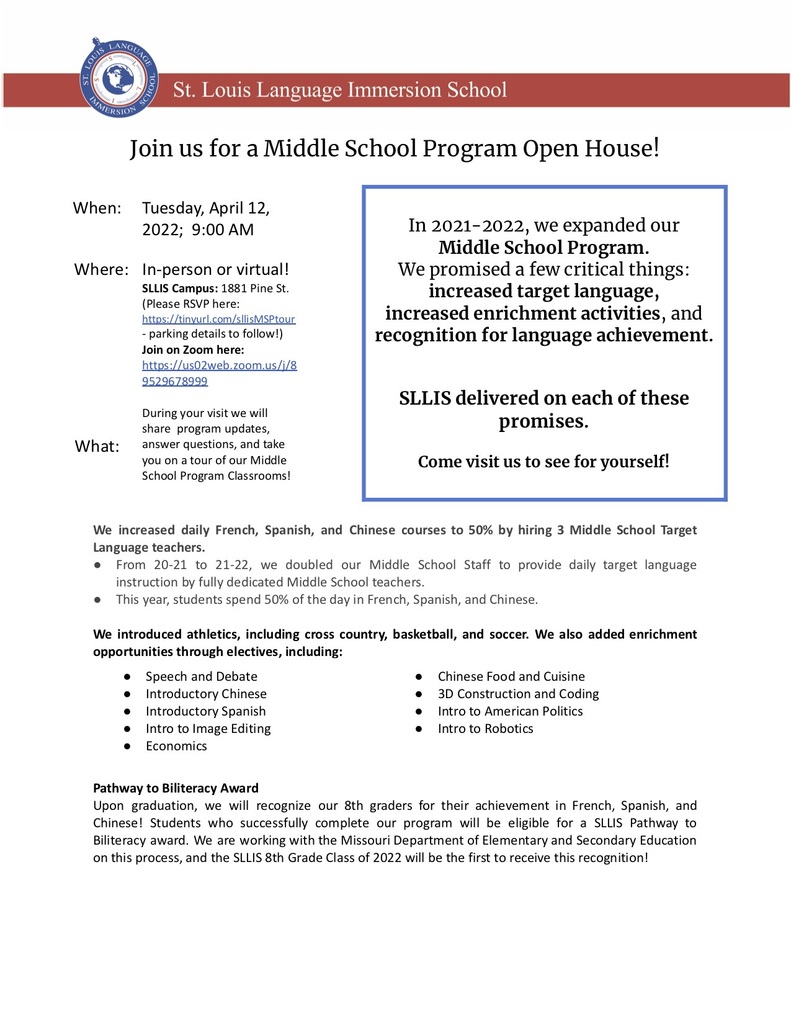 Can't make it to the Middle School open house in person? Join us virtually today at 9 AM! During your visit we will share program updates, answer questions, and take you on a tour of our Middle School Program Classrooms! Join on Zoom here:
https://us02web.zoom.us/j/84761830196

SLLIS is hiring!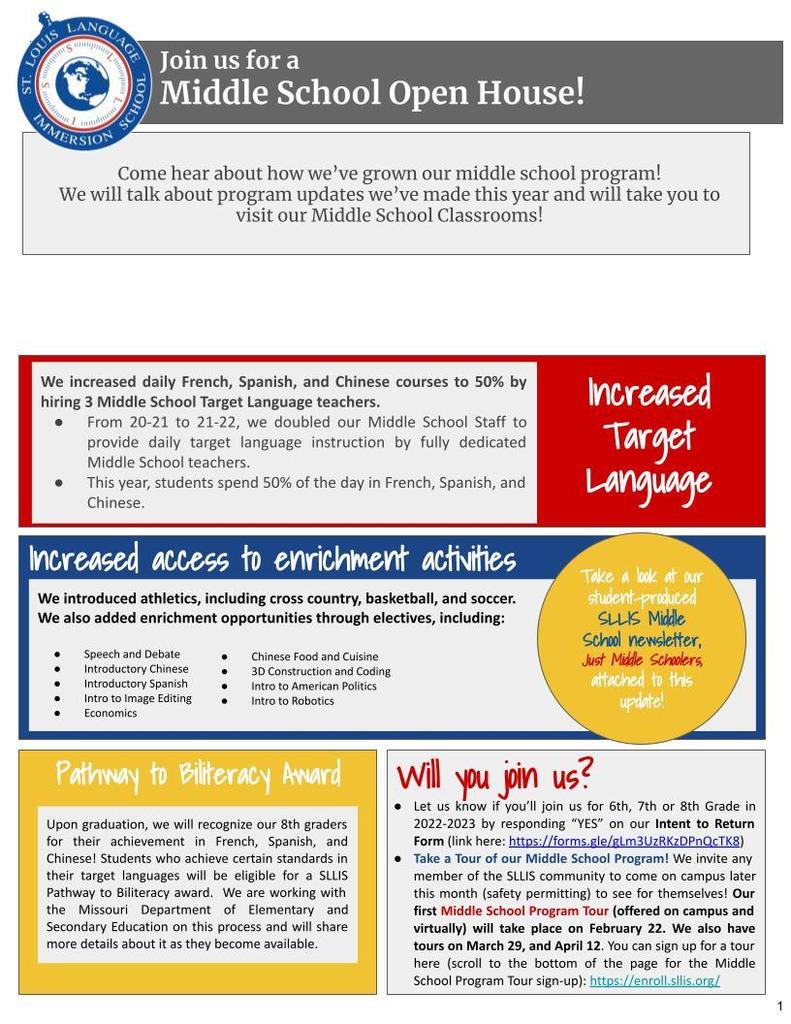 STL LANGUAGE IMMERSION SCHOOL Spring Personality Picture Day is: Monday, April 11, 2022 Dress your best from head-to-toe because Wagner Portraits will be at school to photograph creative studio-like personality portraits! All students will be photographed and picture purchases help support our school. PRE-ORDER BEFORE PICTURE DAY & RECEIVE A FREE 4X10 DESK COLLAGE: CLICK HERE TO ORDER
https://bit.ly/3tiaTlw
www.WagnerPortraitGroup.com
Online Pre-Order Password: 8A5Y8Q4 All pre-orders receive: Free 4x10 Collage + Free shipping to school + Best pricing Thank you for your participation! Please direct all questions, concerns, or special requests directly to Wagner Portrait Group. We are happy to help! 314-567-5900 1-800-444-7986
www.WagnerPortraitGroup.com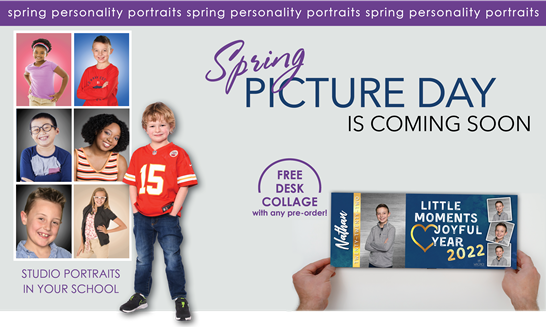 SLLIS is hiring!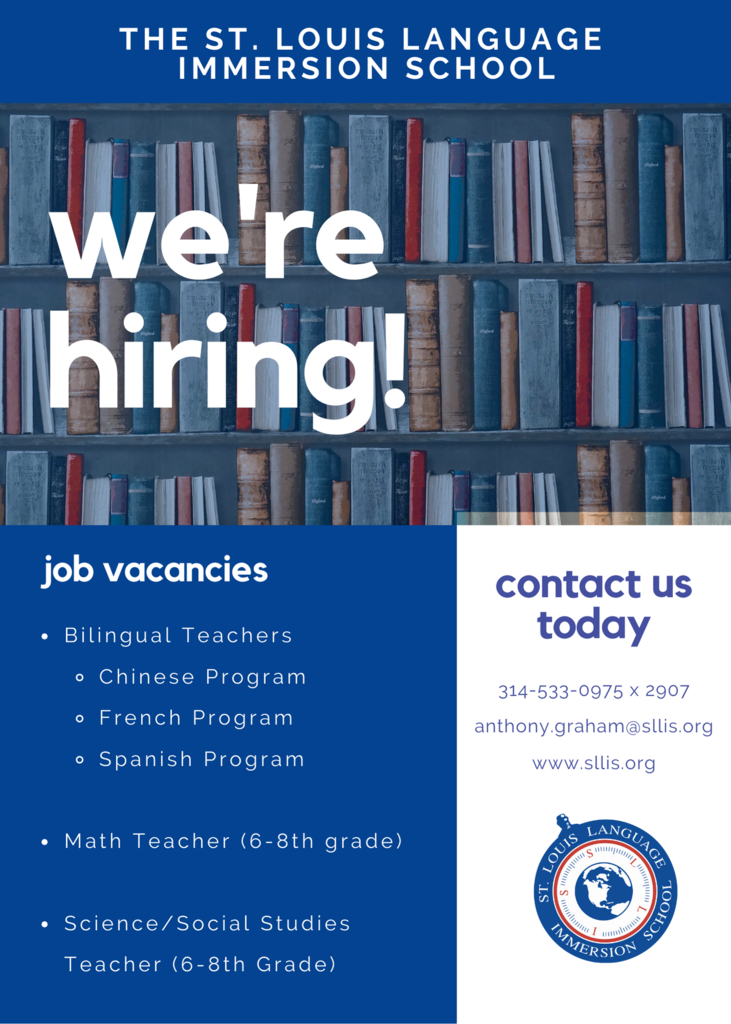 At tonight's SLLIS Board of Directors meeting, we will hear Assistant Principals Hannah Stout and Michael Wheeler share details on SIPPS Implementation and Middle School Enrichment happening this year! Join us on Facebook Live at 6:00 to hear more!

Join us tomorrow night, 3/16/22, for the March 2022 Board of Directors meeting!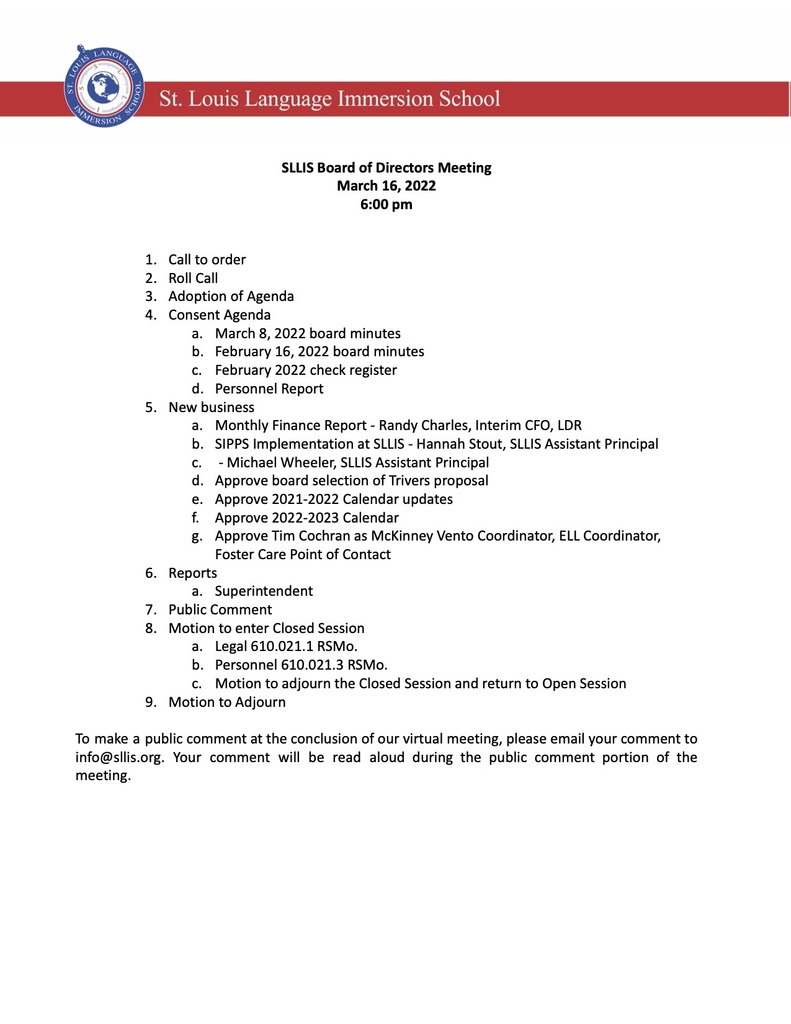 You are all invited to watch our Francofun event (French speaking countries celebration)on March 18th with the French Program live on Facebook!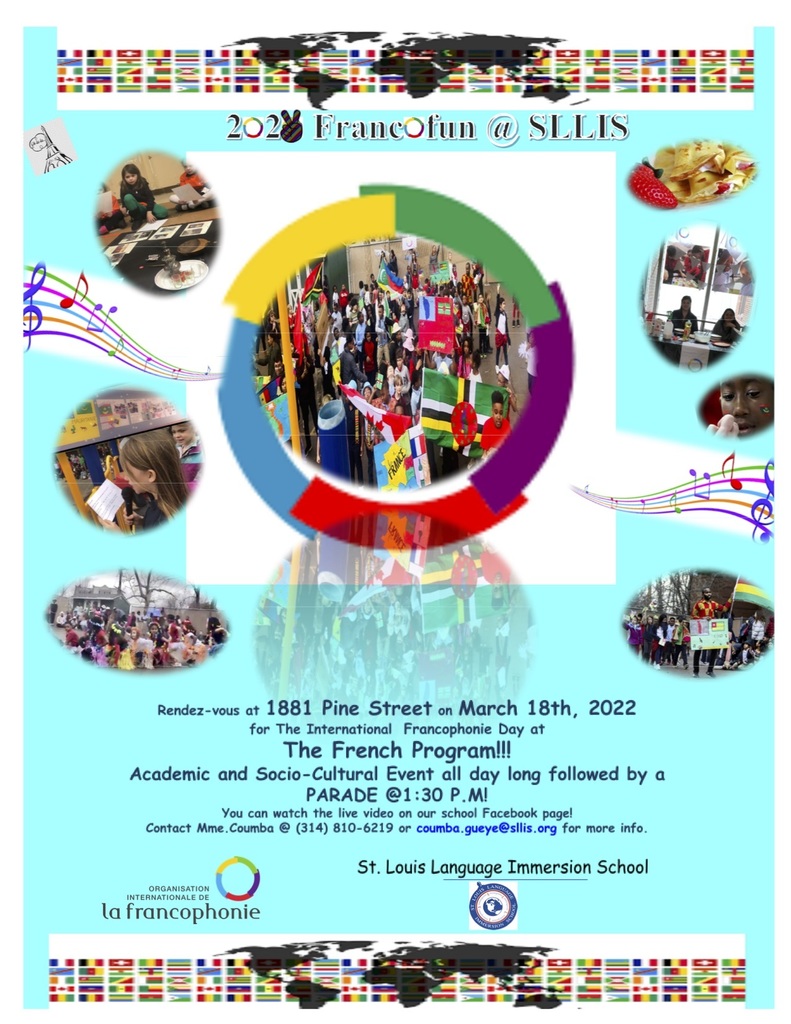 Come join fellow SLLIS families on Saturday, March 19th at the Tower Grove Farmers Market! The PTO is organizing this meet-up for all SLLIS families to have the opportunity to gather together socially. Meet in Tower Grove Park at the fountain between the playgrounds near the Roman Pavilion at 10am. Start off Spring in the park, play on the playground, explore the farmers market, and meet other SLLIS families! More information on the park or the farmers market can be found at
https://www.towergrovepark.org/
. See you on the 19th!

This morning the SLLIS Board of Directors approved our updated COVID-19 Procedures and Timeline. You can find the details here:
https://5il.co/16wkr
. Thank you for your feedback in this process!

Here is the agenda for the SLLIS Board of Directors Special Meeting scheduled for Tuesday, March 8 at 9:00 am on Zoom.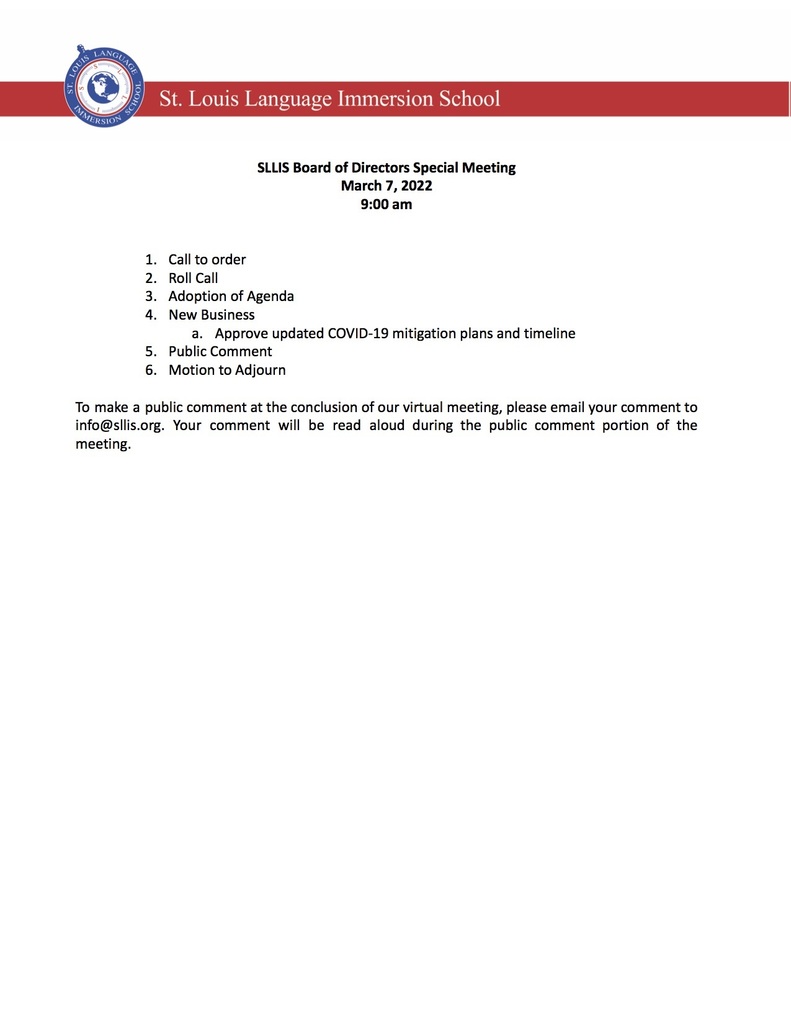 CORRECTED LINK: SLLIS families: Please check your email or go to
https://5il.co/16r47
for an important update and survey regarding COVID safety procedures!

Parent Teacher Conferences All conferences are virtual Thursday, March 3rd 4:00- 7:00 Friday, March 4th 8:00- 12:00 Parent Listening with Principal Blackwell March 17, 2022 12:00-1:00 7:00- 8:00

SLLIS is proud to offer Pre-K seats on its campus through the Downtown Pre-K Cooperative! Click here (
https://5il.co/169d9
) for details about how to enroll your three or four-year-old for 2022-2023! Applications for free seats are due 3/17/22. Interest forms for tuition seats are due 4/1/22. ¡SLLIS se enorgullece de ofrecer cupos de Pre-K en su campus a través de la Cooperativa de Pre-K del Centro! ¡Haga clic aquí (
https://5il.co/16j2g
) para obtener detalles sobre cómo inscribir a su hijo de tres o cuatro años para 2022-2023! Las solicitudes para los asientos gratuitos vencen el 3/17/22. Los formularios de interés para los cupos de matrícula vencen el 4/1/22.