Good afternoon, SLLIS! We wanted to share an update on recent technical challenges. Changing class and staffing schedules can be highly disruptive, so before attempting a huge schedule change for virtual and in-school learners to improve wifi connectivity, we tried over a dozen strategies to address the technical issue. Unfortunately, these strategies made little difference in solving the problem. Next week we plan to finalize changes to Virtual Academy and In-School Learning schedules that will allow all SLLIS students to have a much improved learning experience. We will be in touch with details about these changes early next week!
Here is page 2 of the Principal's Listening Session Central Office Feeback!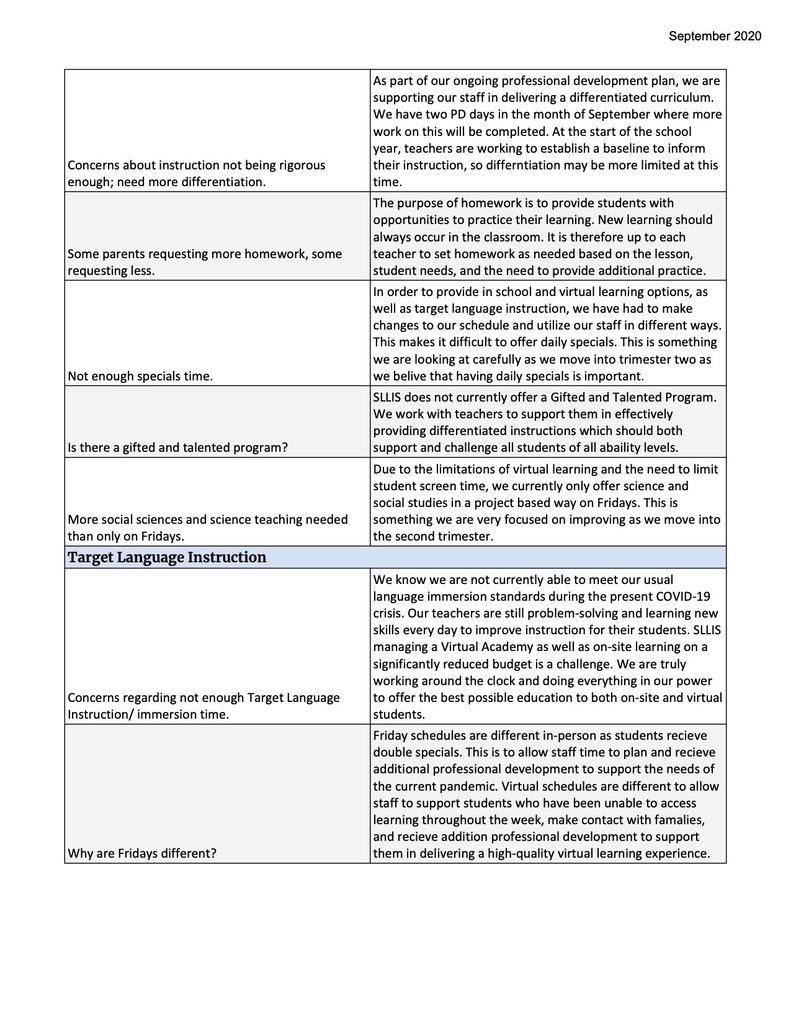 SLLIS Council: Thank you for meeting with me earlier this month for our "Principal's Listening." We have heard your feedback and want to share our responses with you! We appreciate your patience and flexibility as we navigate this unprecedented start to the school year.
Please remember, SLLIS will not have school tomorrow, 9/18, or Monday, 9/21 due to staff professional development. We will see you on Tuesday the 22nd!
Here is our agenda for the SLLIS Board of Directors virtual meeting tomorrow, 9/16/20 at 6:00PM. You can watch the meeting via Facebook Live. If you would like to make a public comment during the meeting, please email
info@sllis.org
!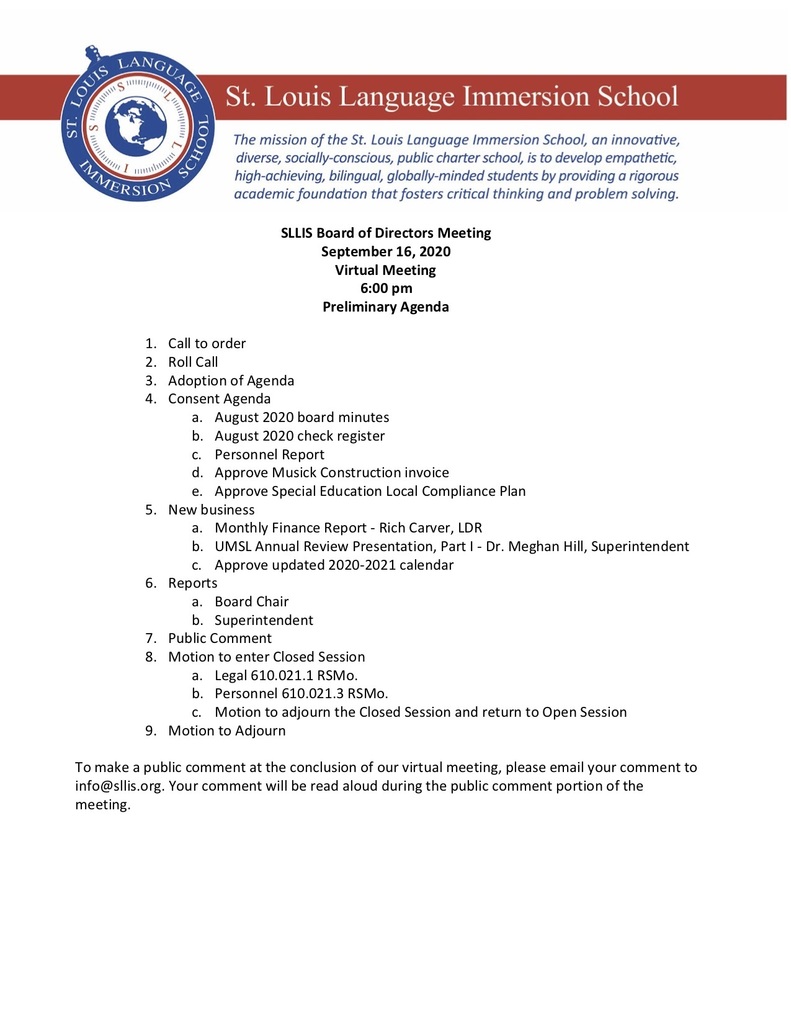 Hello, this is a friendly reminder from SLLIS! As we announced on September 4, there will be no school this Friday, 9/18, or Monday, 9/21 due to staff professional development.
Let's hear from you for Trimester 2! The attached flyer includes details about how we will listen to each and every stakeholder voice as we plan for Trimester 2 instruction during the pandemic.
https://www.sllis.org/o/sllis/browse/167023

After a full month of In-School Learning, SLLIS is very proud to report ZERO transmission of COVID-19 with ZERO confirmed cases for on-site students and staff! Thank you to our In-School staff and families for their exemplary commitment to health and safety! #safeatSLLIS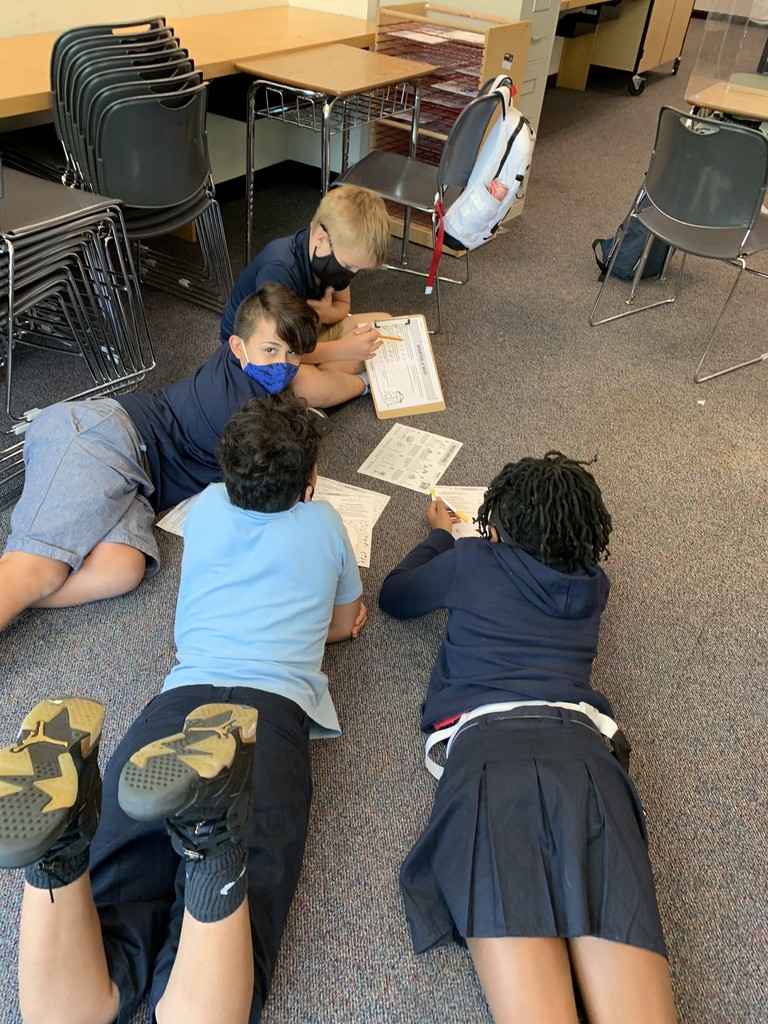 Hello! We are practicing a fire drill at 9:00 am, so Virtual Learning may be briefly interrupted at that time. Thank you for your patience!
Hello! Please complete this important survey regarding the current learning plan, which will help us work with you to plan for trimester 2!
https://forms.gle/kikntHg8HGRgboTj6
Dear SLLIS Families, Please join me on Wednesday, September 2 for our first SLLIS Council Virtual Listening and Feedback Session on Zoom. I look forward to meeting each of you and hearing your thoughts. -Principal Sharifa Blackwell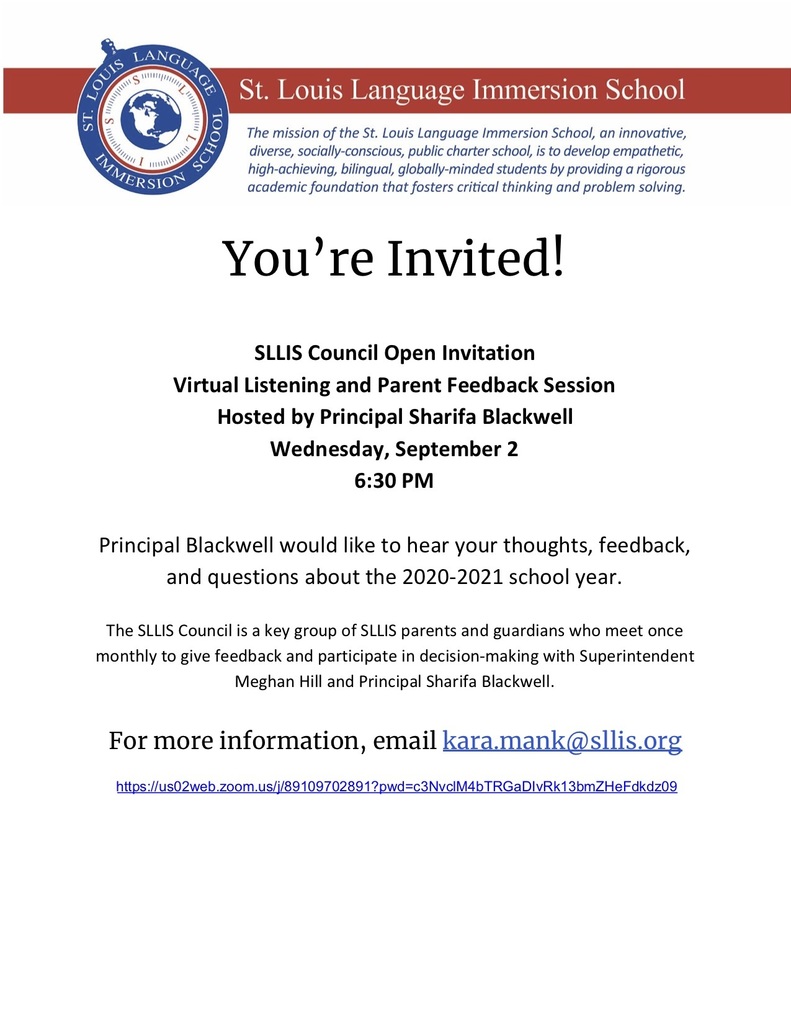 Due to protests scheduled in the downtown area, we will be dismissing car riders at 3:15 today, Friday, August 28. Pick-up for car riders will continue from 3:15 until 3:45. At 3:45, busses will be lining up to pick up students on Pine Street. Thank you!
Hello, SLLIS! Unfortunately, we are still experiencing internet outages in the downtown area, including the SLLIS building. We have been working diligently to resolve the issue with our internet provider. We apologize for this disruption in learning. Live teacher-led Target Language instruction is cancelled for this afternoon, Thursday, August 27. We will soon post a list of independent learning resources on our website, including resources for Target Language Practice. Teachers will also attempt to put this list of resources onto their Google Classrooms. We thank you for your patience and understanding! Please email
info@sllis.org
if you have any questions.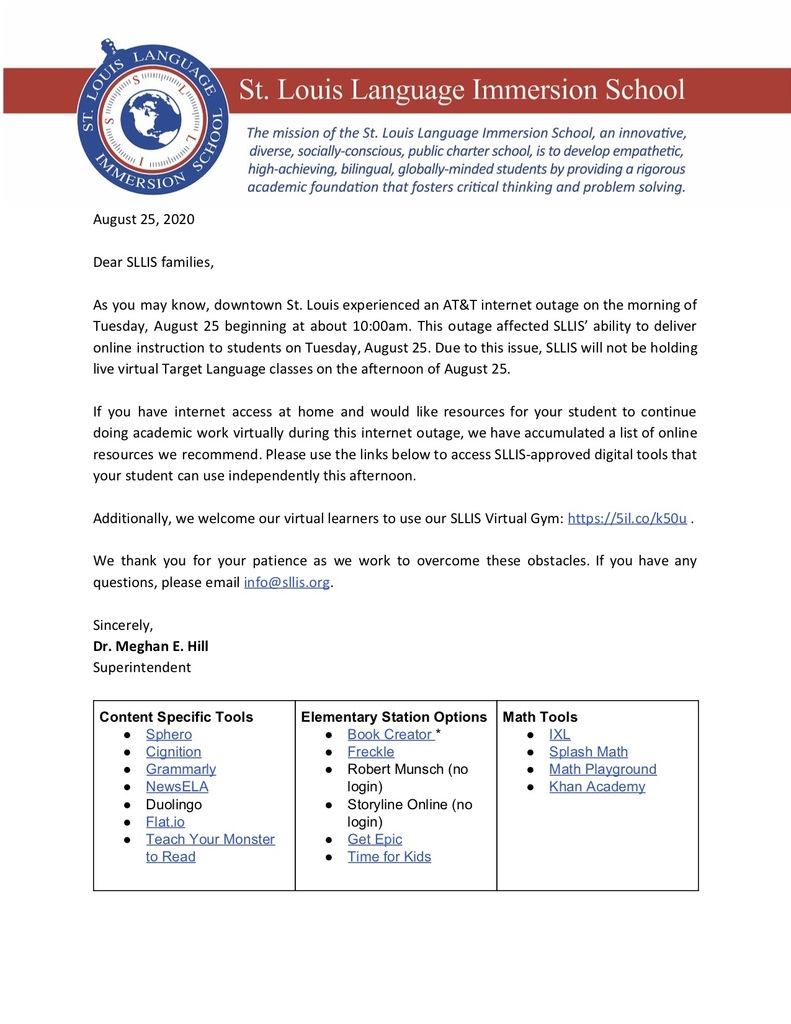 Good morning! For those of you in Virtual Academy, we wanted to let you know we're experiencing some wifi outages this morning in our building. We are working to resolve the issue and will keep you updated.
Here is the agenda for the SLLIS Board of Directors virtual meeting tomorrow, August 19, at 6:00 PM! To make a public comment, email
info@sllis.org
.