Here is the agenda for our Board of Directors meeting tonight, 10/21, at 6:00 PM! Tune in on Facebook Live to watch.
We're wrapping up our 2020 Virtual Fundraiser and want to thank those who donated! All donors will be entered into a raffle on Facebook Live on Monday, 10/26 at 1:00pm for a chance to win a $100 gift card to Cafe Napoli Italian Ristorante or Paul Manno's! If you'd still like to donate you have until noon on October 26 - just visit our fundraising page to make a contribution to SLLIS:
www.sllis.org/virtual-fundraiser
.
Reminder: Any students interested in getting a flu shot at SLLIS must submit their paperwork by the end of this week! Shots will be administered on 10/29.
The Scholastic Book Fair is coming on November 2nd! Students in-person will have the opportunity to visit the fair at SLLIS, and we will be running a virtual book fair alongside it for our virtual students. For our in-person students, we are strongly recommending the use of the e-wallet system. This allows students to shop at the book fair as they would normally but will use their pre-paid account instead of cash. eWallet funds are not refundable. Any unused eWallet funds that remain after the Book Fair ends, or if the Book Fair is cancelled, are available for use in the Scholastic Store Online. Click the link below for more information on both the in-person and virtual book fairs and to learn more about the e-wallet system:
https://www.scholastic.com/bf/stlouislanguageimmersion
Thank you for supporting our student's love of reading!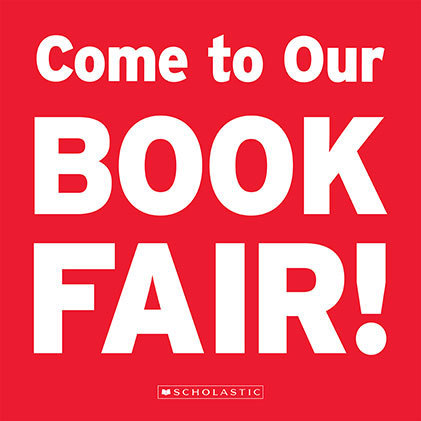 SLLIS is hard at work preparing for Trimester 2! Our staff needs time to plan for a safe and successful launch, so we will have an early dismissal on Thursday, October 29. Bus routes and pick-up will begin at 11:30 am, and students can take a "grab-and-go" lunch. Flu shots will still be given to students who signed up prior to dismissal. There is no school on Friday, October 30. We're looking forward to launching Trimester 2 on November 2nd!
We would like to invite all students, both virtual and in-person, to participate in our first spirit week of the year. This will take place on the week of October 26th!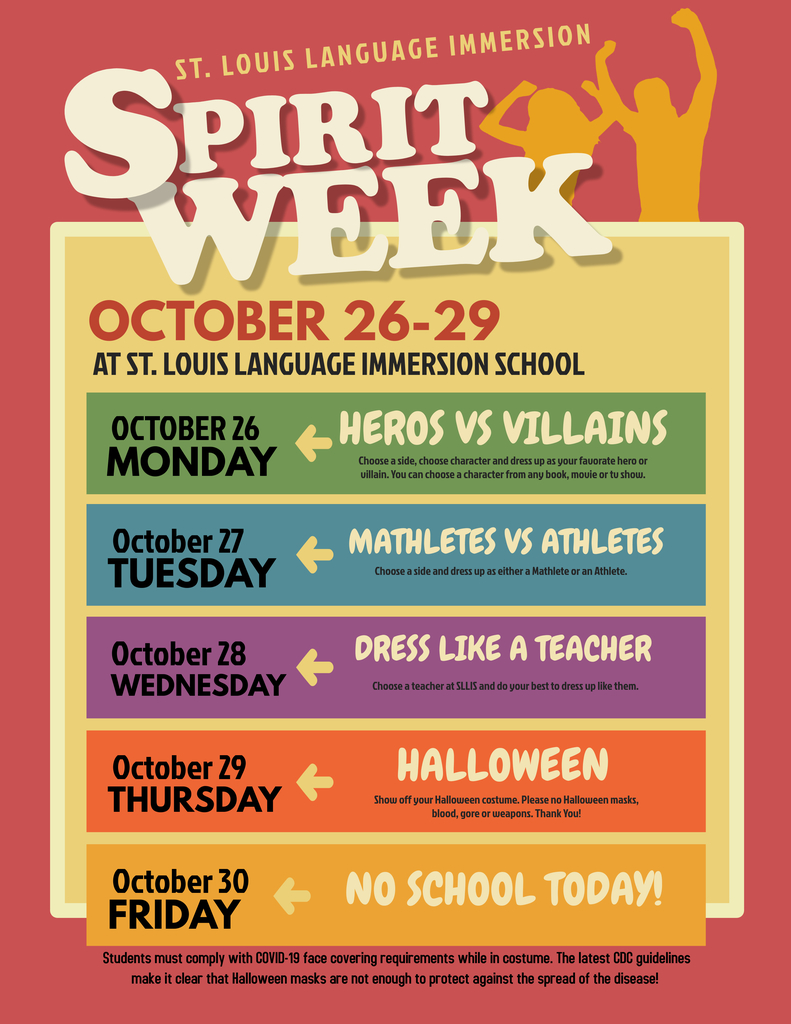 As we close out our SLLIS Virtual Fundraiser, we want to extend a special thank you to our presenting sponsor, Emerson. We also want to recognize Ameren and Delta Dental for their generous support of SLLIS in response to the pandemic! We will draw winners for restaurant gift cards next week and have recognized all our generous donors on our website:
https://www.sllis.org/virtual-fundraiser
. Thank you!!!
Hello, SLLIS families! We need to know your learning choice for Trimester 2 so we can make detailed plans! The deadline to complete the survey is tomorrow, October 16.
https://forms.gle/EGjhQHNcWsEERtEX8
ST. LOUIS LANGUAGE IMMERSION SCHOOLS Picture Day is: Friday, October 23, 2020 for In-Person Students Wagner Portrait Group will be photographing students for portrait packages & school records. This will be your special opportunity to purchase your school pictures! CLICK HERE TO ORDER:
https://bit.ly/2H0ibVw
Don't forget to dress appropriately as the school dress code will apply. Please direct all questions, concerns, or special requests directly to Wagner Portrait Group. We are happy to help! 1-800-444-7986
info@wagnerportaitgroup.com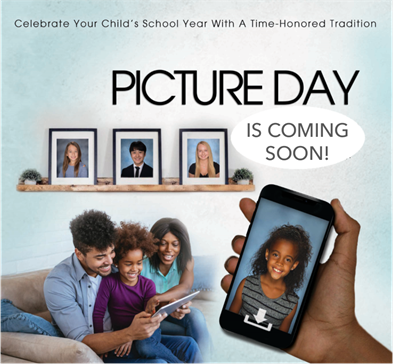 Attention families of In-Person students. We have started using PikMyKid for our daily dismissal, and you should have received an email with instructions on how to get setup with the app. Attached is some more information to help you get started. Please remember to use the app daily when you pick students up from SLLIS.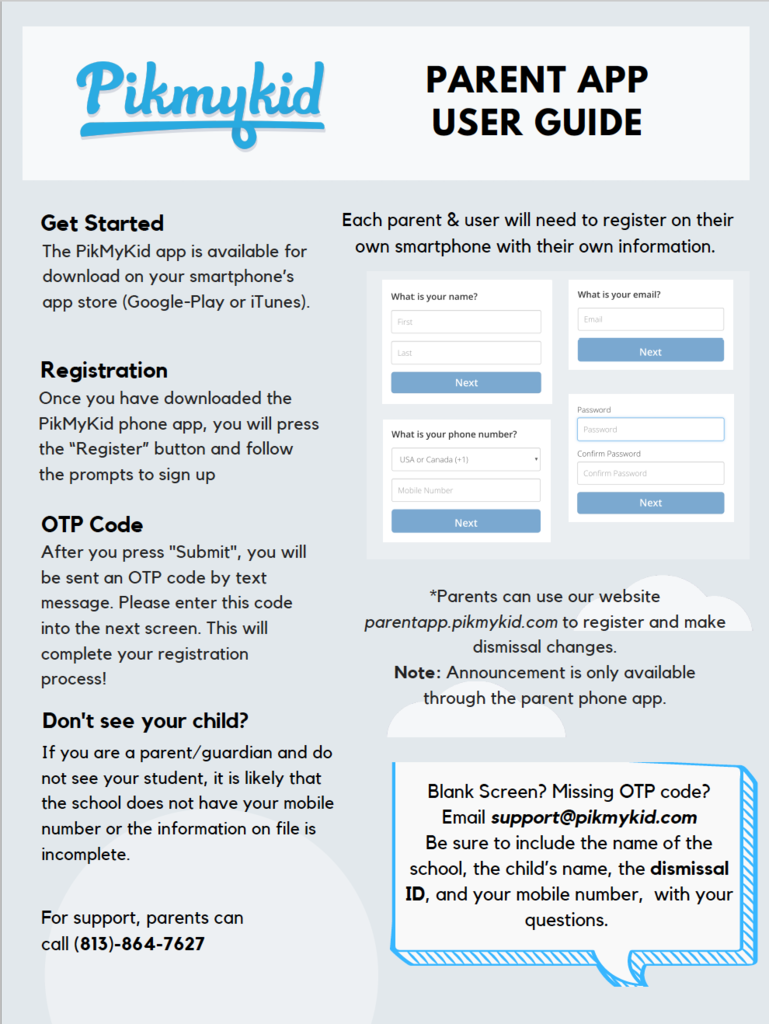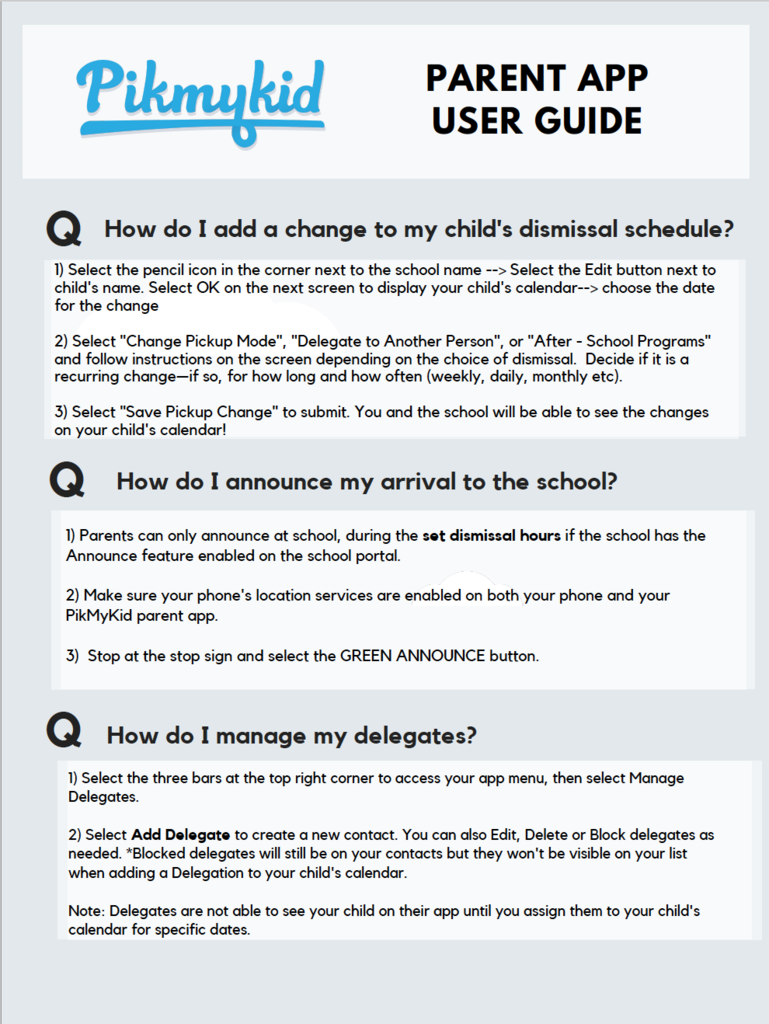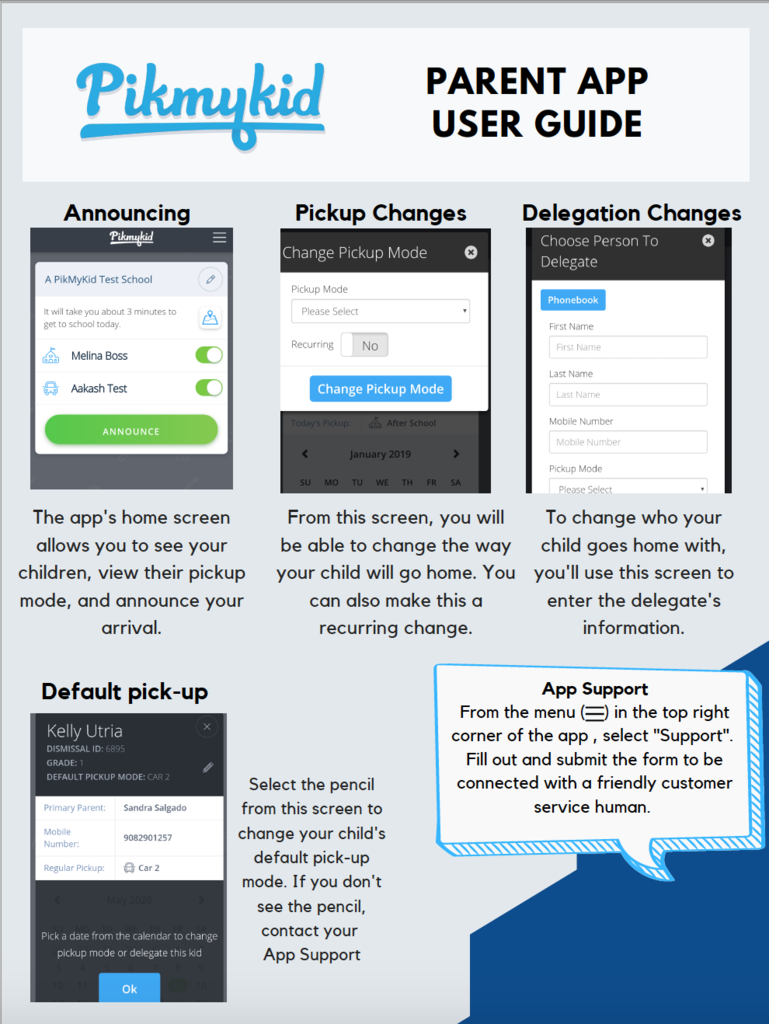 Hello, SLLIS families! Please see information attached about free eye exams through Eye Thrive during the month of October.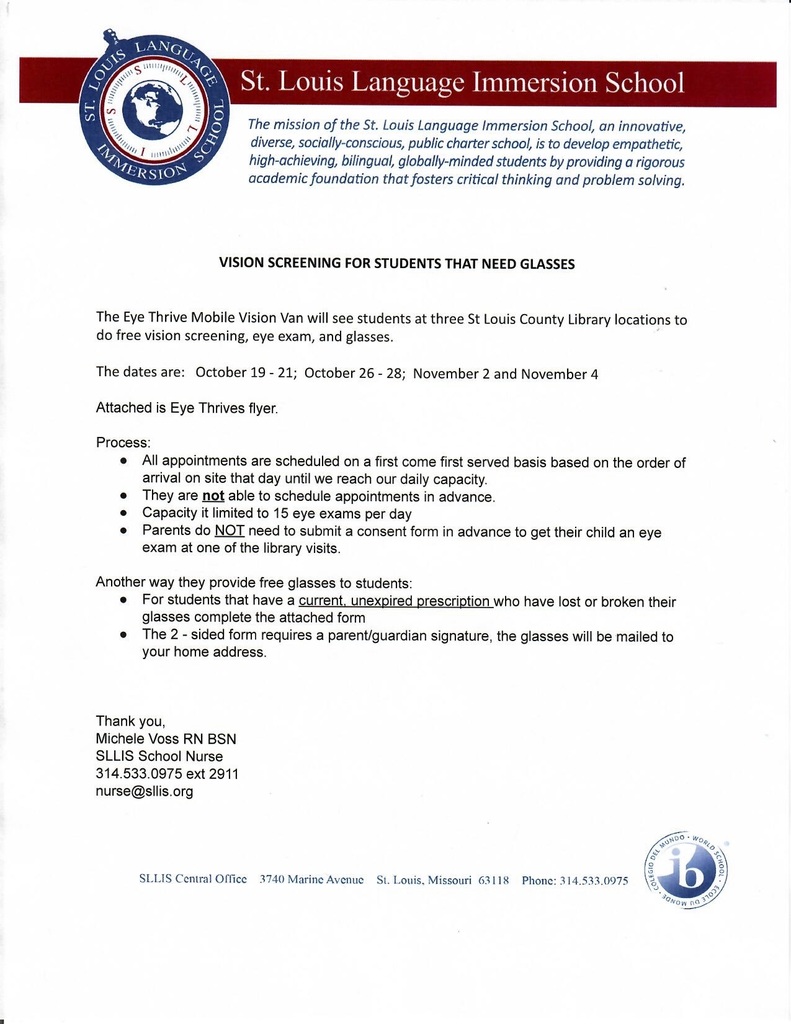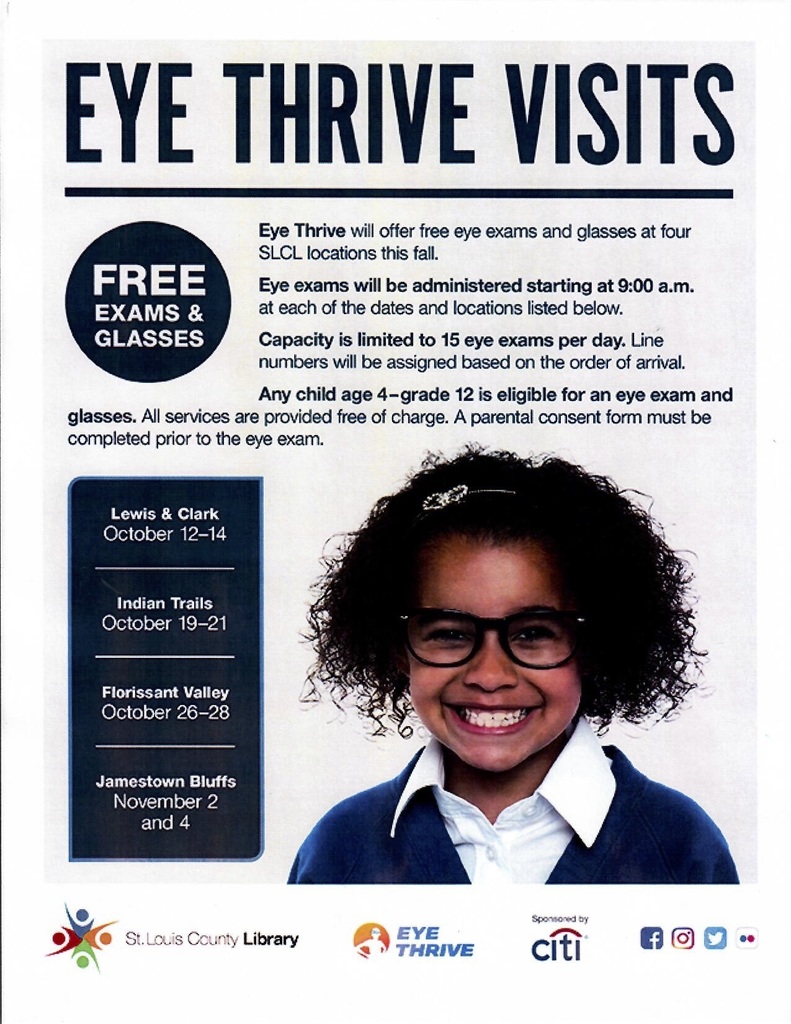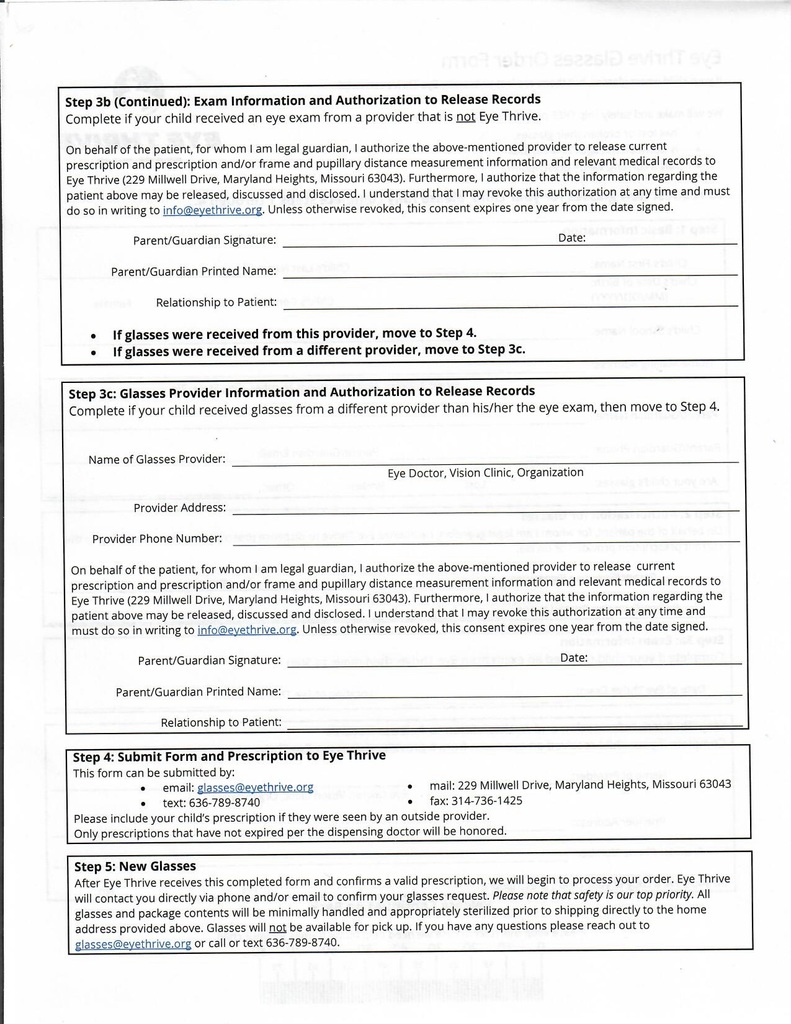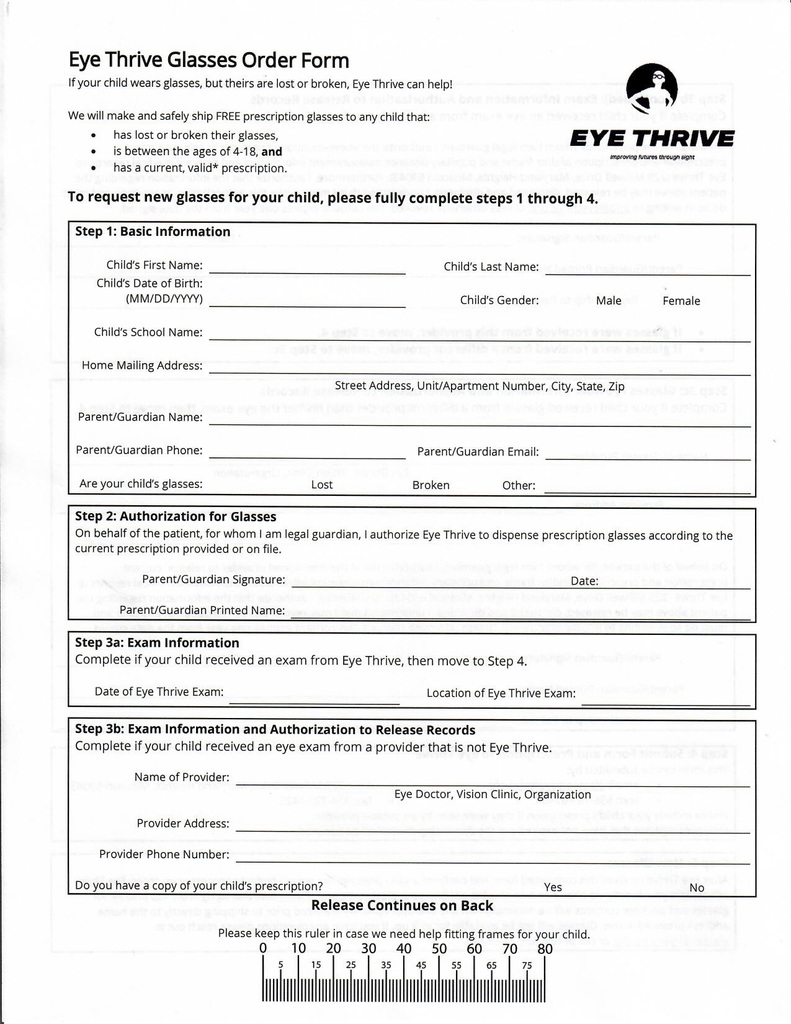 Hello, SLLIS families! We need to know your learning choice for Trimester 2 so we can make detailed plans! Please complete this survey within the next few days so we can finalize our plans for the upcoming Trimester!
https://forms.gle/EGjhQHNcWsEERtEX8

SLLIS has now completed two months of In-School Learning with ZERO confirmed cases of COVID-19 for onsite students and staff. Congratulations to our staff, students, and families on a very successful and safe first two months of school!

Thank you for your feedback and suggestions as we prepare for Trimester 2! Here's a summary of the full Community Engagement Process. On Monday we will share the Trimester 2 Family Learning Choice Form so you can let SLLIS know your plans for next trimester.
Fall Picture Day will be on October 23rd for our in-person students. More opportunities will be provided throughout the school year for our virtual students. More information to follow shortly.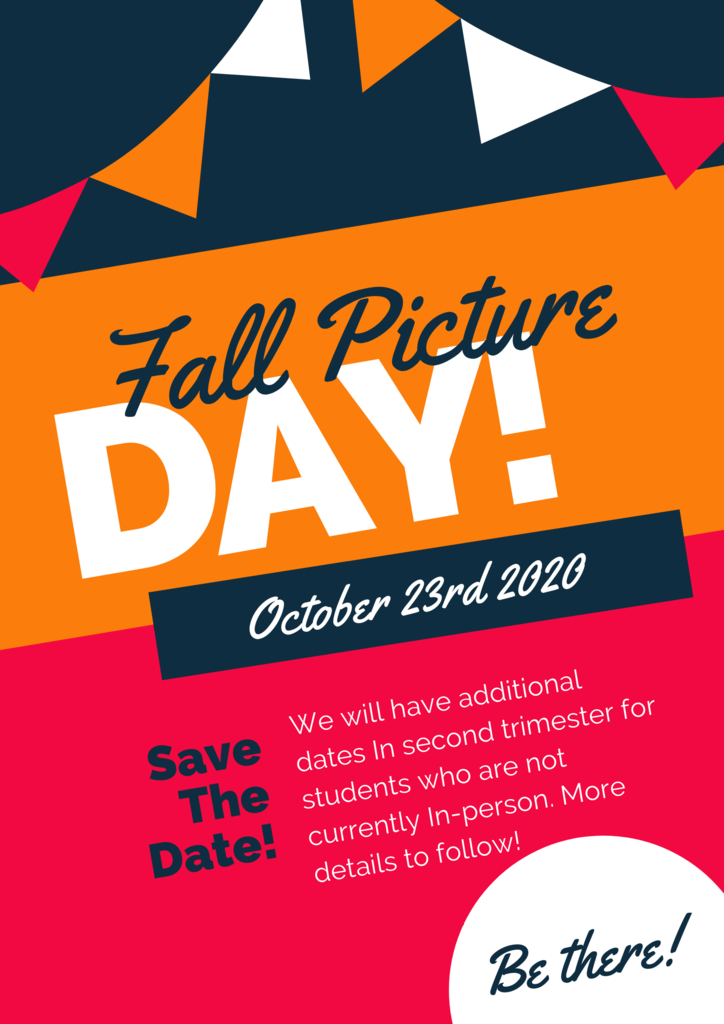 We still have tuition-free and tuition-based seats available in our Downtown Pre-K Cooperative Program! We are now allowing both 3-year-olds and 4-year-olds to enroll. You can review more details here
https://5il.co/lvr1
. ¡Todavía tenemos asientos gratuitos y con costo de matrícula disponibles en nuestro Programa Cooperativo Downtown Pre-K! Ahora permitimos que se inscriban tanto los niños de 3 años como los de 4 años. Puede revisar más detalles aquí
https://5il.co/lvr3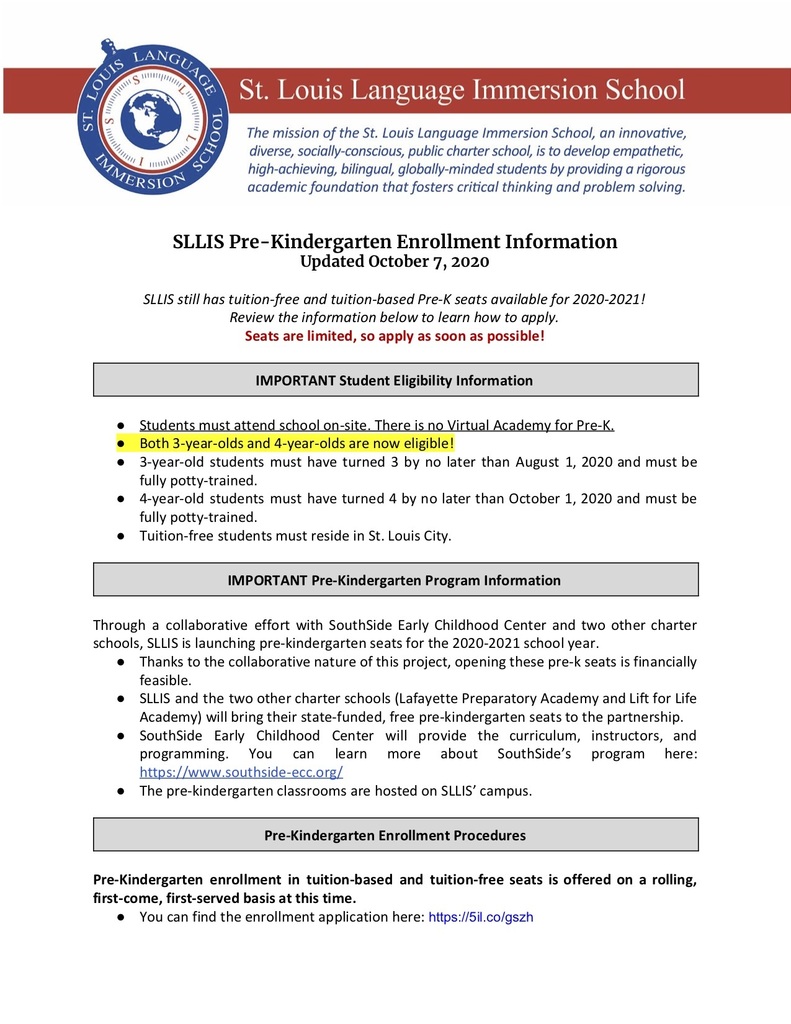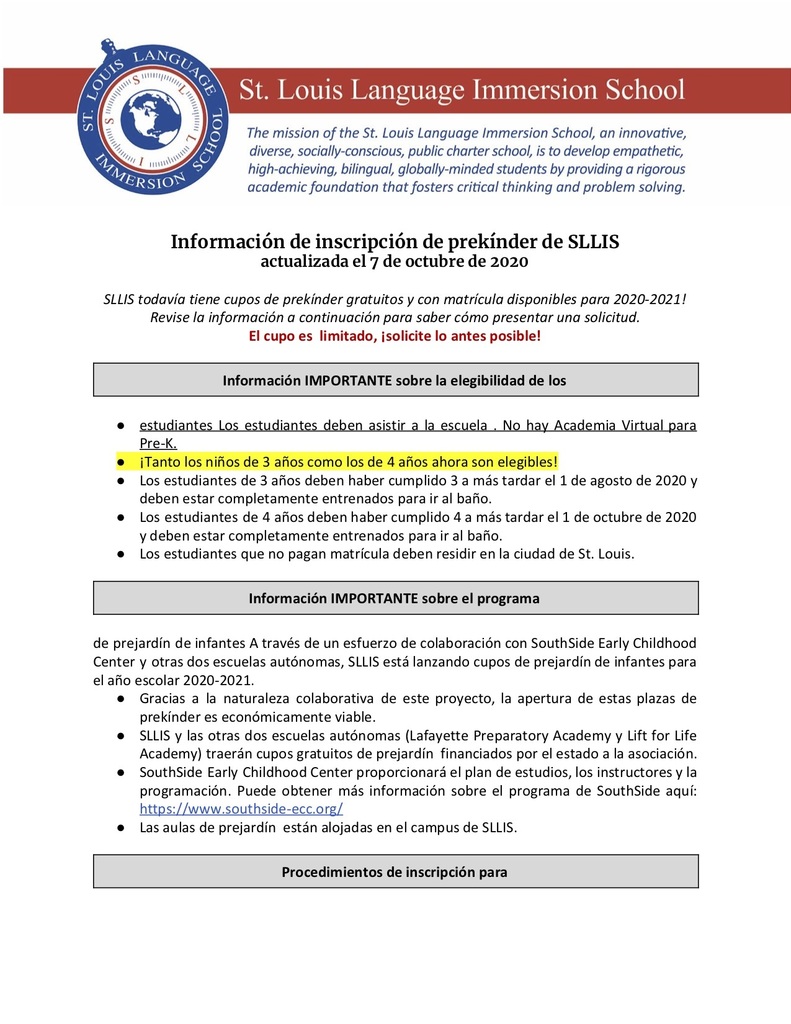 Virtual Academy families, please see the attached images and go to
https://www.sllis.org/o/sllis/browse/170338
(SLLIS Website > Documents > Virtual Academy Schedules) to review information about upcoming schedule changes! In-school families, check your student's backpacks for your relevant information! Thank you!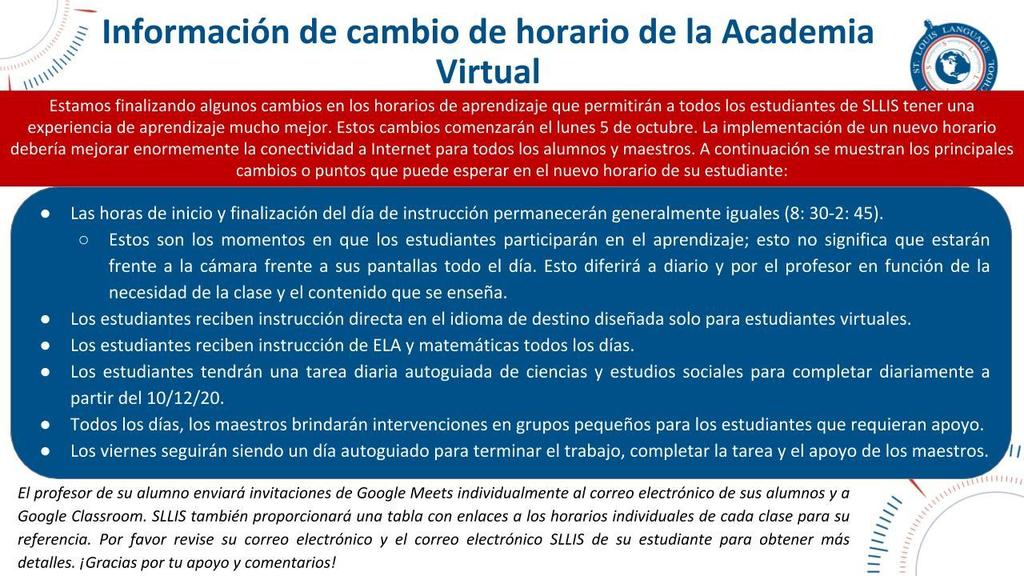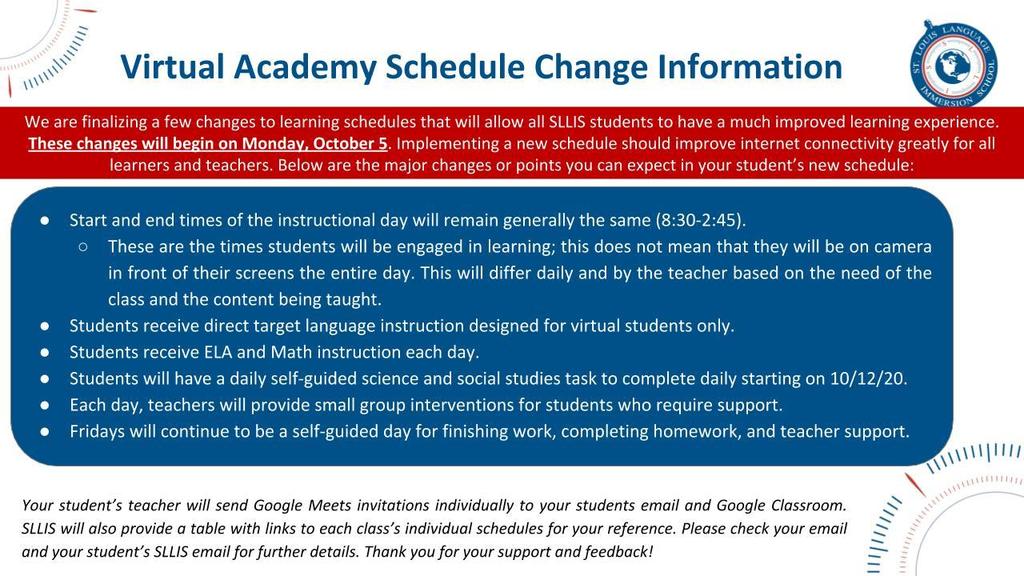 ¡Padres de SLLIS, es su turno! Esperamos que pueda unirse a nosotros en Zoom el 30 de septiembre a las 12 p. M. O a las 7 p. M. Mientras planeamos para el segundo trimestre. Durante estas sesiones de planificación para padres, revisaremos los comentarios recopilados hasta ahora, obtendremos su opinión y trabajaremos con usted para generar soluciones para desafíos potenciales. Aquí está el enlace a nuestras sesiones de Zoom para el miércoles:
https://us02web.zoom.us/j/82107325330
. Esperamos verlos allí!
SLLIS parents, it's your turn! We hope you can join us on Zoom on September 30 at 12 pm or 7 pm as we plan for Trimester 2. During these Parent Planning Sessions we will review the feedback collected so far, gain your input, and work with you to brainstorm solutions to potential challenges. Here's the link to our Zoom sessions for Wednesday:
https://us02web.zoom.us/j/82107325330
. We look forward to seeing you there!