View the attached images or follow the link to view SLLIS's Request for Proposals for Rebranding.
https://5il.co/na0i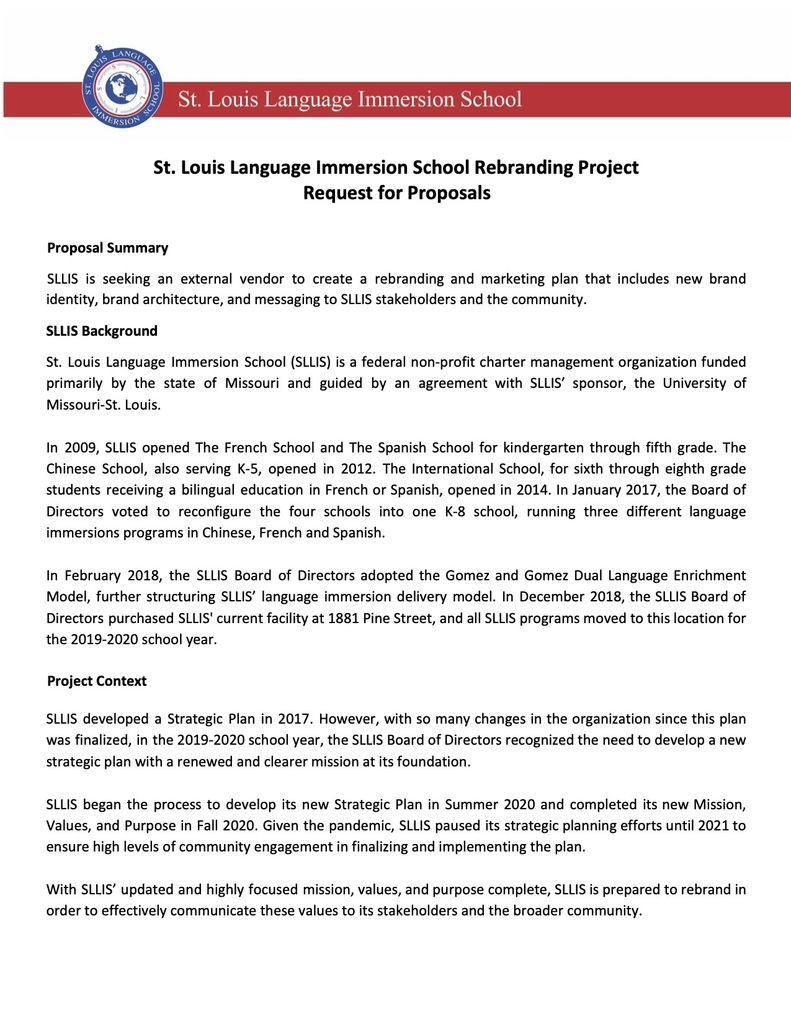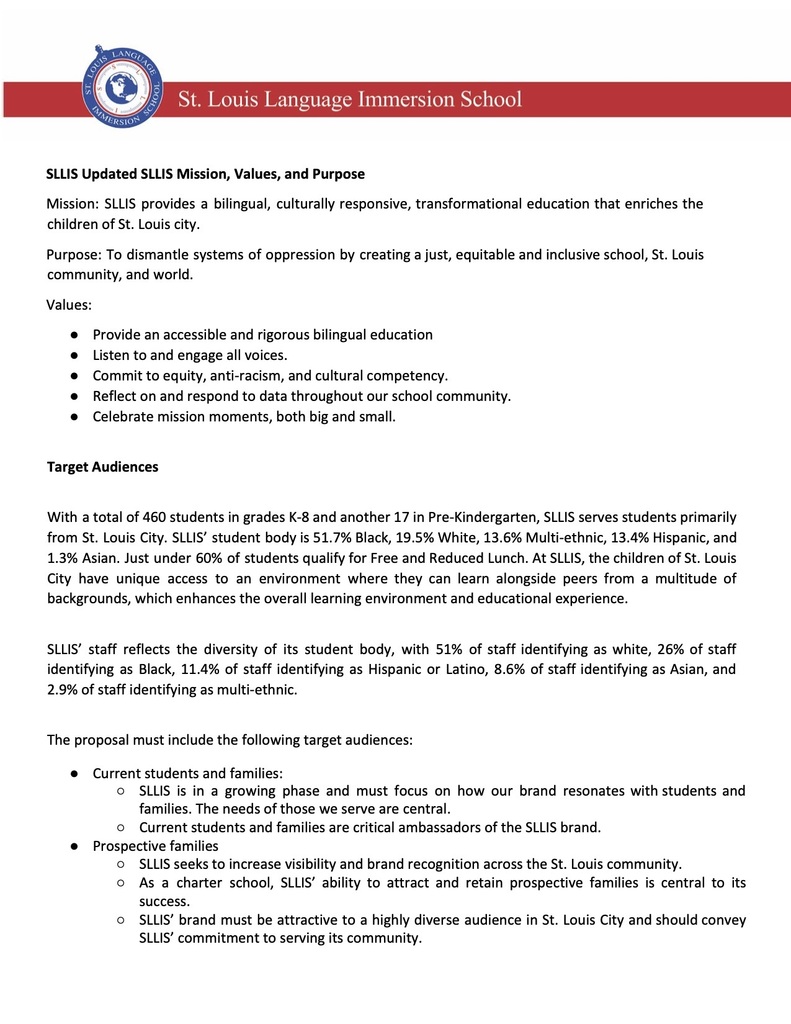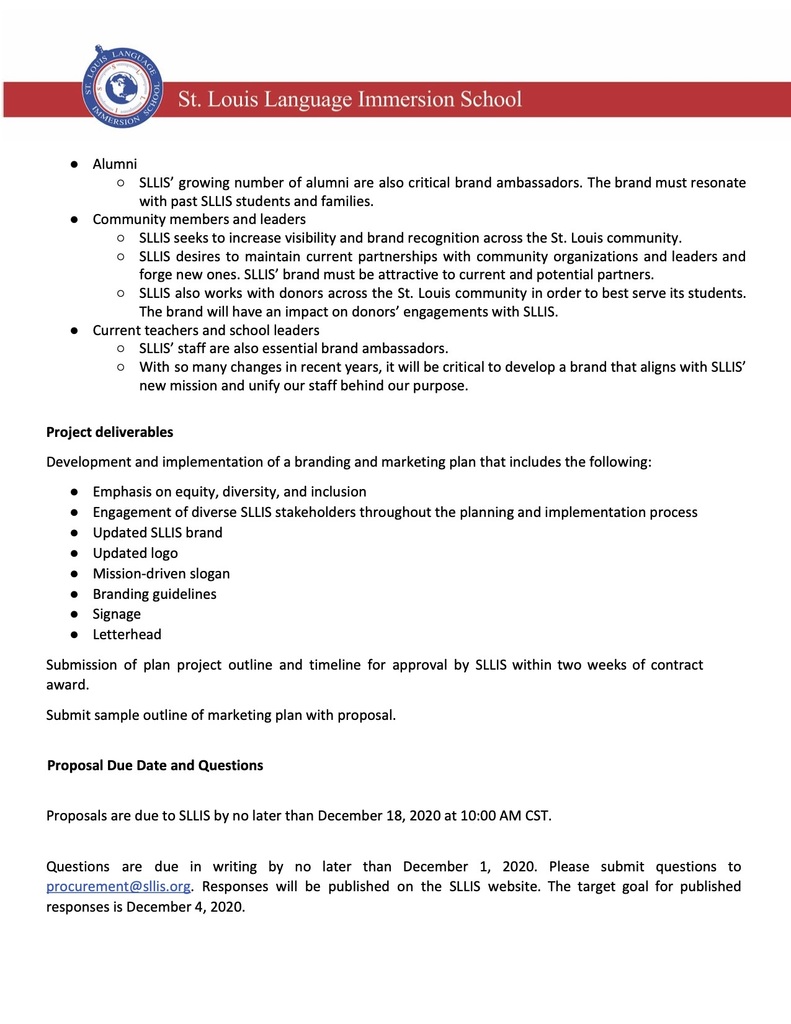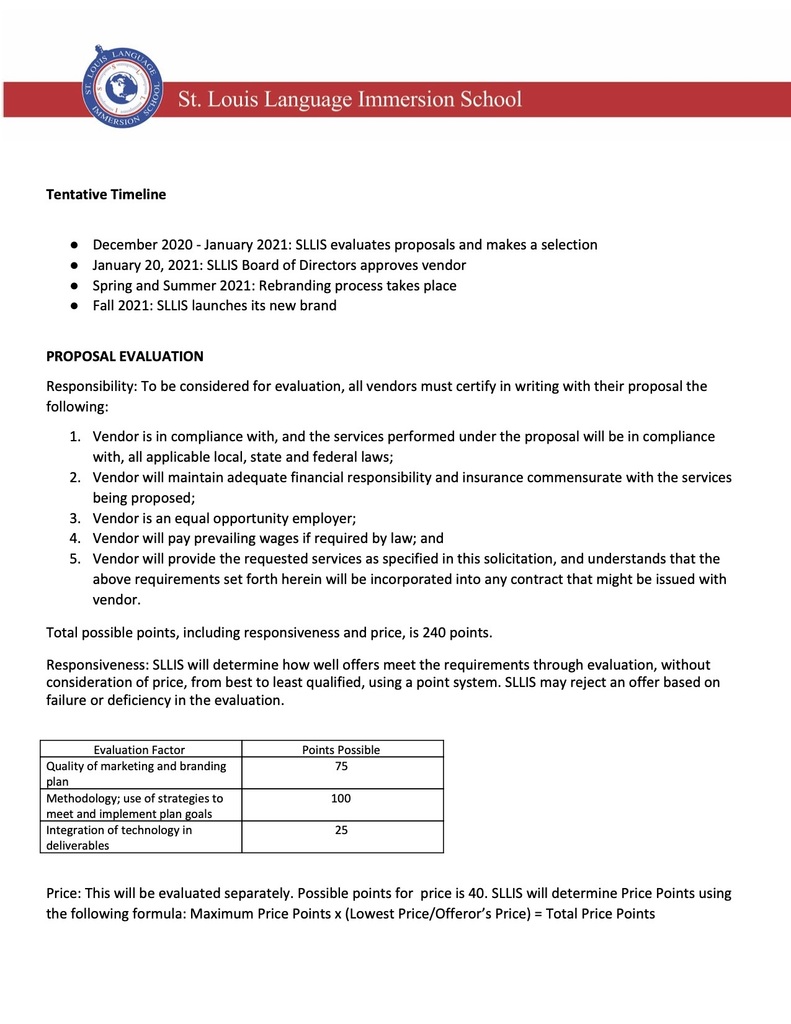 Please read the attached letter regarding return to school. Have a safe and happy Thanksgiving break!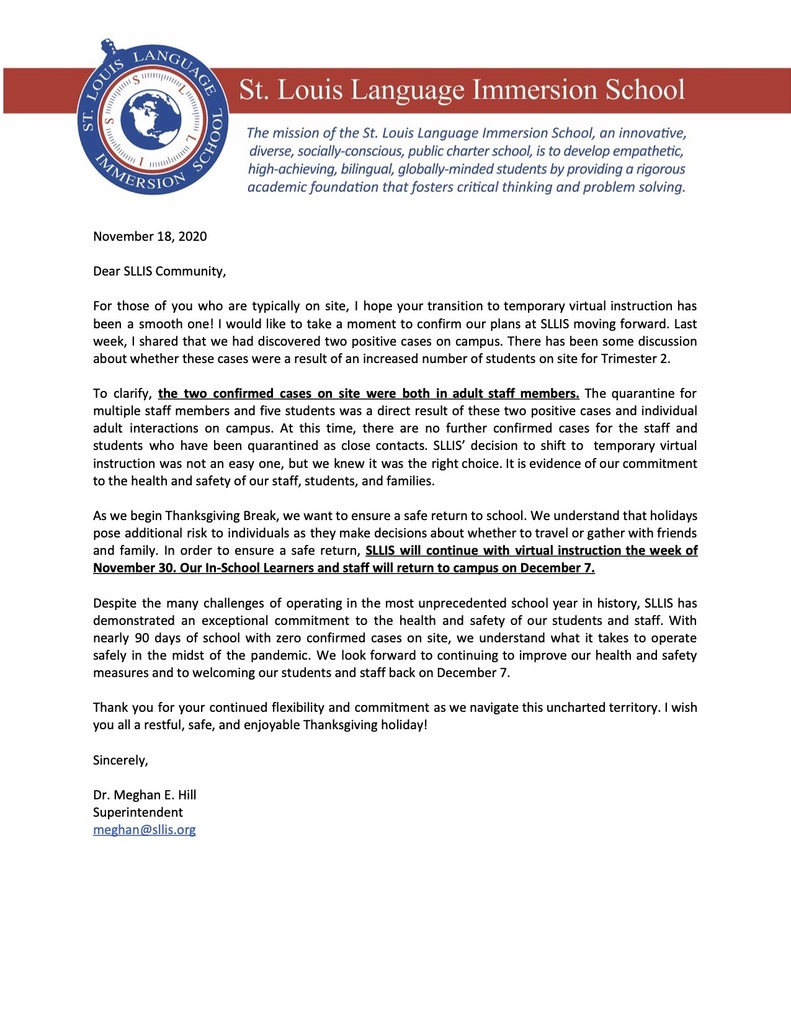 Hello, SLLIS! To ensure security of our virtual Zoom Board of Directors meeting, we will be recording tonight's meeting and posting the recording after the meeting ends. Thank you for your patience!
Good morning, SLLIS! Attached is the agenda for November's Board of Directors meeting set for 11/18/20 at 6:00 pm. You can tune in on Facebook Live. If you would like to make a public comment at tomorrow's meeting, please email your comment to
info@sllis.org
.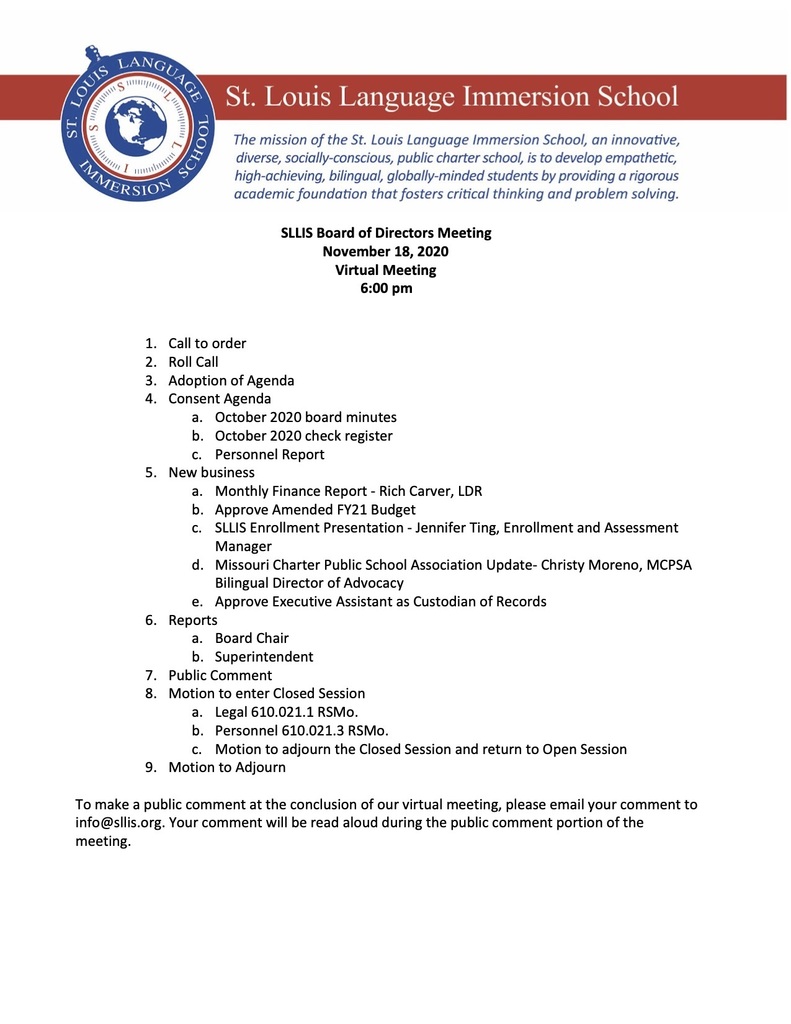 Hello! This is a reminder that SLLIS will not be in session tomorrow, November 6, due to Parent Teacher Conferences. Thank you!
Please review the attached documents with a summary of information provided by the CDC regarding safety practices during the winter holidays. Revise los documentos adjuntos con un resumen de la información proporcionada por los CDC con respecto a las prácticas de seguridad durante las vacaciones de invierno.
https://5il.co/mr54​
https://5il.co/mr55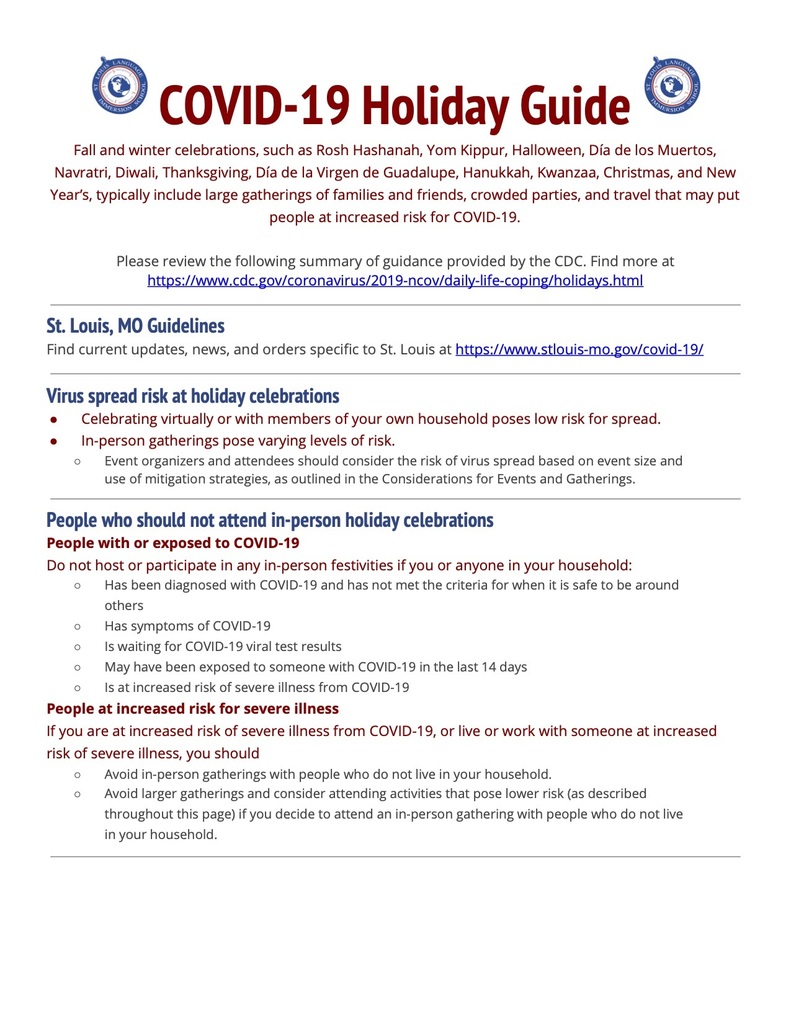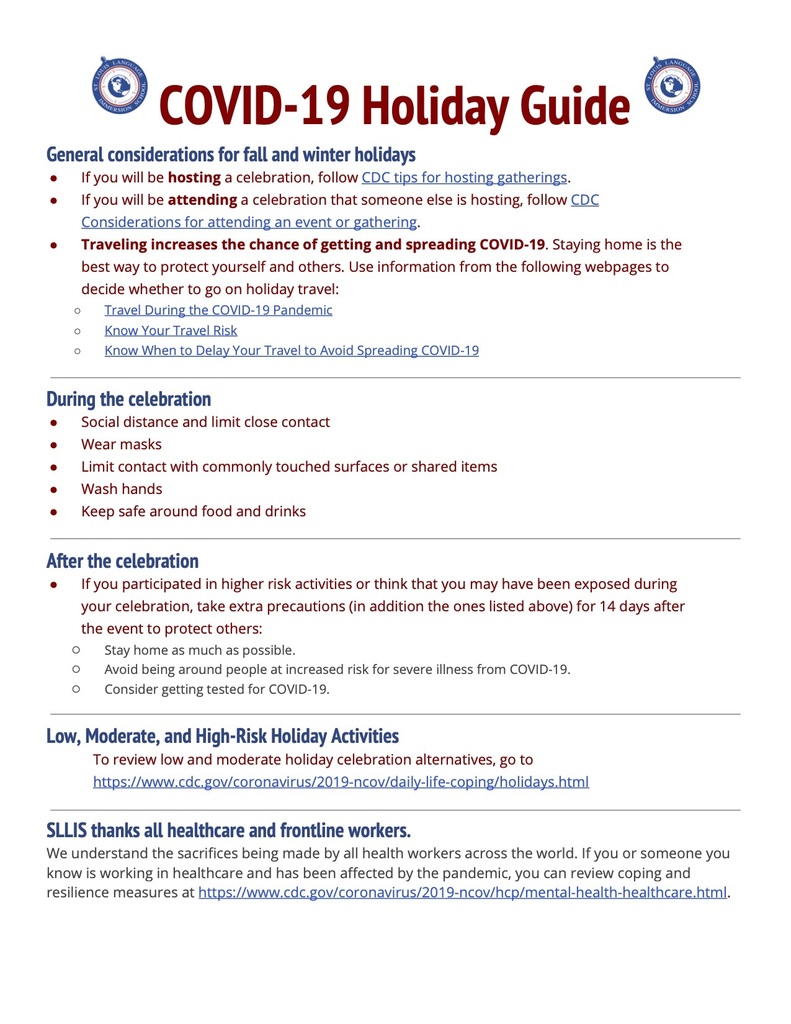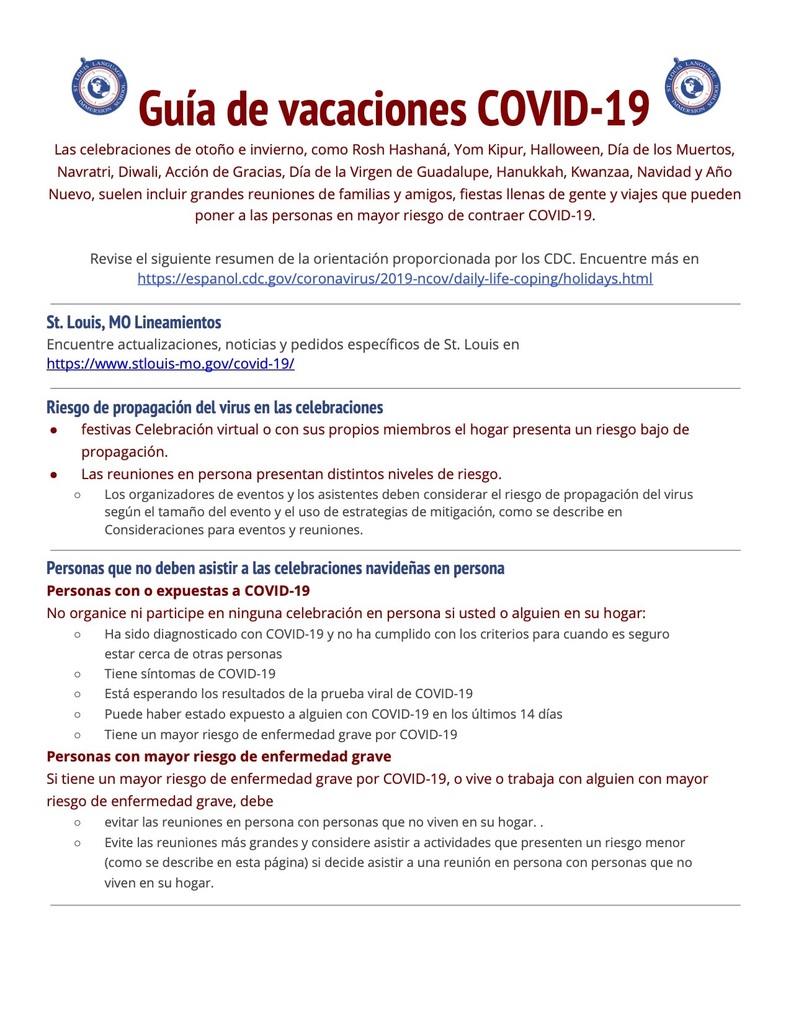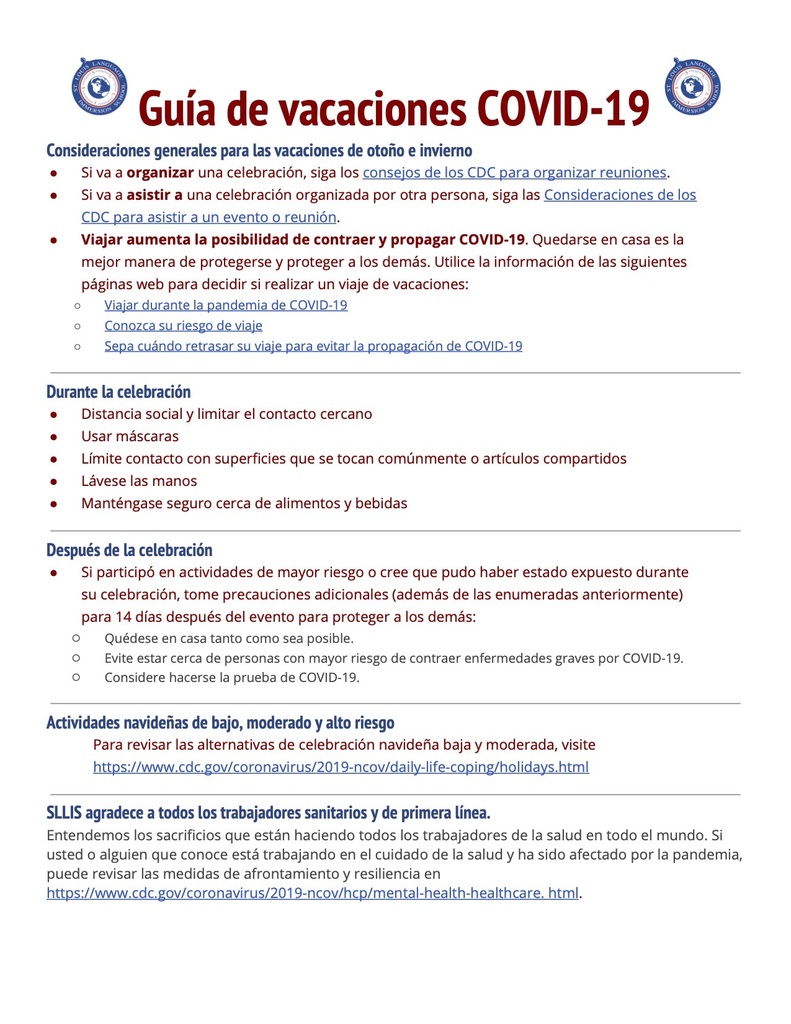 Good morning! Chat and Chew with Principal Blackwell is cancelled for tomorrow, 11/4. We will see you next time!
Reminder: Our Scholastic Book Fair begins today!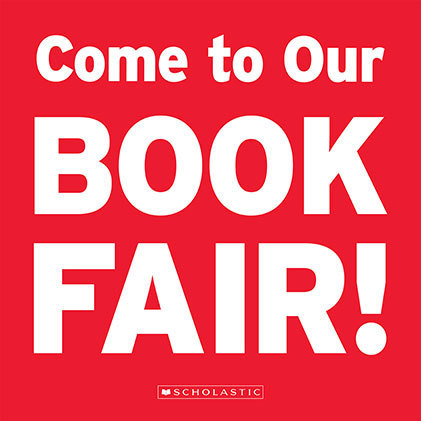 SLLIS Parents: If you have questions about Trimester 2 and weren't able to attend our Parent Q&A Sessions yesterday, make sure to review our Parent FAQs here:
https://5il.co/mmiv
. See you on Monday, November 2 for the first day of Trimester 2!
DON'T FORGET: The Scholastic Book Fair starts on MONDAY! Students in-person will have the opportunity to visit the fair at SLLIS, and we will be running a virtual book fair alongside it for our virtual students. For our in-person students, we are strongly recommending the use of the e-wallet system. This allows students to shop at the book fair as they would normally but will use their pre-paid account instead of cash. eWallet funds are not refundable. Any unused eWallet funds that remain after the Book Fair ends, or if the Book Fair is cancelled, are available for use in the Scholastic Store Online. Click the link below for more information on both the in-person and virtual book fairs and to learn more about the e-wallet system:
https://www.scholastic.com/bf/stlouislanguageimmersion
Thank you for supporting our student's love of reading! Thank You for supporting our book fair!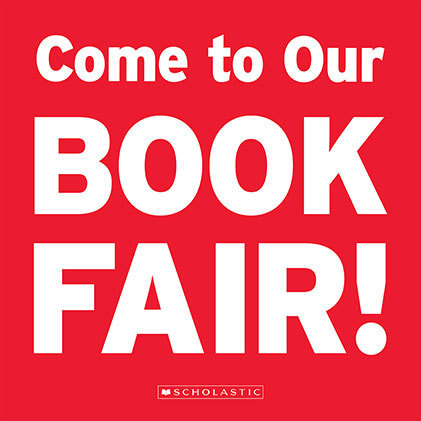 See the attached information about Trimester 2! ¡Vea la información adjunta sobre el segundo trimestre! Trimester 2 Virtual Launch Guide:
https://5il.co/mhpl
Trimester 2 In-School Launch Guide:
https://5il.co/mhph
Spanish Trimester 2 Virtual Launch Guide:
https://5il.co/mhpw
Spanish Trimester 2 In-School Launch Guide:
https://5il.co/mhpx
Please remember, in preparation for Trimester 2, we will have a half-day on Thursday, October 29 (Bus routes and pick-up will begin at 11:30 am). Students can take a "grab-and-go" lunch and flu shots will still be given to students who signed up prior to dismissal. There will be no school on Friday, October 30. Have a great weekend, and we will see you for the start of Trimester 2! Recuerde, en preparación para el segundo trimestre, tendremos medio día el jueves 29 de octubre (las rutas de autobús y la recogida comenzarán a las 11:30 am). Los estudiantes pueden tomar un almuerzo para llevar y se les administrarán vacunas contra la gripe a los estudiantes que se inscribieron antes de la salida. No habrá clases el viernes 30 de octubre. ¡Que tengan un gran fin de semana y nos veremos al comienzo del segundo trimestre!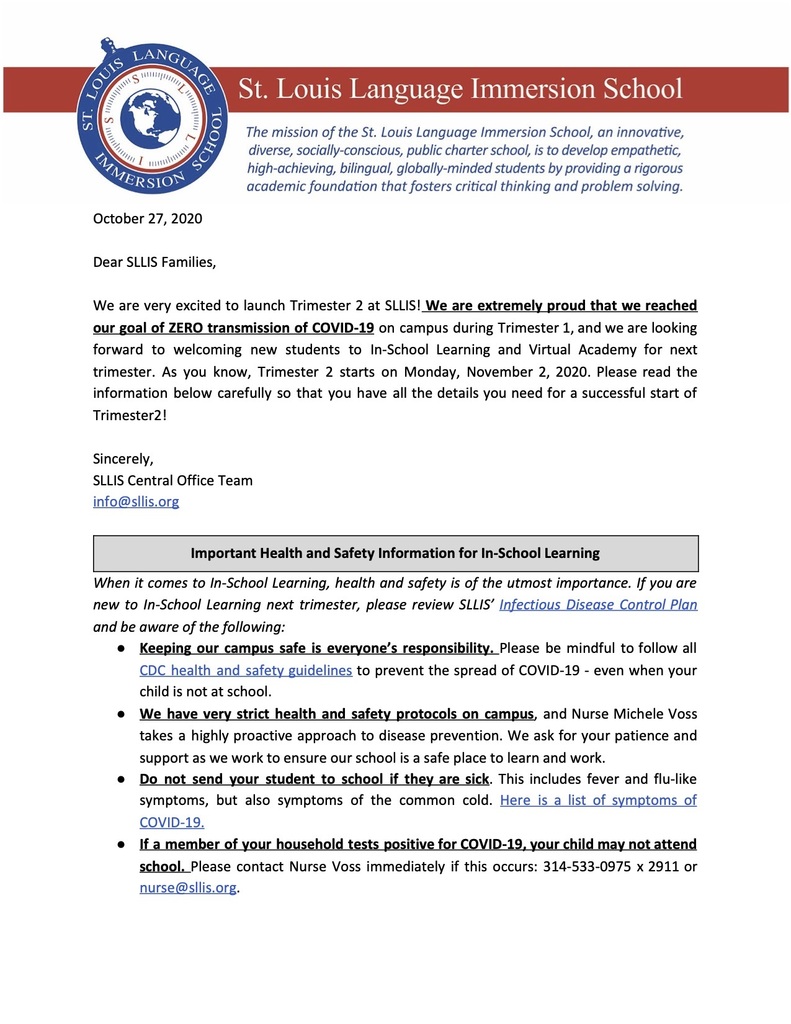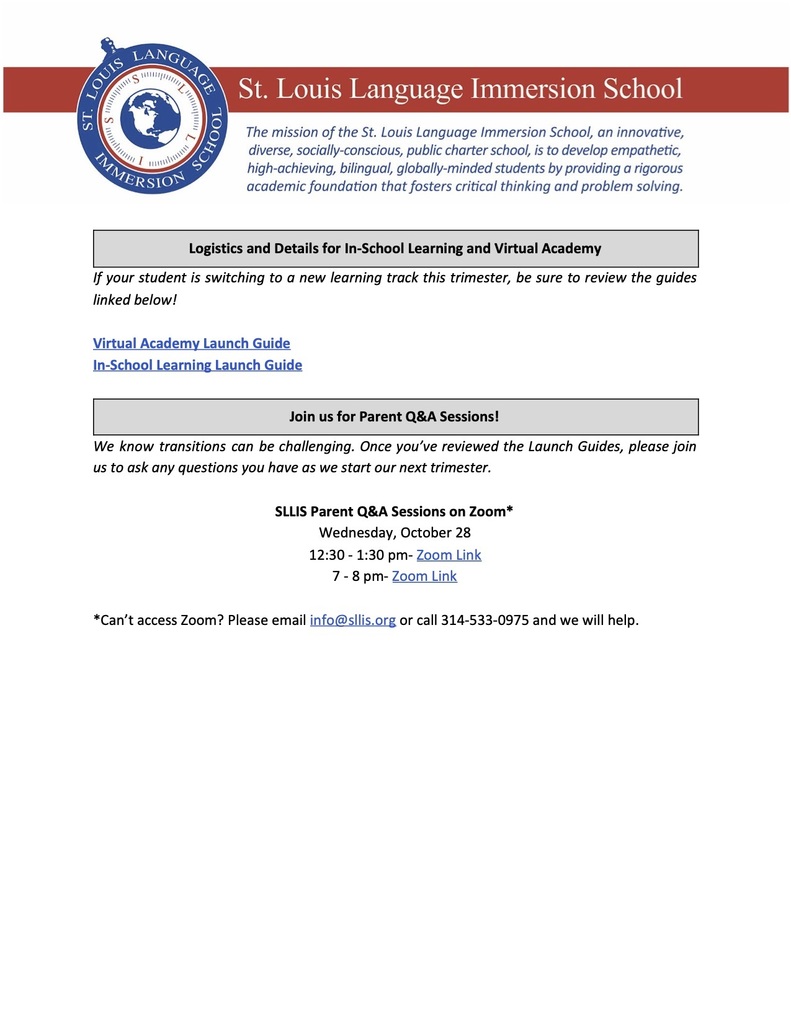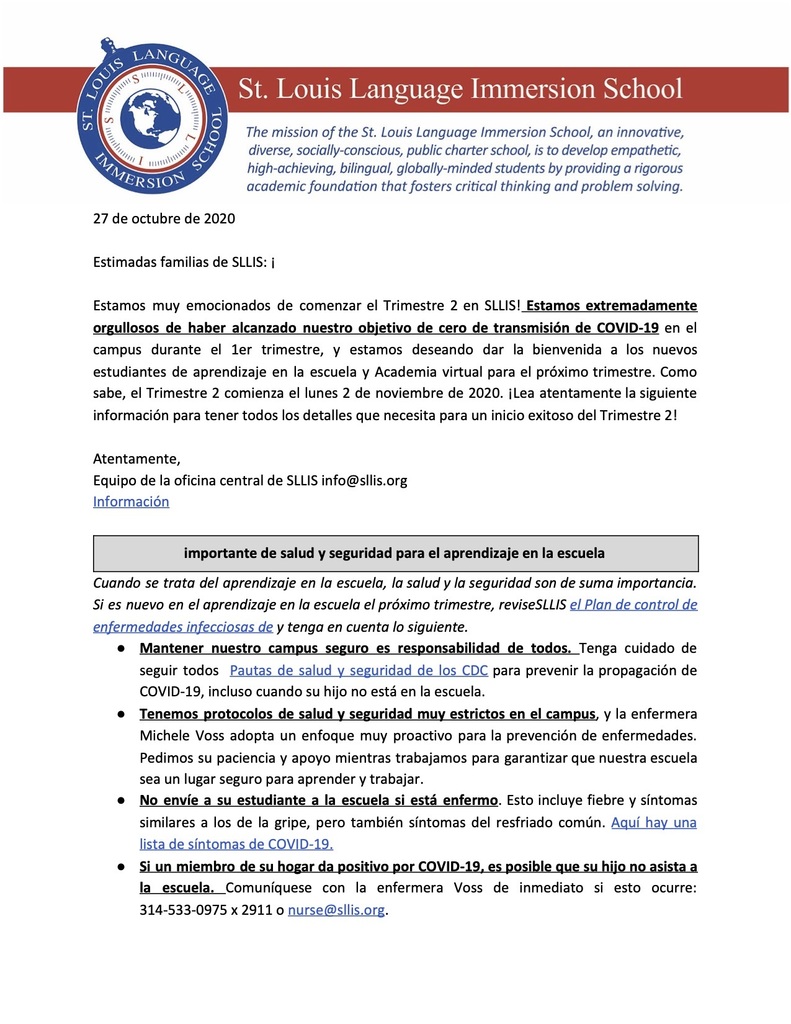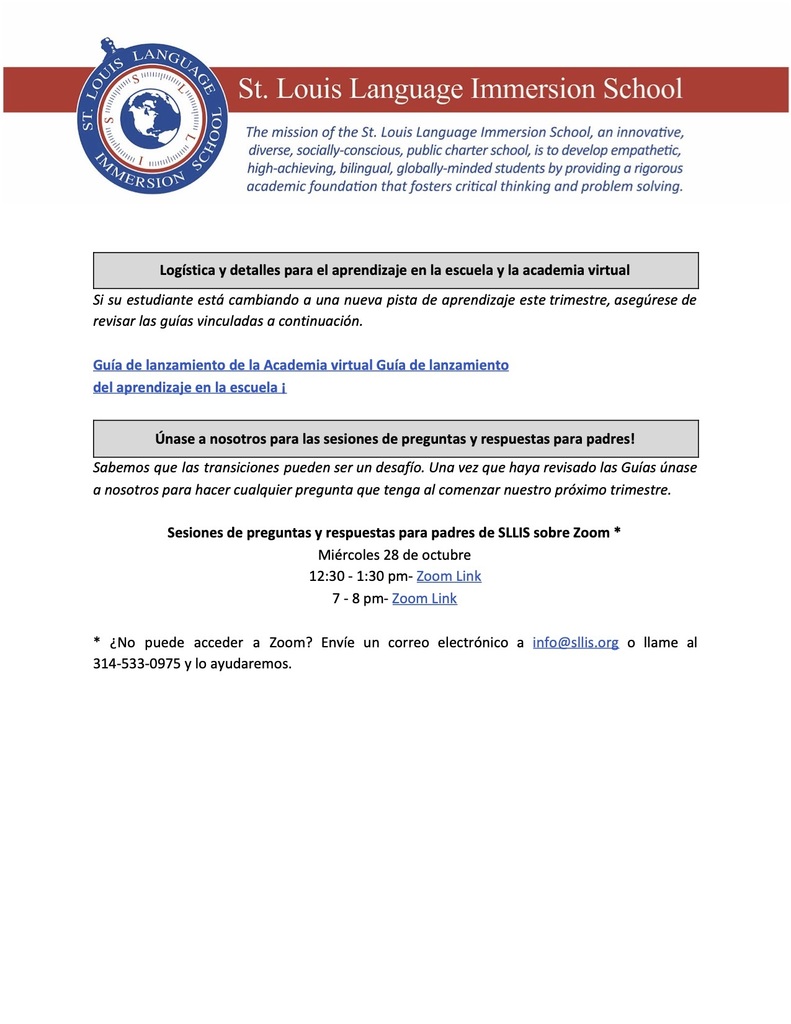 Please share our Pre-K opportunity with friends who may be interested!
DON'T FORGET! OUR SPIRIT WEEK KICKS OFF TOMORROW WITH HEROES VS VILLAINS DAY! We hope to see students ,both virtual and in-person, joining in with all the fun!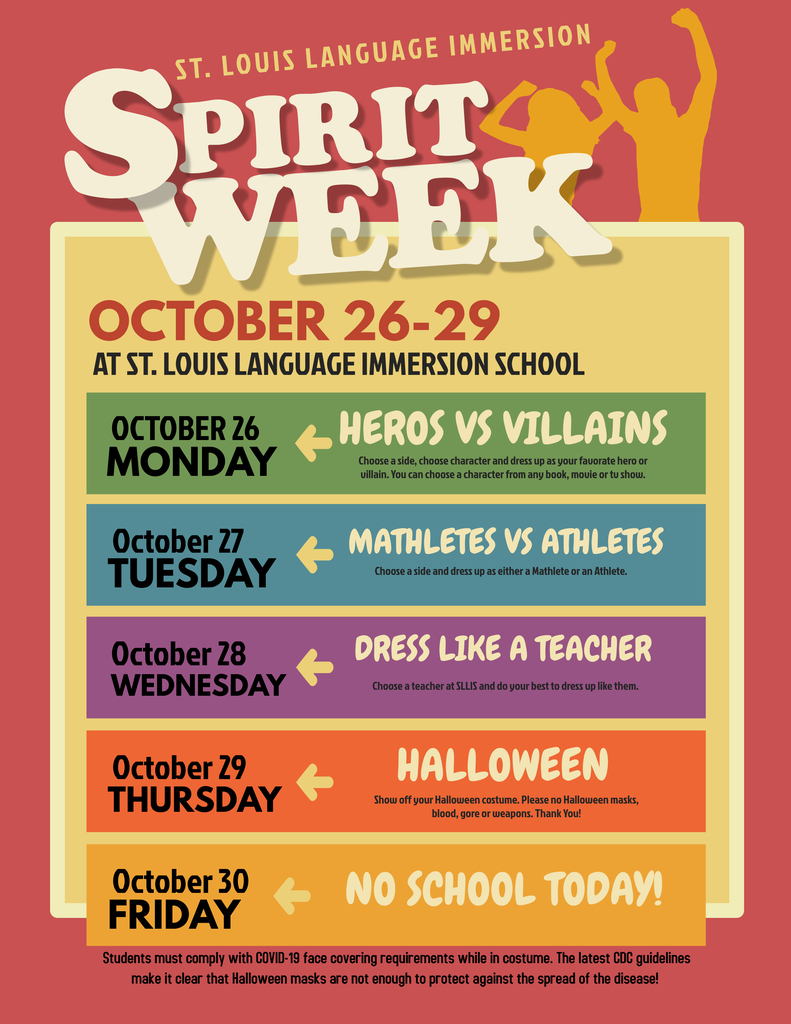 Please see the attached flier for information about Trimester 2! More information will follow soon.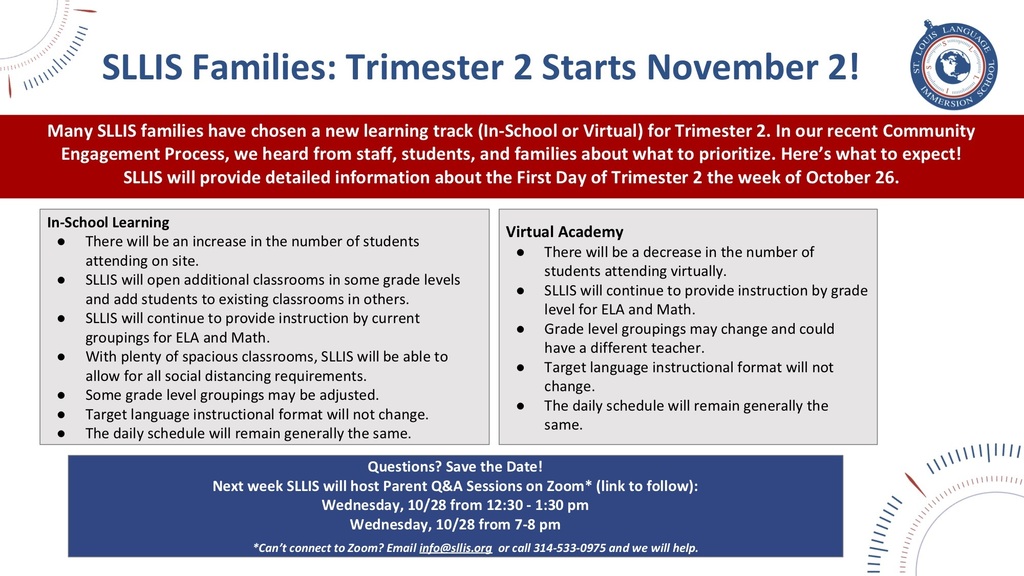 DON'T FORGET! TOMORROW IS PICTURE DAY! Wagner Portrait Group will be photographing students for portrait packages & school records. This will be your special opportunity to purchase your school pictures! CLICK HERE TO ORDER:
https://bit.ly/2H0ibVw
Don't forget to dress appropriately as the school dress code will apply. Please direct all questions, concerns, or special requests directly to Wagner Portrait Group. We are happy to help! 1-800-444-7986
info@wagnerportaitgroup.com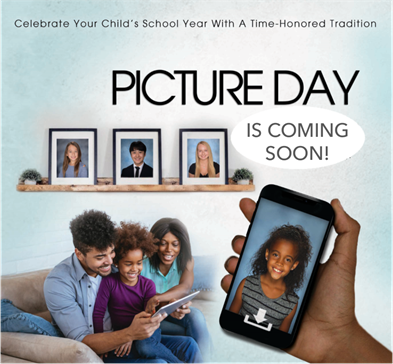 Hello! Remember, Parent Teacher conferences are coming up on November 5th and 6th! Your child's teacher will be reaching out soon to schedule virtual or phone conferences.

Good evening SLLIS, we have experienced some technical difficulties with Zoom. We will record the Board Meeting and post it as soon as possible.
We are excited to share our new SLLIS Store. The below link will take you to our store where you can purchase your very own SLLIS Gear. The store will close on November 6th and re-open again on January 15th. We are excited to see our SLLIS families showing their school spirit.
https://www.sllisspirit.com/