Are your friends and family looking for a great school for their children? Did someone you know miss out on a seat in another school's lottery? Refer them to SLLIS for a bilingual, transformational education! You'll earn $25 when you refer an eligible family to take a virtual SLLIS tour. If the family enrolls, you'll earn a $100 gift card! Details here: 
https://5il.co/q41w
.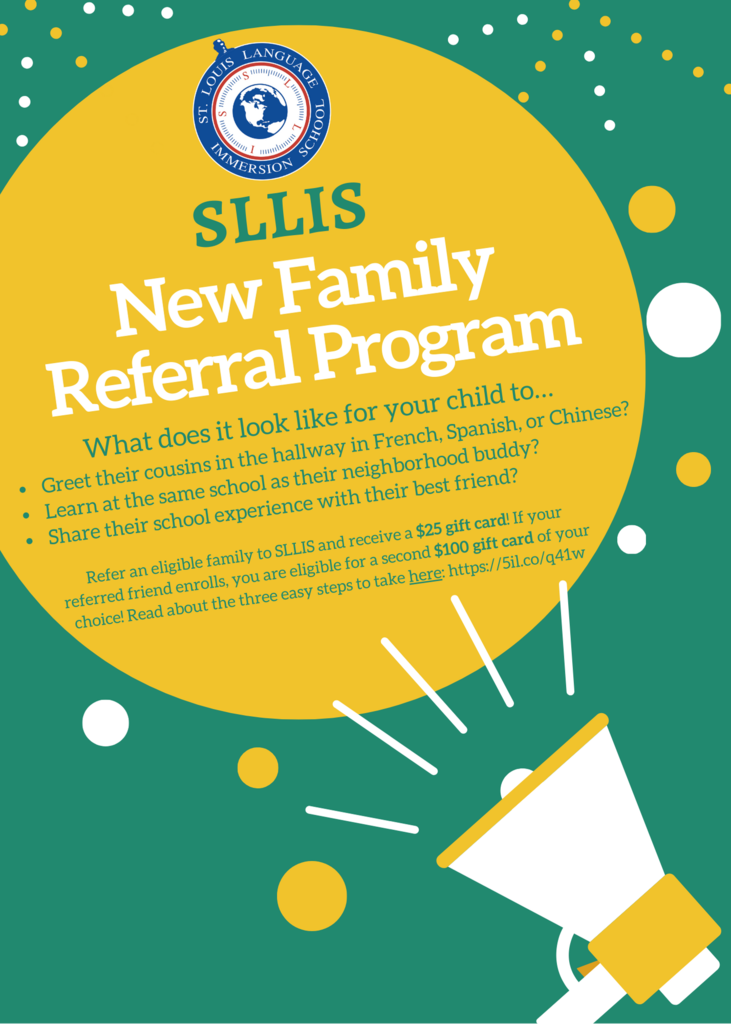 SLLIS has been busy preparing for the coming year! We know we can best deliver our dual language immersion program onsite (and did it safely for all of 20-21!), so we urge our families to participate in onsite, in-school learning. We also know being in school is not possible for all, so we are offering Virtual Learning as an accommodation for those who require it. Please review the information attached here (
https://5il.co/vnxv
) to learn how to apply for a Virtual Accommodation. The deadline for Virtual Accommodation applications has been updated to Friday, July 23. If you'd like to review the safety measures on campus for 2021-2022, check out our Safe Return to Instruction Plan here:
https://5il.co/u9v0
.

The summer mailer is here! Go to
https://www.sllis.org/browse/226144
to print individual items! Deadlines will be extended by one week to accommodate the physical mailer being sent later than expected.

Join the Missouri History Museum for a special free family event! JUEVES 22 DE JULIO | STEP INTO THE STORY CON JUNTOS WE READ En este evento bilingüe español-inglés, daremos vida al libro de Susan Verde Oye, Muro: Un Cuento de Arte y Comunidad con canciones, movimientos y más, ¡además de lecturas en ambos idiomas! Únase a nosotros en el césped del Museo para un proyecto de arte comunitario dirigido por la artista Luisa Otero Prada, además de una lección de baile y actuación de la Sra. Lizett y los bailarines de ballet folclórico de la Iglesia Católica Nuestra Señora de Guadalupe. También tendremos una cantidad limitada de libros proporcionados por Ready Readers, así que obtenga su copia de Green is a Chile Pepper: a Book of Colors por Roseanne Greenfield Thong hasta agotar existencias. THURSDAY, JULY 22 | STEP INTO THE STORY WITH JUNTOS WE READ In this Spanish–English bilingual event, we will bring to life Susan Verde's book Oye, Muro: Un Cuento de Arte y Comunidad with songs, movements and more, plus readings in both languages! Join us on the Museum's lawn for a community art project led by artist Luisa Otero Prada, plus a dance lesson and performance by Ms. Lizett and the ballet folklórico dancers of Our Lady of Guadalupe Catholic Church. We will also have a limited amount of books provided by Ready Readers so get your copy of Green is a Chile Pepper: a Book of Colors by Roseanne Greenfield Thong while supplies last! Learn more at
https://mohistory.org/learn/early-childhood-family-programs/summer-family-fun-series
Also join us for virtual Cuentos en el Museo on 2nd Saturday and 4th Friday at 11am:
https://mohistory.org/learn/early-childhood-family-programs/cuentos-en-espanol-en-el-museo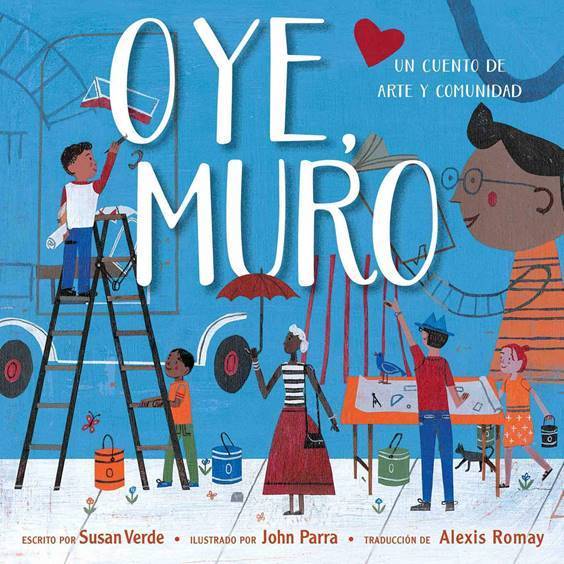 Congratulations to 2nd Grade teacher, William Pryor! He has been selected as one of ten Missouri Regional Teachers of the Year for the St. Louis region! This distinction means he is eligible to submit an application for Missouri State Teacher of the Year! We're proud of you, Mr. Will! Please join us in celebrating William's tremendous achievement!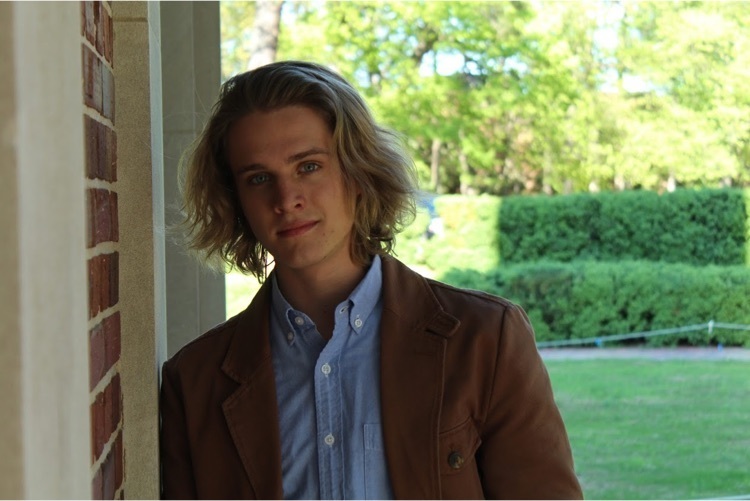 Wondering about the latest updates on COVID-19 vaccines for teens? View the image and linked articles from the CDC!

Celebrated a week after, our summer students and staff did not miss the opportunity to participate in a parade accompanied with African drum music and dances to commemorate the important day of Juneteenth this year!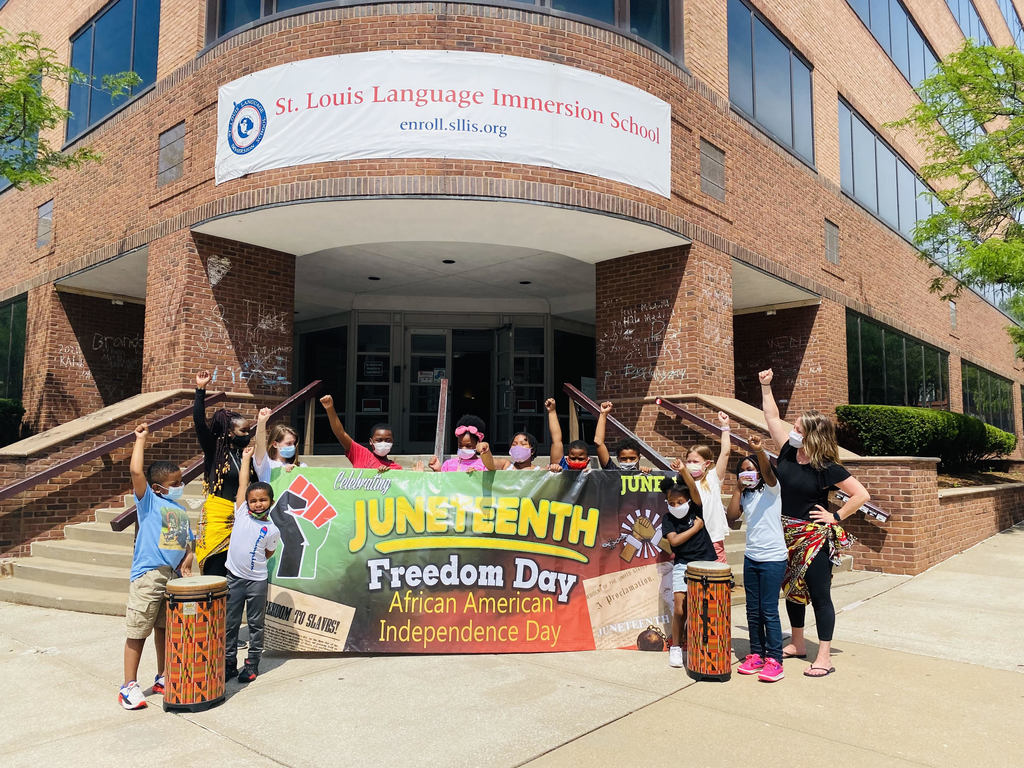 First Student is looking for qualified bus drivers! See attached flier for details.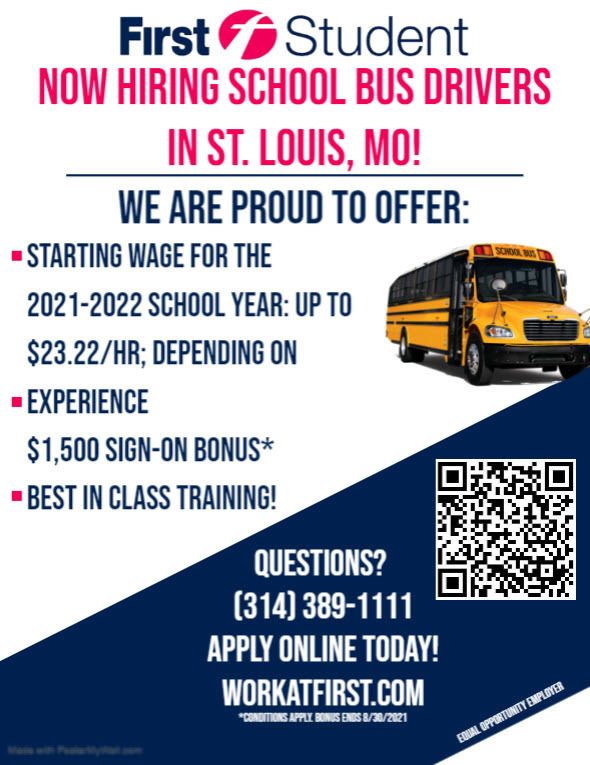 Here is the agenda for the June 2021 Board of Directors Meeting! Join us tomorrow at 6:00 on Facebook Live.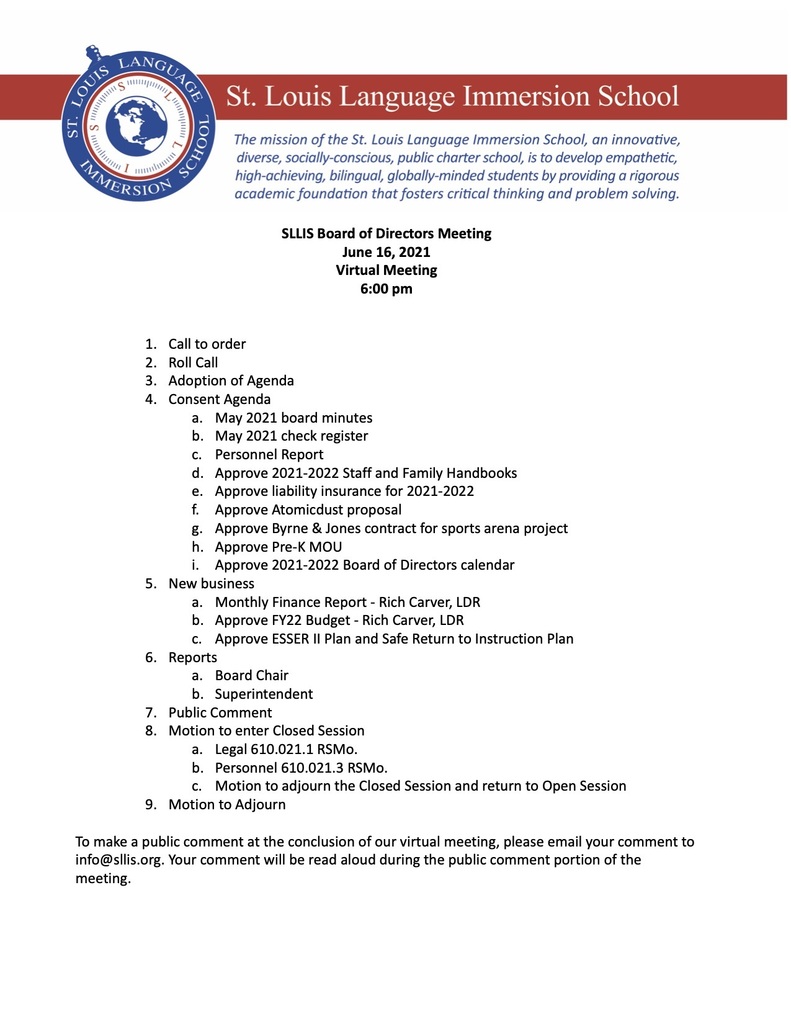 Hello, SLLIS! This is a message for our families enrolled in SUMMER SCHOOL. The building air conditioning issue has been resolved and we WILL have summer school tomorrow, June 15, as regularly scheduled! Thank you for your patience!

Good morning, SLLIS! This is a message for our families enrolled in SUMMER SCHOOL. Our air conditioning in the building is out, so summer school classes are CANCELLED today, Monday June 14. Thank you!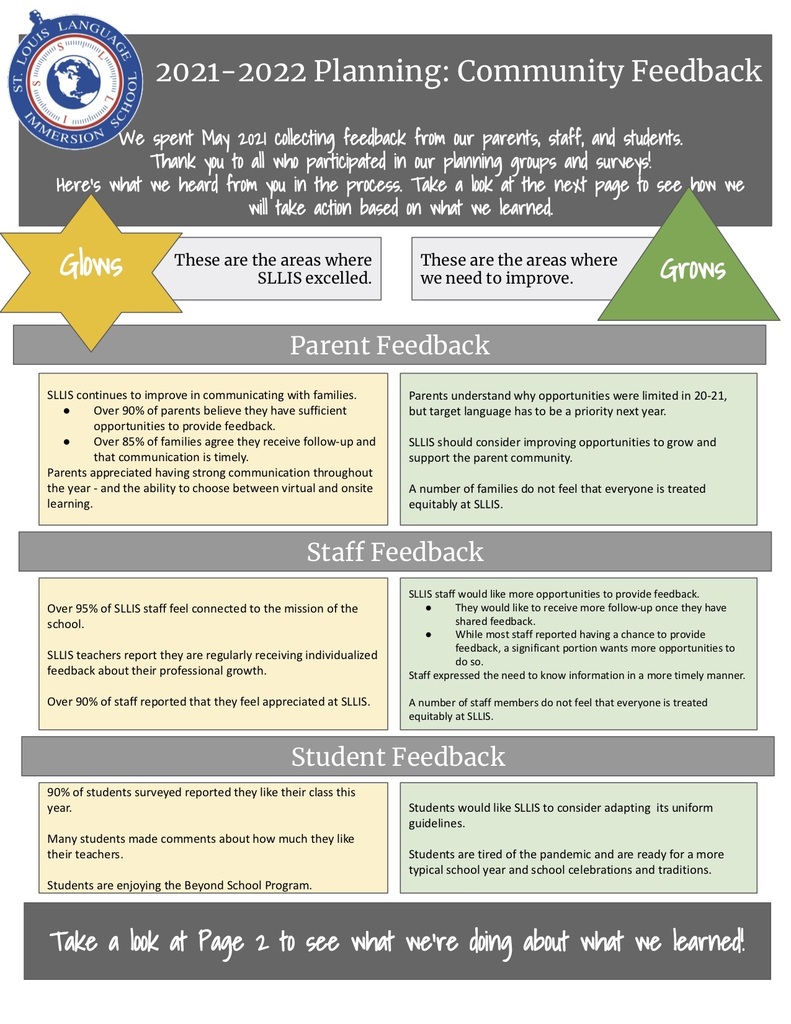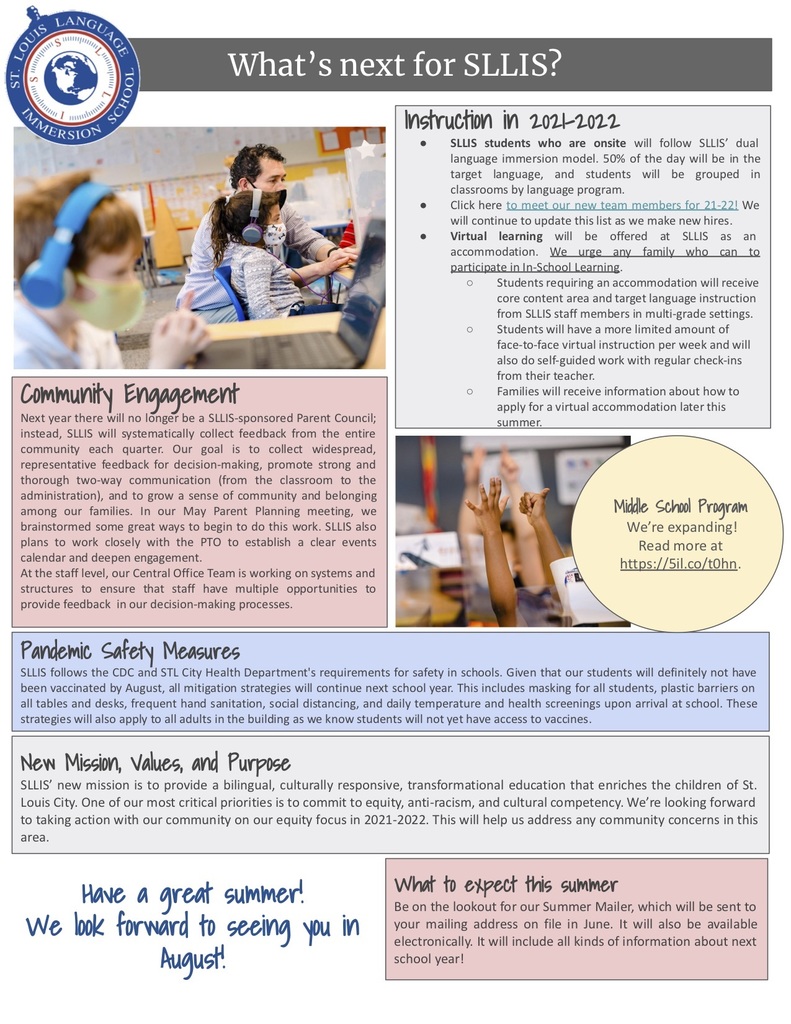 Last week, four SLLIS Chinese Program students won 1st, 2nd, and 3rd places in the Greater St. Louis "Chinese Bridge" Contest! Not only that, but four of our teachers got certificates of "Outstanding Mentor"! Congrats to all who competed!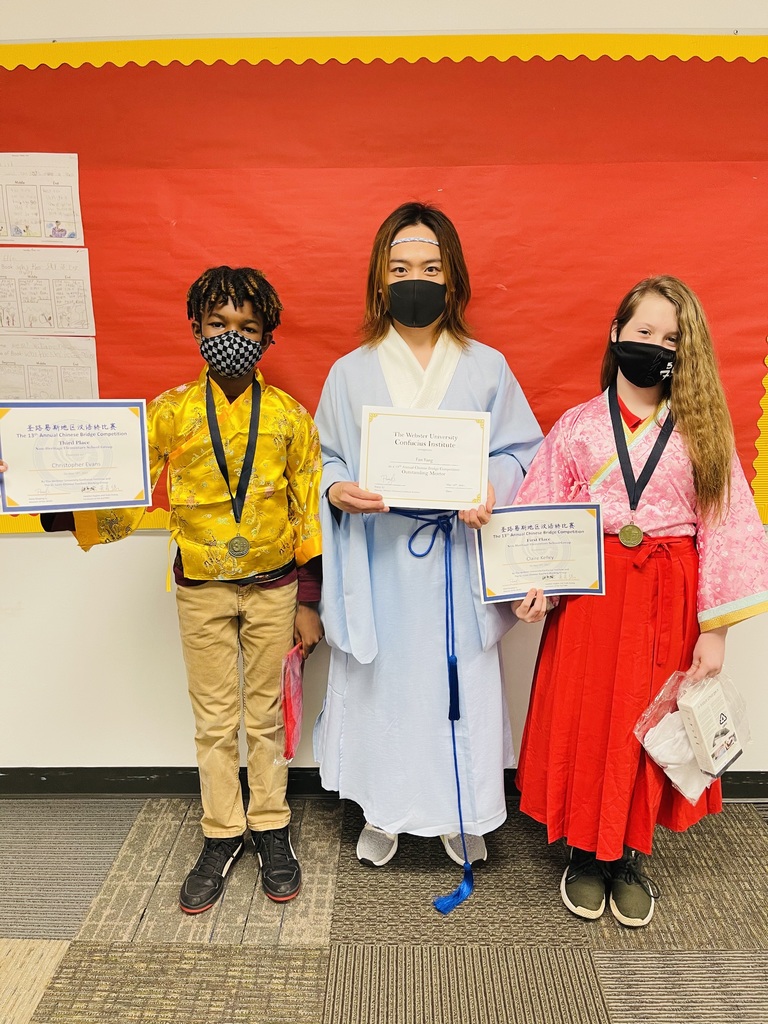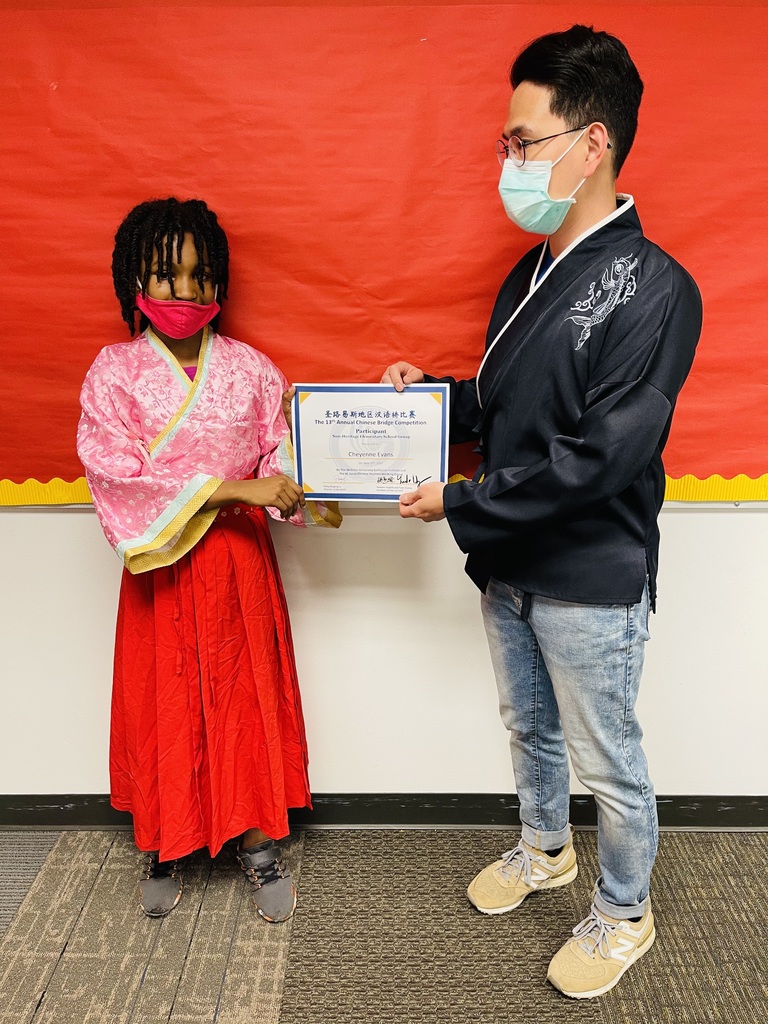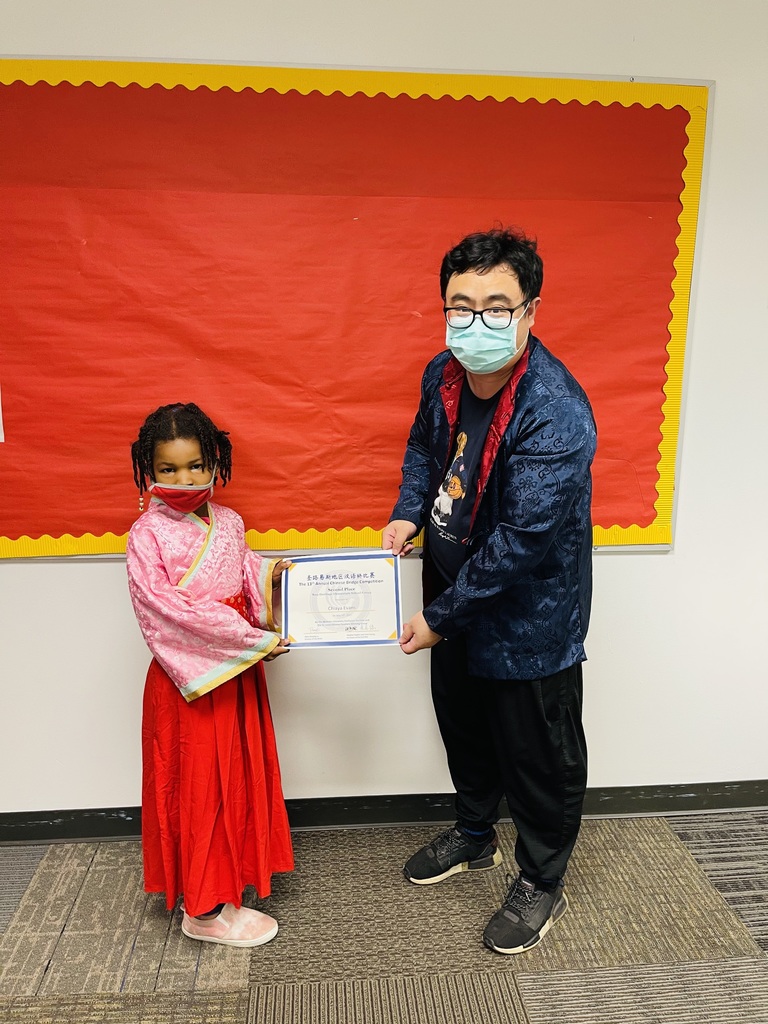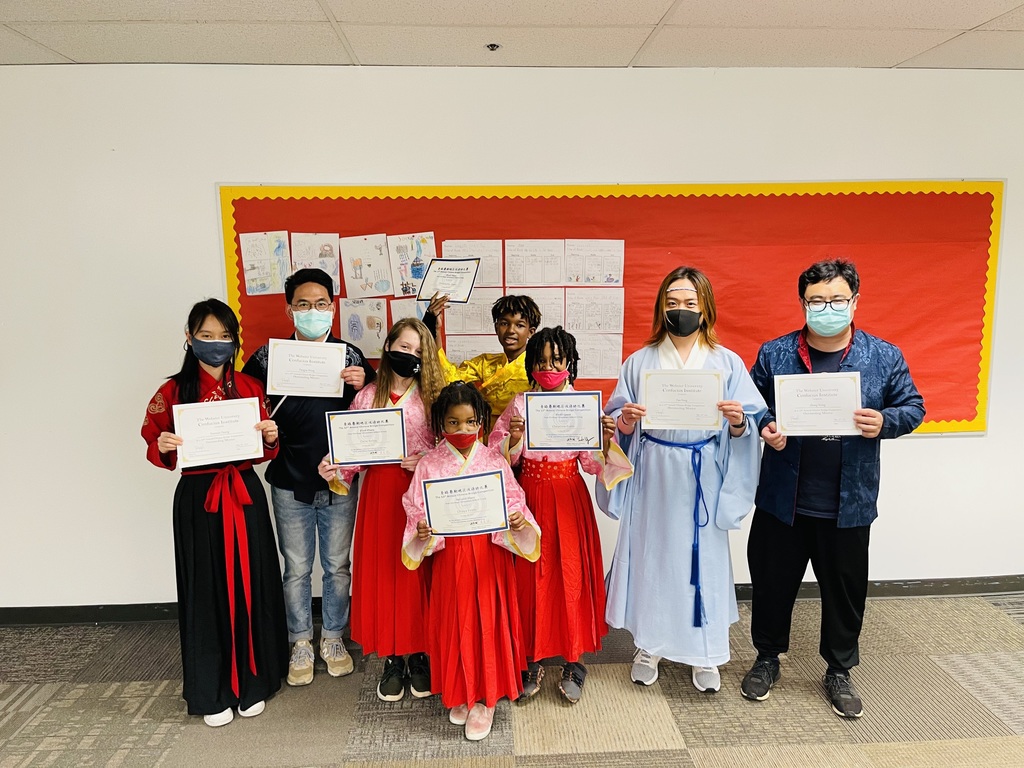 This is a reminder that the last day of school for all Kindergarten through 7th grade students is TOMORROW, Thursday, May 27! Please return all SLLIS devices, including hotspots, laptops, and chargers, to the SLLIS office as soon as possible. Have a great summer!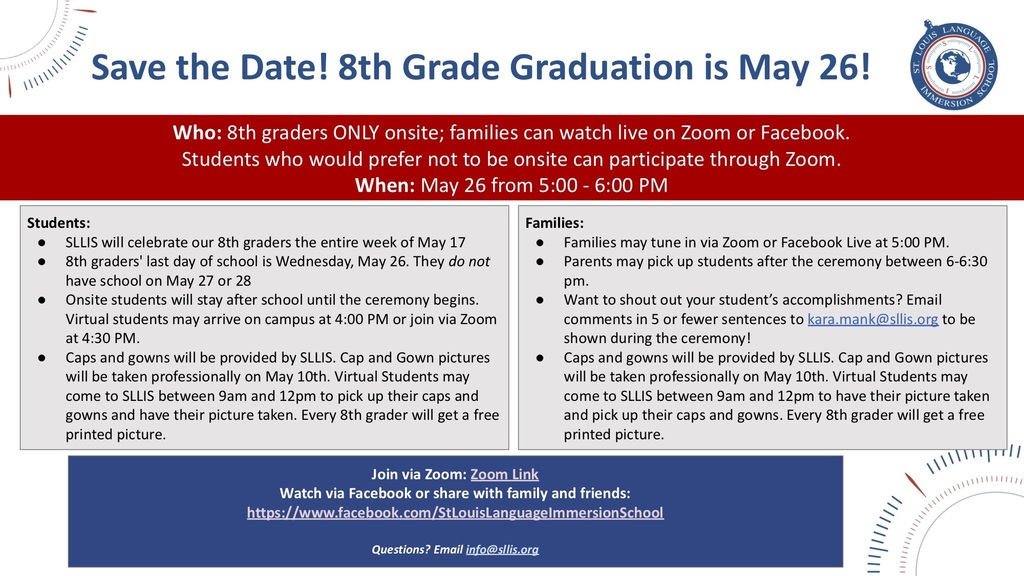 Attention Virtual families: Thursday, May 27 & Friday, May 28th, parents must return any SLLIS Chromebooks with the chargers and any hot spots you have to the SLLIS lobby. Only 3 days left until Summer Vacation!
SLLIS is at the Tower Grove Farmer's Market this morning! We're super excited to meet and talk to you!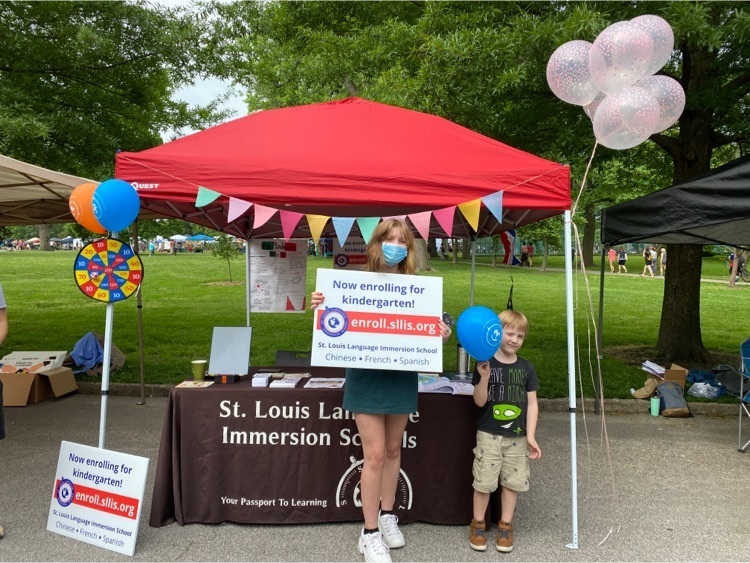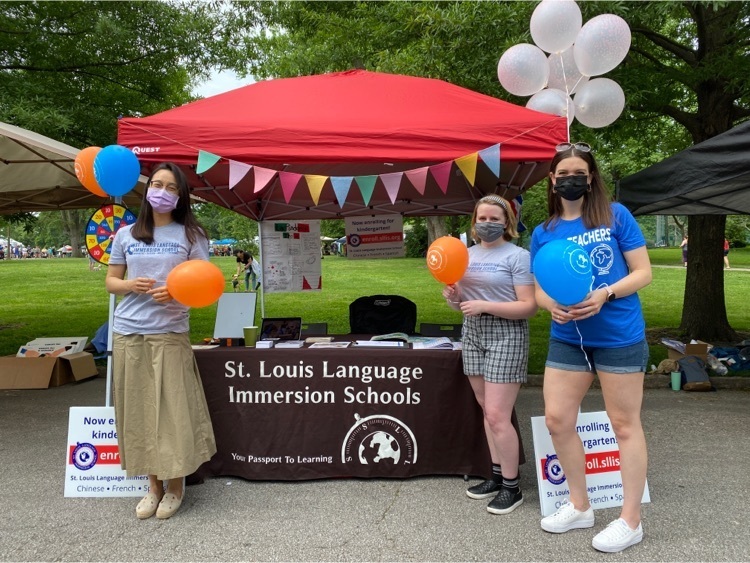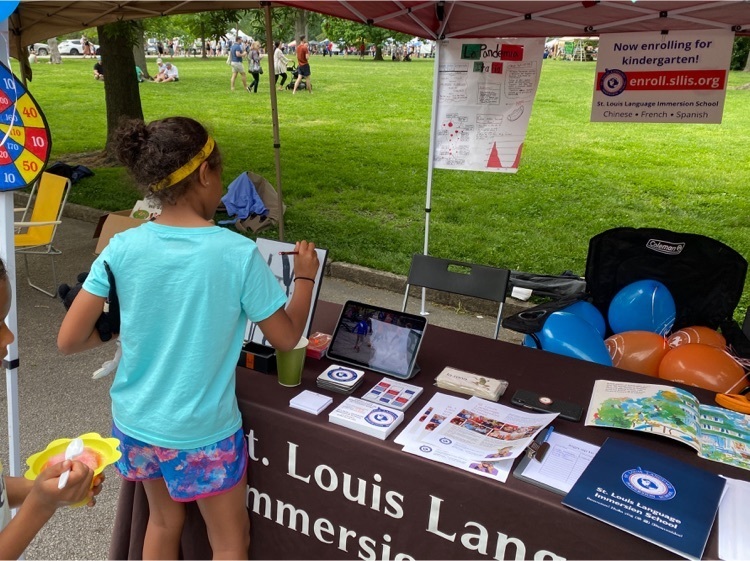 Don't forget that all SLLIS New Families and Current Families are invited to join us for a picnic tomorrow from 3:00-5:00pm at Tower Grove Park-Gurney Picnic Site. See map for details on where to meet. We can't wait to see you! In addition, SLLIS will also have a booth in the Tower Grove Farmers Market tomorrow morning! Come stop by and say hi!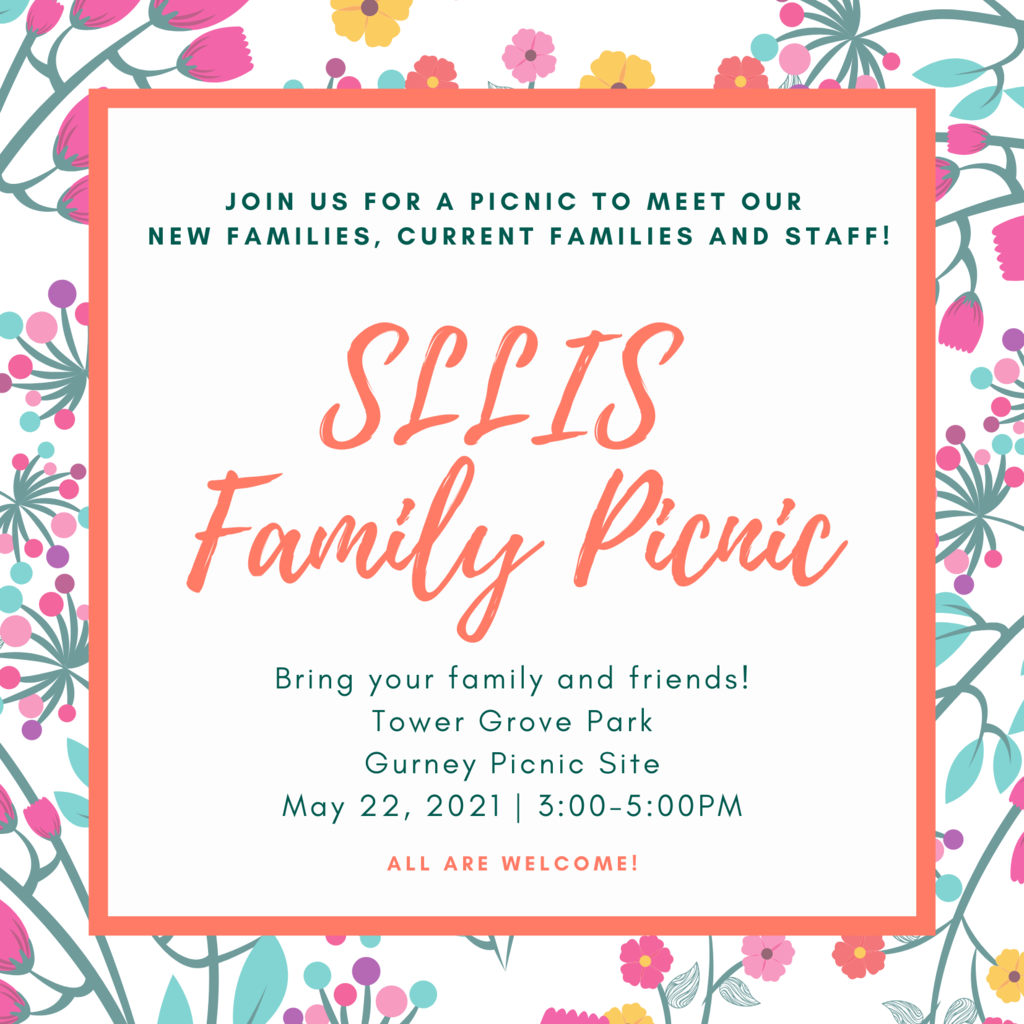 We are excited to share updates to our Middle School program for the 2021-2022 school year! View the attached image or go to
https://5il.co/t0hn
.