Hello, SLLIS! Please review the letter linked here for an important SLLIS traffic update!
https://5il.co/z048

Did you know SLLIS is collaborating with St. Louis Classical Guitar Society to offer weekly classical guitar lessons during music class for every SLLIS fourth grader? Our students in TFP and TCP will even have some lessons in their target languages! Here are some photos of our fourth graders getting started this week!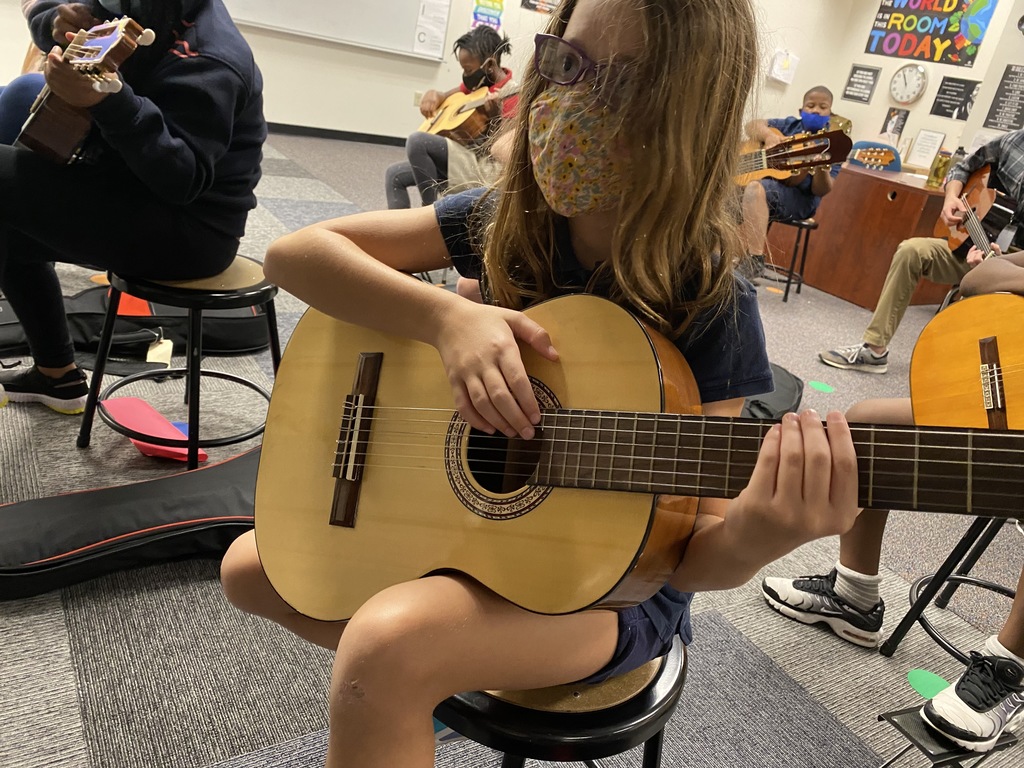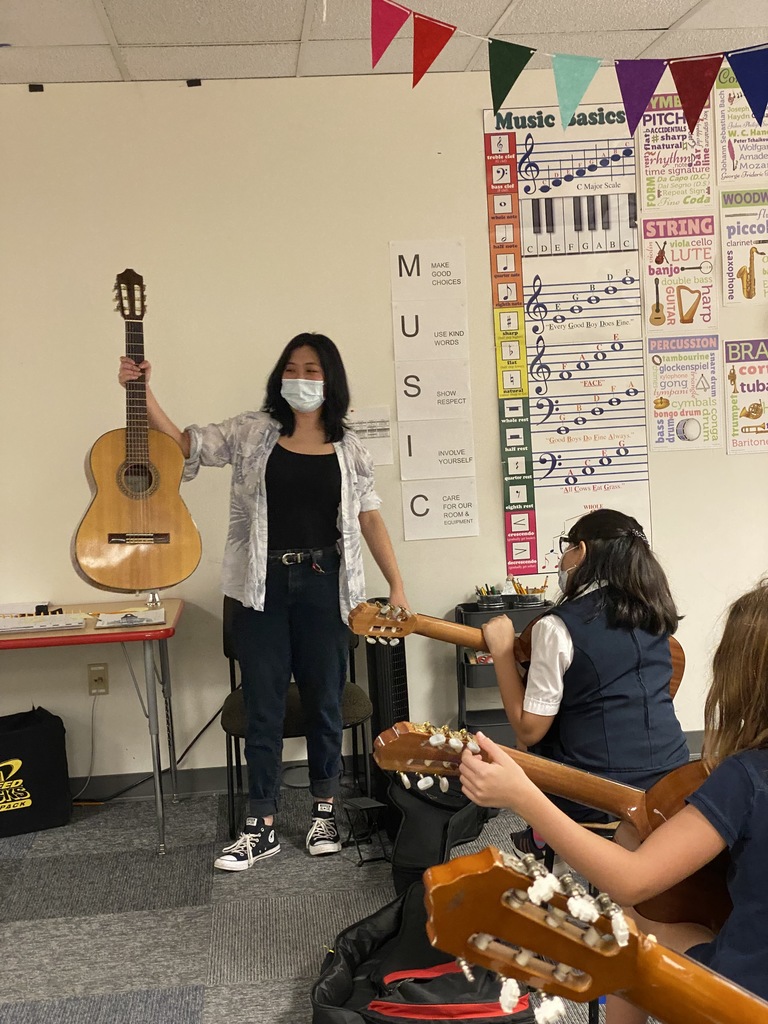 The SLLIS Board of Directors meeting for the month of September 2021 is tomorrow, 9/15, at 6:00PM! You can watch via Facebook Live, and if you have any public comments, email
info@sllis.org
with the subject line "Public Comment".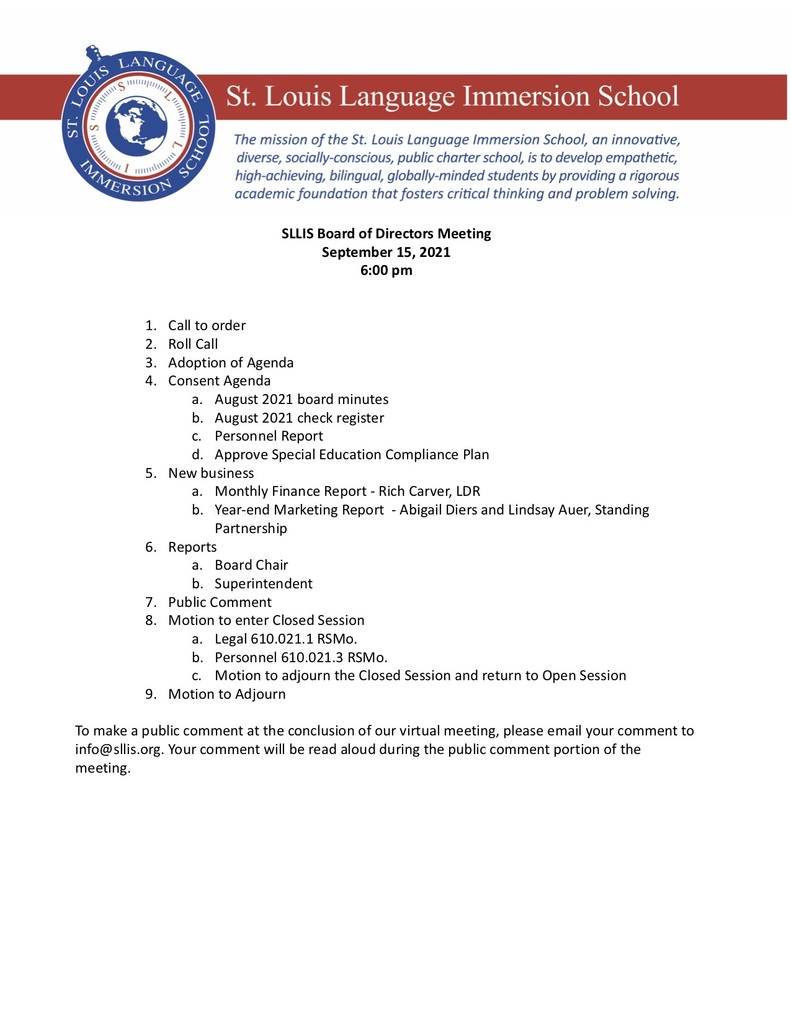 Hello, SLLIS families! Make sure to take our Facilities Feedback Survey to let us know how we might consider improving our facilities over the next few years in alignment with our new Strategic Plan:
https://tinyurl.com/sllisfacilitiesfeedback
. Thanks in advance!

If your student rides a SLLIS bus, please review the important information and updates linked here:
https://5il.co/ys2p
. Thank you!

You're invited to the SLLIS PTO's first event! Parent-Teacher Happy Hour Friday September 10th, 5:00pm-7:00pm Bootleggin' BBQ 1933 Washington Ave. St. Louis, MO 63103

Thanks to our incredibly dedicated staff and the patience of our families, we finished dismissing parent pick-up students in under 25 minutes today! We are so grateful for our community's flexibility during the difficulty of national bus shortages and beginning the year with more students than we have yet had at the Pine Street campus.

SLLIS Families: there have been some changes to visitor parking at SLLIS that we want to make sure you're aware of. This is especially important if your preference is to park and walk up to pick up your student at dismissal. Please review the attached letter for details:
https://5il.co/yck2
. Thank you!

Attention Middle School parents: we are still looking for more students in 6th-8th grade to join our Boys Volleyball and Girls Volleyball teams! We will extend the deadline to sign up for Fall sports to TOMORROW, September 2. You can email the completed form to
michael.wheeler@sllis.org
or send a copy to school tomorrow with your student. Forms will be in backpacks and can also be found here:
https://5il.co/y56s


Pick-up families: Please remember that for car pick-up, you can line up along the curb on 19th Street as well as Pine. Middle school families: Please check your email for an exciting announcement about Fall Sports at SLLIS! Email
kara.mank@sllis.org
if you did not receive this letter.

We are working hard to improve dismissal at SLLIS! We have some important updates to share. To pick up your student by car, you may choose from two pick-up lines: one on Pine Street, and one on 19th Street. You may also choose to park in the SLLIS parking lot and walk to the playground entrance to pick up your child. Dismissal time is very busy, so please review the details here so you can easily access pick-up lines and the parking lot:
https://5il.co/xy25
. The attached image has more information about how to access the pick-up lines and parking lot. Again, thank you for patience and collaboration as we work to make dismissal as safe and efficient as possible!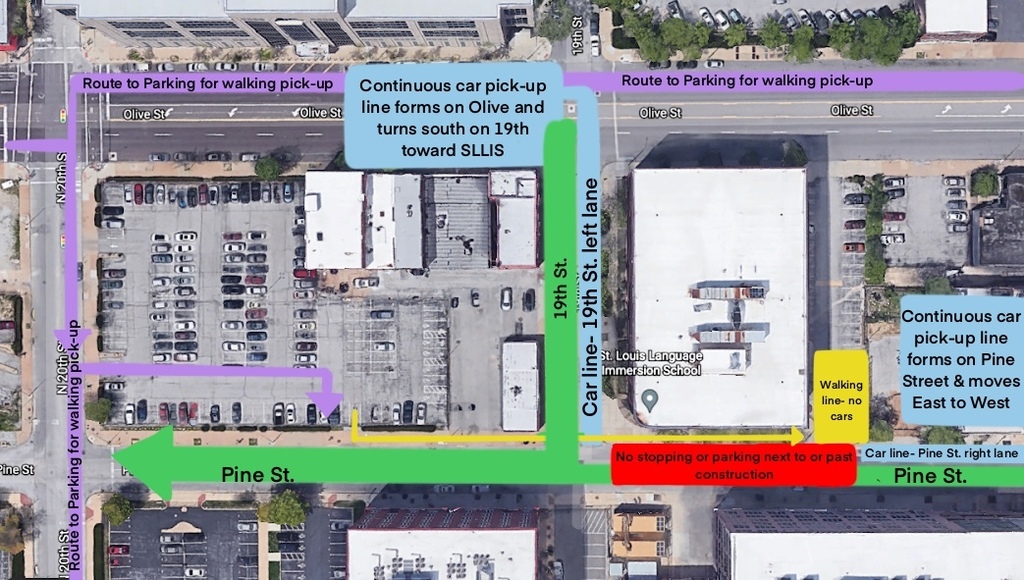 Hello, SLLIS Community! To our pick-up families, thank you so much for your patience as our students, staff, and parents learn our pick-up procedures. It's been a while since we had to dismiss 500 students from 1881 Pine all at one time! We will have some updates for you tomorrow to help make the process smoother, and we really appreciate your patience!

If your student rides a SLLIS bus, please review a few very important updates linked here:
https://5il.co/xquz
. Thank you!


Welcome back to another year at SLLIS to all our families! PLEASE REMEMBER: You and your students should NOT leave your vehicle during drop-off or pick-up time; teachers will walk students to and from the vehicle. This will ensure we can run morning and dismissal as smoothly as possible. Thank you!

Please review the attached communication regarding 2021 lunch updates from SLLIS!
https://5il.co/xifd
. We also compiled a list of frequently asked questions from Monday's Parent Q&A meetings! View the document here:
https://5il.co/xifj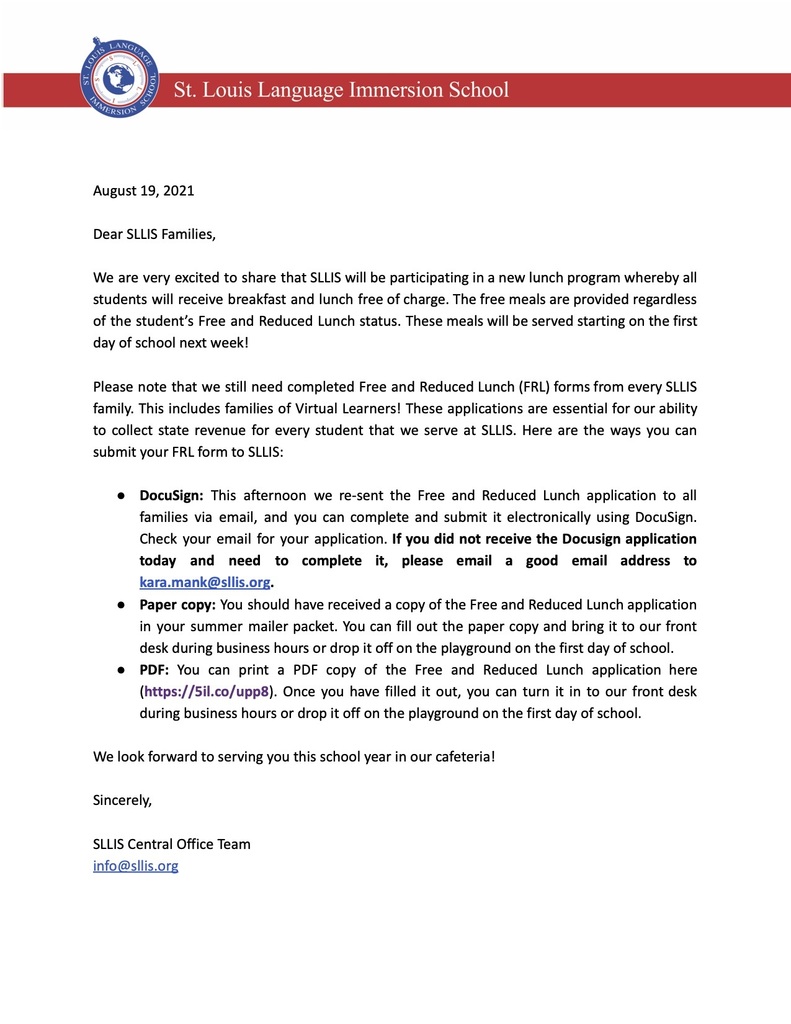 Join us for the SLLIS August Board of Directors meeting on Facebook Live tomorrow night at 6:00pm! If you would like to make a public comment during the meeting, email
questions@sllis.org
.