Good morning, SLLIS. The water main in this part of the City is broken due to the temperatures. As such, we have learned that we will not have access to water for the day and must cancel school. Dismissal will begin at 10:00 am. At that time, we will begin our usual dismissal procedures and load buses. We will be in touch with further updates as necessary. Thank you!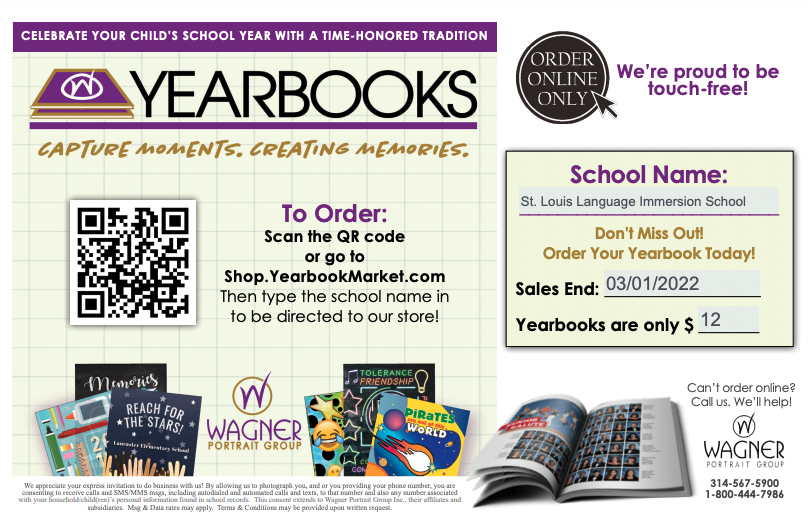 Hello, SLLIS! It is time to complete your Intent to Return form for the 2022-2023 school year! This is a highly important process that allows us to determine what current families will return next year. Our ability to track these forms efficiently and effectively will have a large impact on budget and staffing for 2022-2023. Please complete the form here:
https://forms.gle/gLm3UzRKzDPnQcTK8

Join us tonight at 6:00pm on Facebook Live for the January 2022 Board of Directors meeting!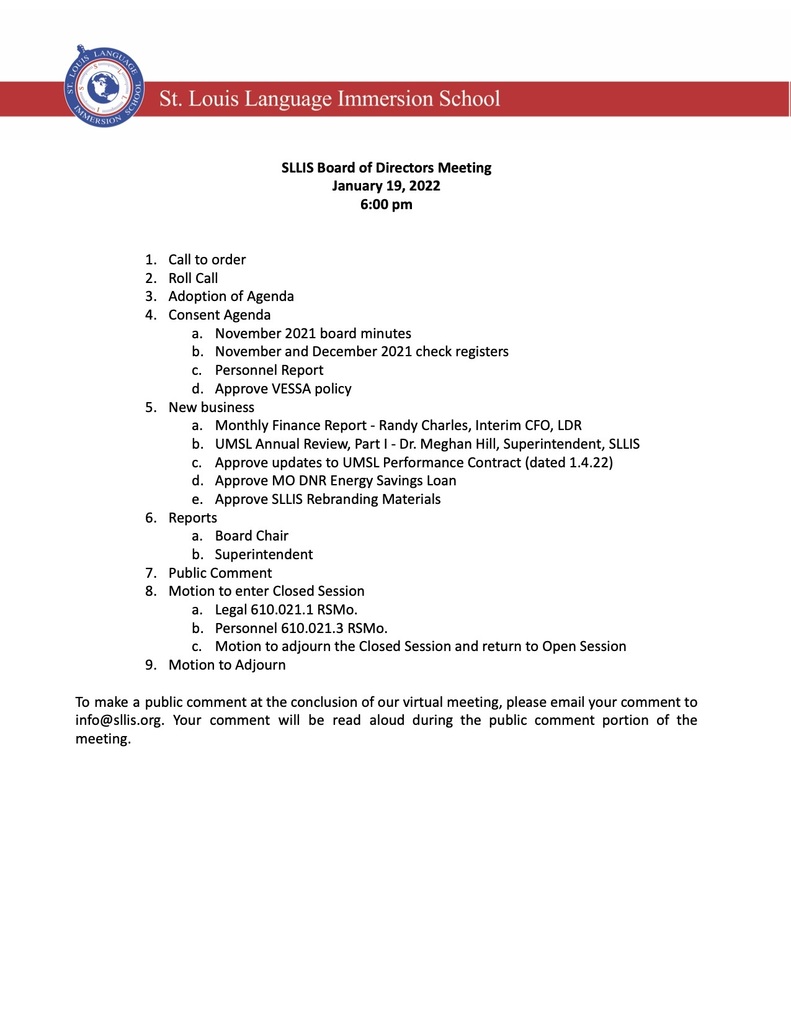 Hello, SLLIS! Effective today, your SLLIS student will bring a SLLIS device home each night in their backpacks in case the need to transition to virtual instruction arises. In light of this change, please make sure that you sign our updated Computer Acceptable Use Agreement, sent via Docusign email and coming home tomorrow in backpacks. Thank you in advance!

Hello, SLLIS! We look forward to seeing everyone back on campus tomorrow, Tuesday, January 18. Remember to send your student back with their learning device!

SLLIS Families: Please read the attached letter or check your email to view the letter more easily!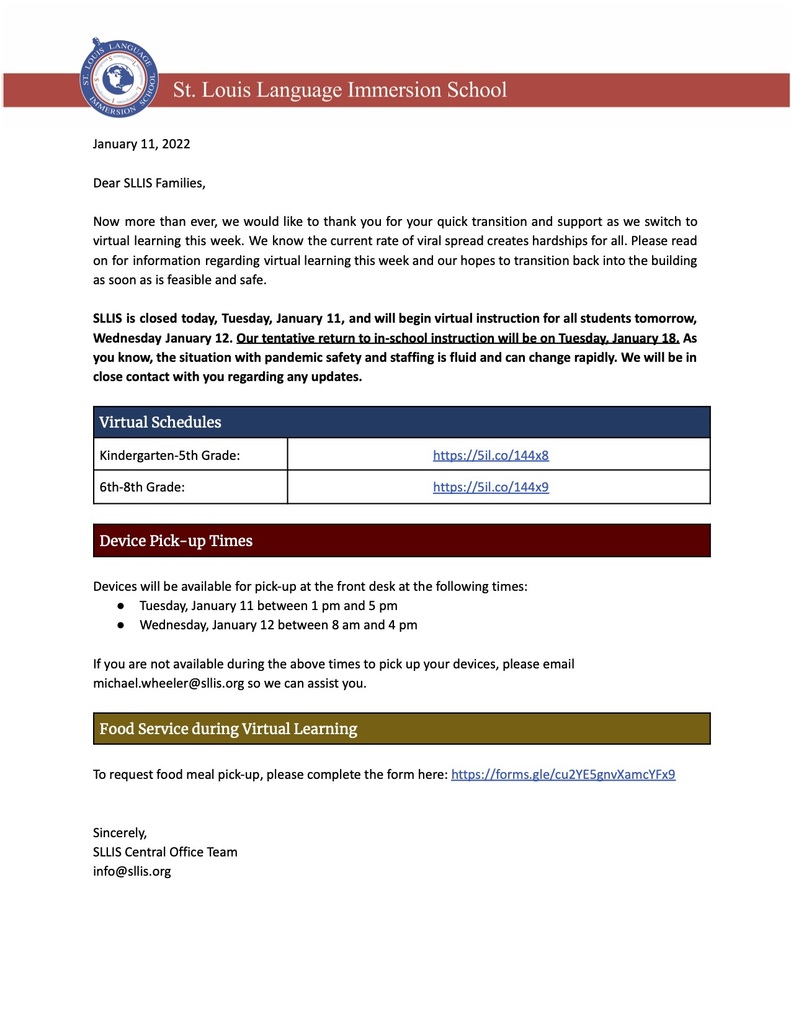 Good evening! SLLIS will be closed tomorrow, Tuesday, January 11, 2022, due to staff absences related to the pandemic. We will begin the transition to virtual instruction immediately, and more information can be found at this link (
https://5il.co/143cu
) or in your email. Thank you!

Questions about SLLIS's new Telehealth pilot program? Watch out Q&A session with Nurse Michele Voss and Dr. Mark Lowe, Vice Chair at Washington University Department of Pediatrics!
https://youtu.be/RBLmhcbvTCQ?t=266

Check your email for a message from Gene Slay's Girls & Boys Club of STL!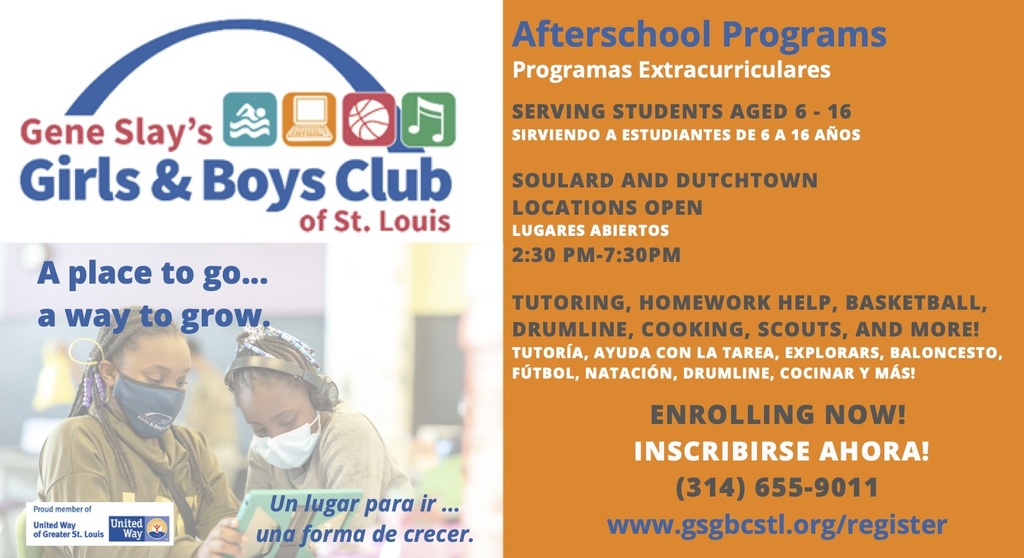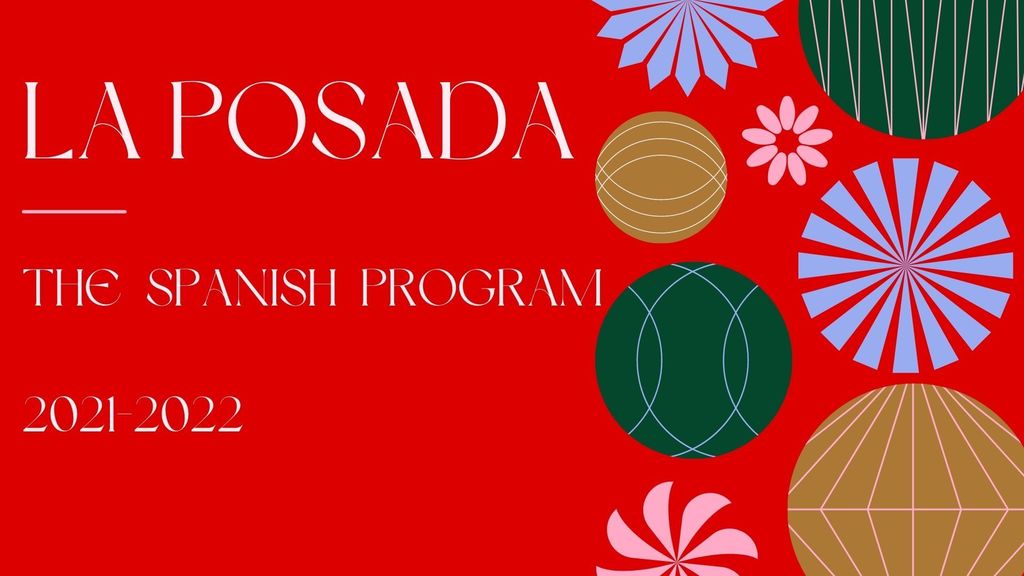 Through our community engagement process, SLLIS collects ongoing feedback from parents, staff, and students. Some of this feedback has been incorporated into our updated Safe Return to Instruction Plan. You can review the most recent plan here (
https://5il.co/u9v0
). Please email
info@sllis.org
by no later than December 22 with further feedback or suggestions. Thank you!


Below is the link for requesting a virtual accommodation for second semester, which begins on January 4, 2022. Families may now choose to change your learning track from virtual to in-person, or vise-versa. Please complete this form by no later than 3:00 pm on Wednesday, December 15, if your student requires a virtual accommodation for Semester 2. PLEASE NOTE: Due to current attendance regulations, students must attend virtually for an entire semester if requested. For the spring semester, virtual students will need to commit to completing the entire semester through May virtually before signing up for the accommodation again. Follow the link or check your email for the Virtual Accommodation request form:
https://forms.gle/NgUayExiinmaEKzdA



Dear SLLIS parents,  St. Louis Language Immersion School has been selected as a pilot site for school based telehealth in the St. Louis metropolitan area. In partnership with Washington University, we are excited to offer this service beginning January, 2022. To participate in the program, please complete and return the demographics and consent forms sent home today in backpacks or on Docusign. We will also offer an introductory Q&A session on Wednesday, December 15 at 6 p.m. for those interested in learning more about this pilot. Join Zoom Meeting
https://wustl-hipaa.zoom.us/j/92496746204?pwd=RUxoN2x5SWZOSUhoOXFlK1FTQzJDdz09
Meeting ID: 924 9674 6204 Passcode: 031658 Dr. Mark Lowe Vice Chair of Pediatrics Washington University School of Medicine Department of Pediatrics
Join us next week for our Holiday Spirit Week!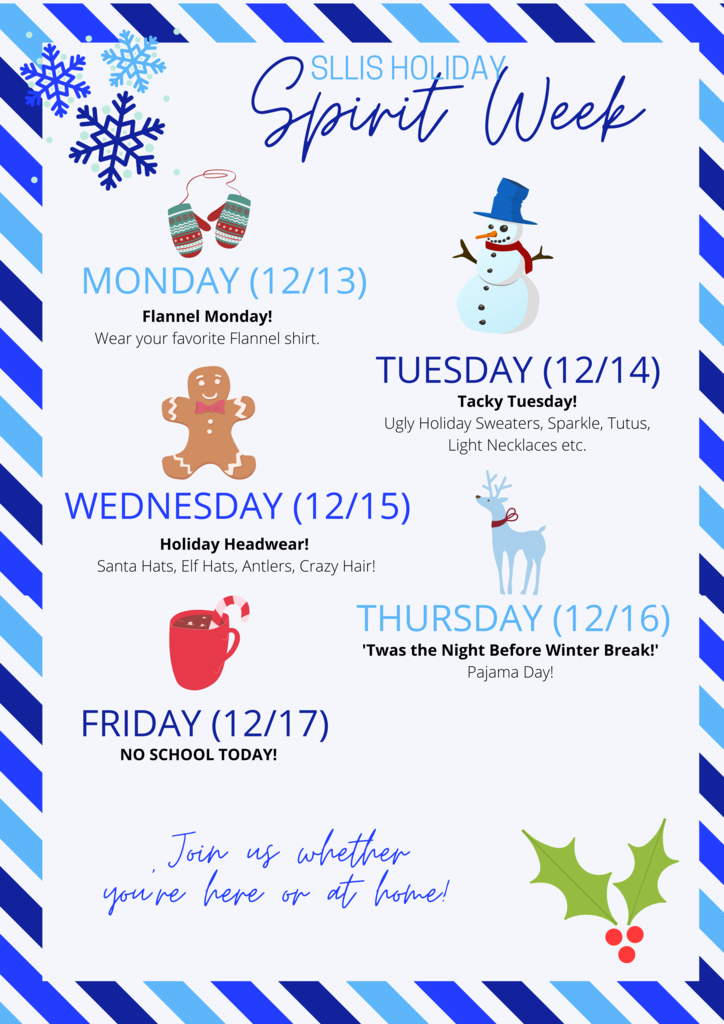 Know your facts about the COVID-19 vaccine and sign your student up to get their vaccine at SLLIS on December 10!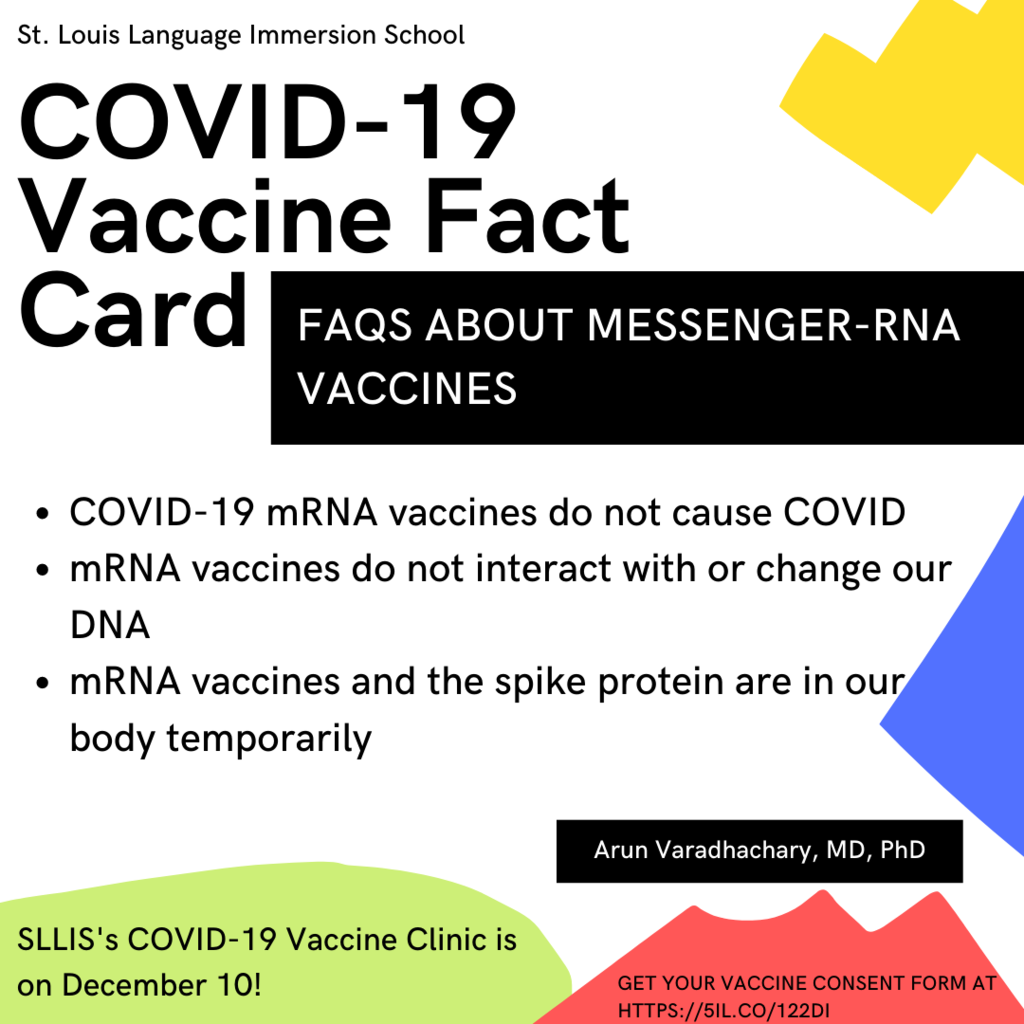 Below is the link for requesting a virtual accommodation for second semester, which begins on January 4, 2022. Families may now choose to change your learning track from virtual to in-person, or vise-versa. Please complete this form by no later than 3:00 pm on Wednesday, December 15, if your student requires a virtual accommodation for Semester 2. PLEASE NOTE: Due to current attendance regulations, students must attend virtually for an entire semester if requested. For the spring semester, virtual students will need to commit to completing the entire semester through May virtually before signing up for the accommodation again. Follow the link or check your email for the Virtual Accommodation request form:
https://forms.gle/NgUayExiinmaEKzdA