Friendly reminder from SLLIS: in the interest of health and safety, SLLIS will take one virtual week following Winter Break from January 4-8, 2021. We will resume In-School Learning on January 11, 2021. Thank you!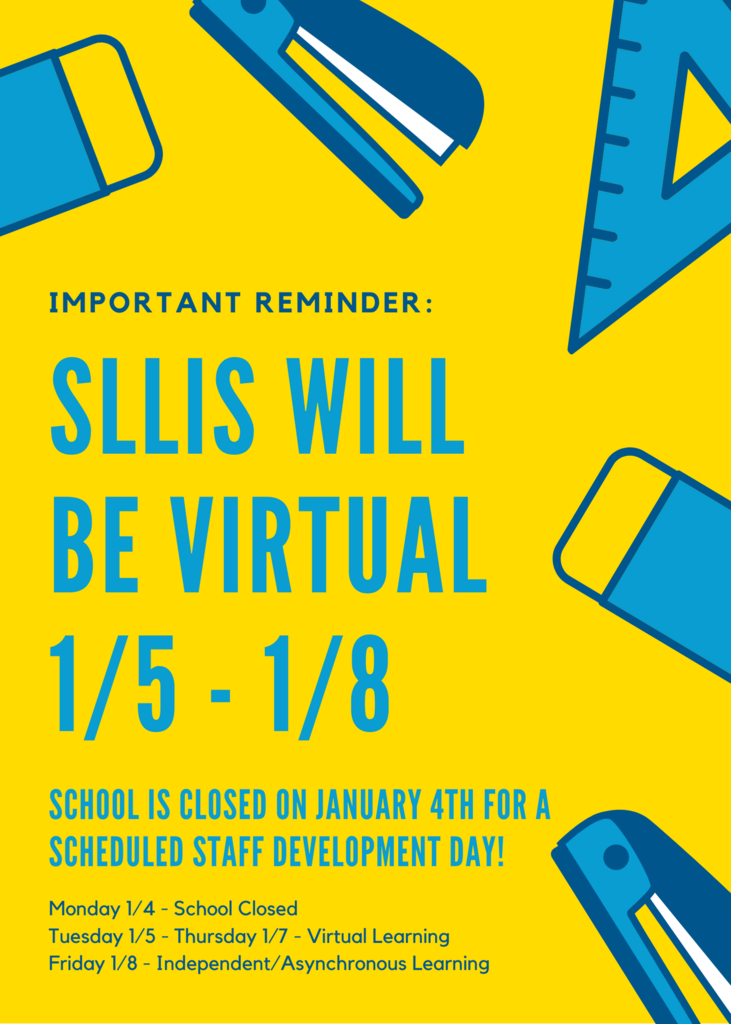 Picture Day 2.0 is coming on January 19th for both in-person and virtual students. More details to follow in the New Year!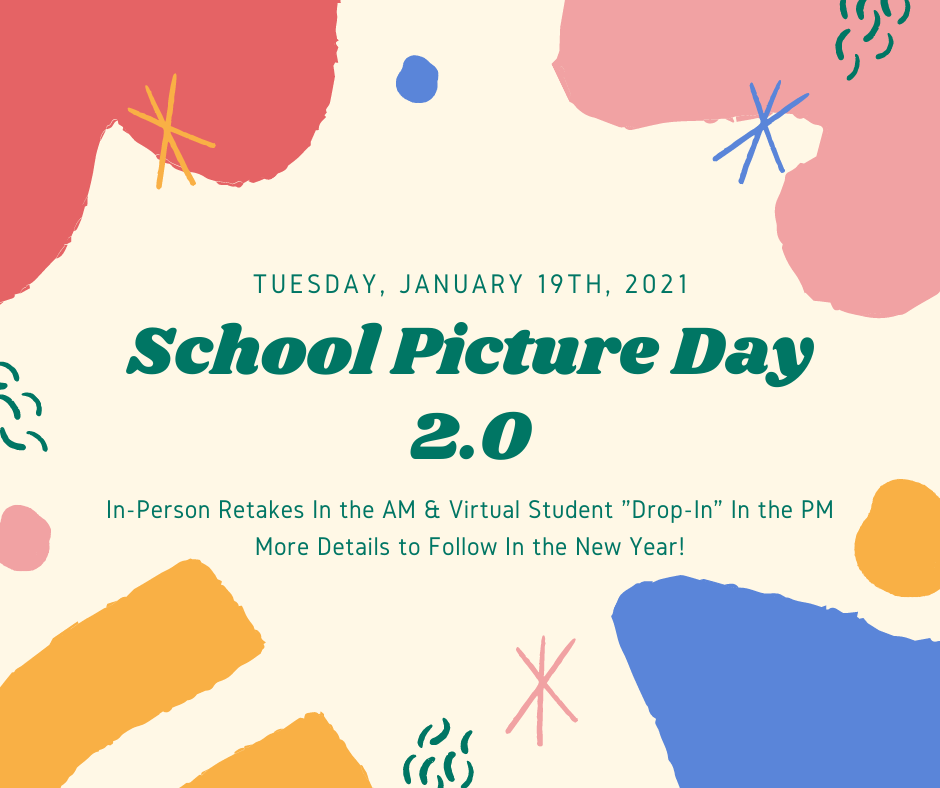 Join us next week for a Holiday Spirit Week! Students at home and in person are invited to show their spirit as we approach Winter Break!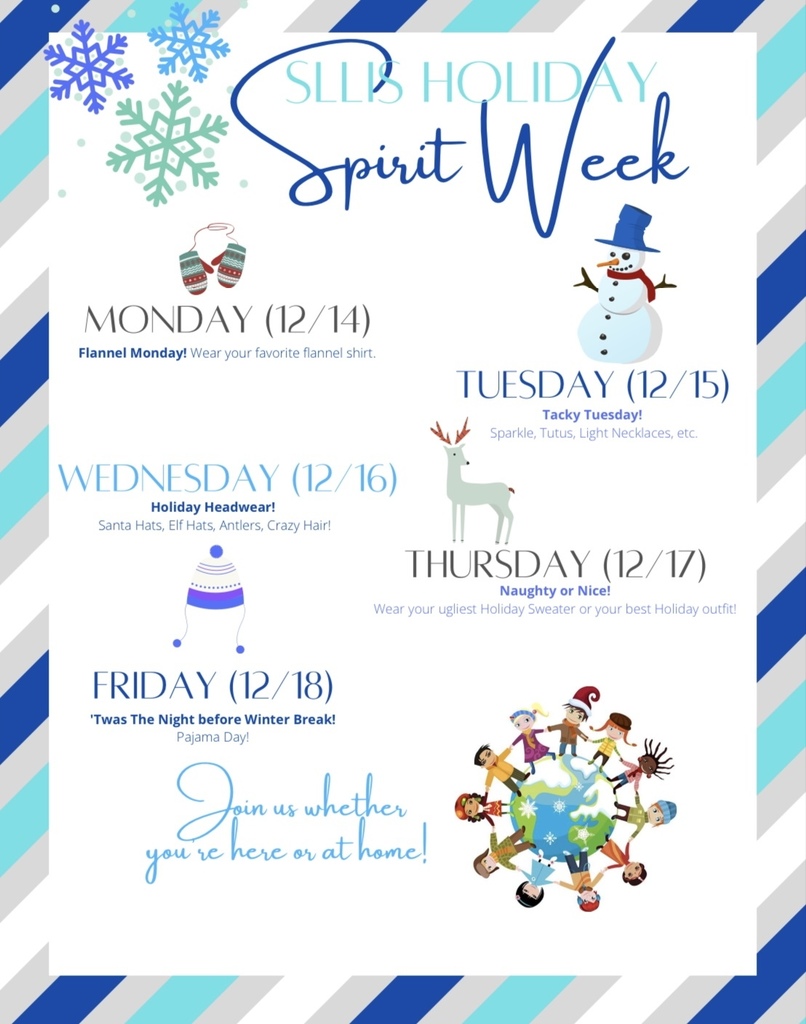 Please review the attached communication by clicking the image or going to
https://5il.co/nqhq​
. In the interest of health and safety, SLLIS will take one virtual week following Winter Break from January 4-8, 2021. We will resume In-School Learning on January 11, 2021.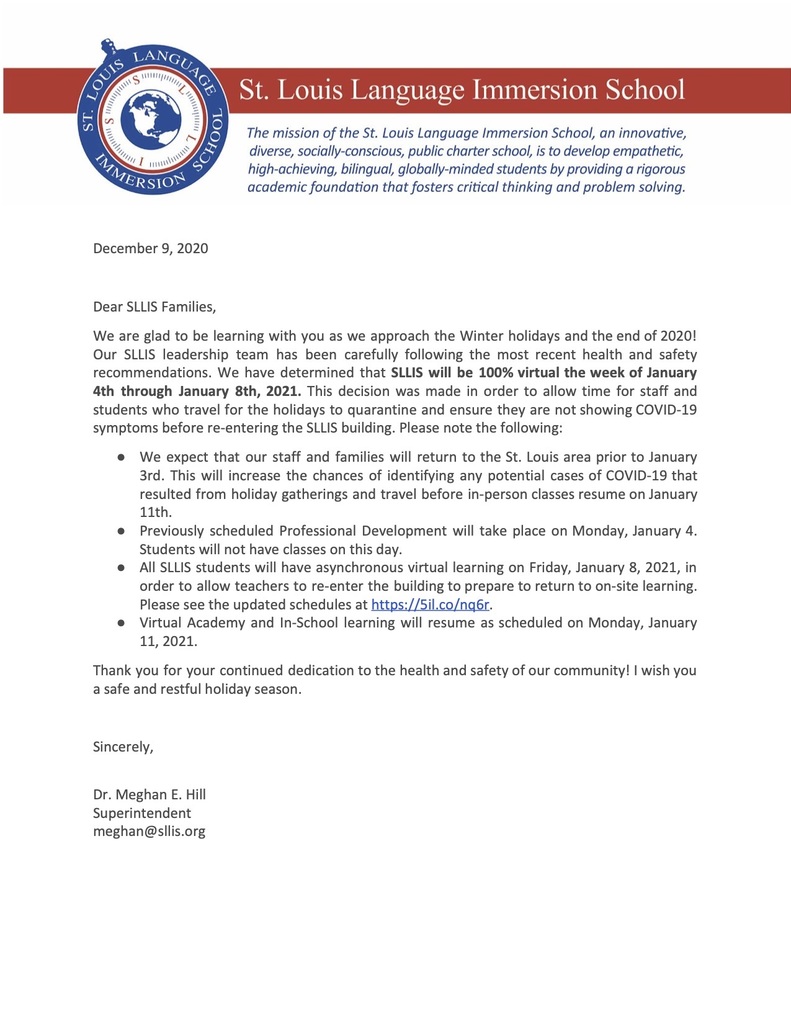 Hello, families! We are excited for our in-school learners to return to campus on Monday, December 7! SLLIS will continue utilizing safety procedures to keep students and staff safe in the building as we approach the winter holidays. Please send your in-school students back on Monday with their SLLIS laptop, charger, and any borrowed hotspots or classroom materials. We will see you soon!

In the spirit of the season of giving, join us along with Straub's Markets and many others in saluting and supporting the students of St. Louis Language Immersion School! Please consider a gift of $25.00 or more, and Straub's Markets will recognize your generosity by giving a $5.00 gift back to you in the form of a shopping certificate to Straub's. The certificate will be mailed to upon receipt of your donation. You can donate today by following the QR code or by going to
https://www.sllis.org/page/virtual-fundraiser
and read more about the fundraiser at
https://5il.co/nftt
.


Please see the attached flier for the SLLIS Winter Clothing Drive!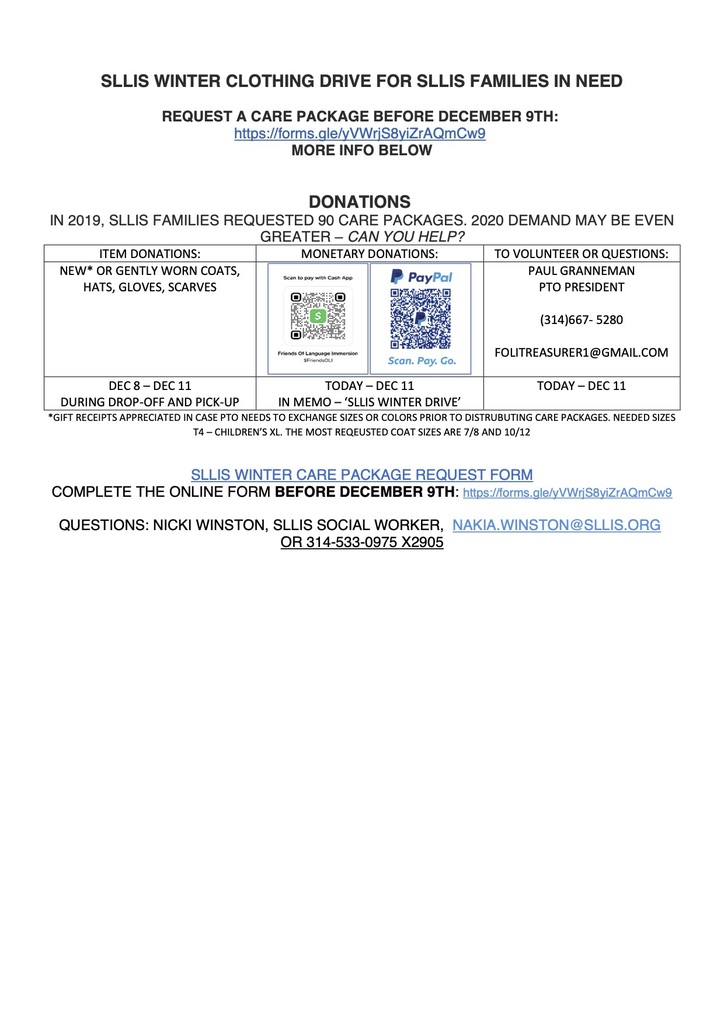 View the attached images or follow the link to view SLLIS's Request for Proposals for Rebranding.
https://5il.co/na0i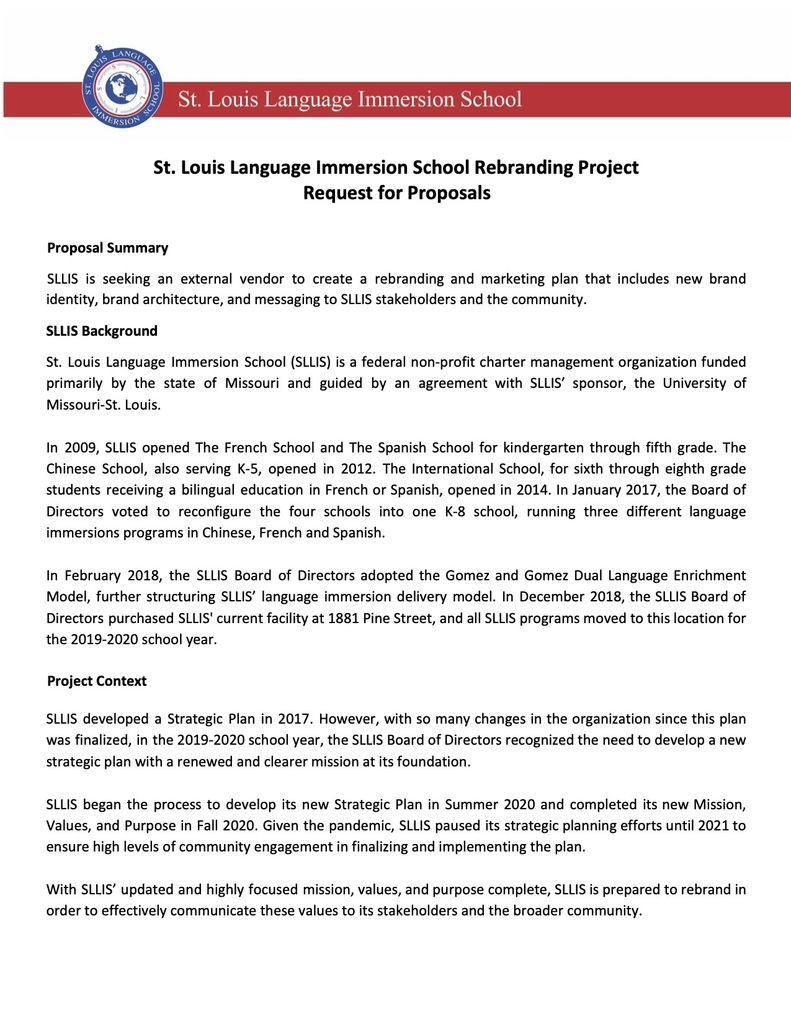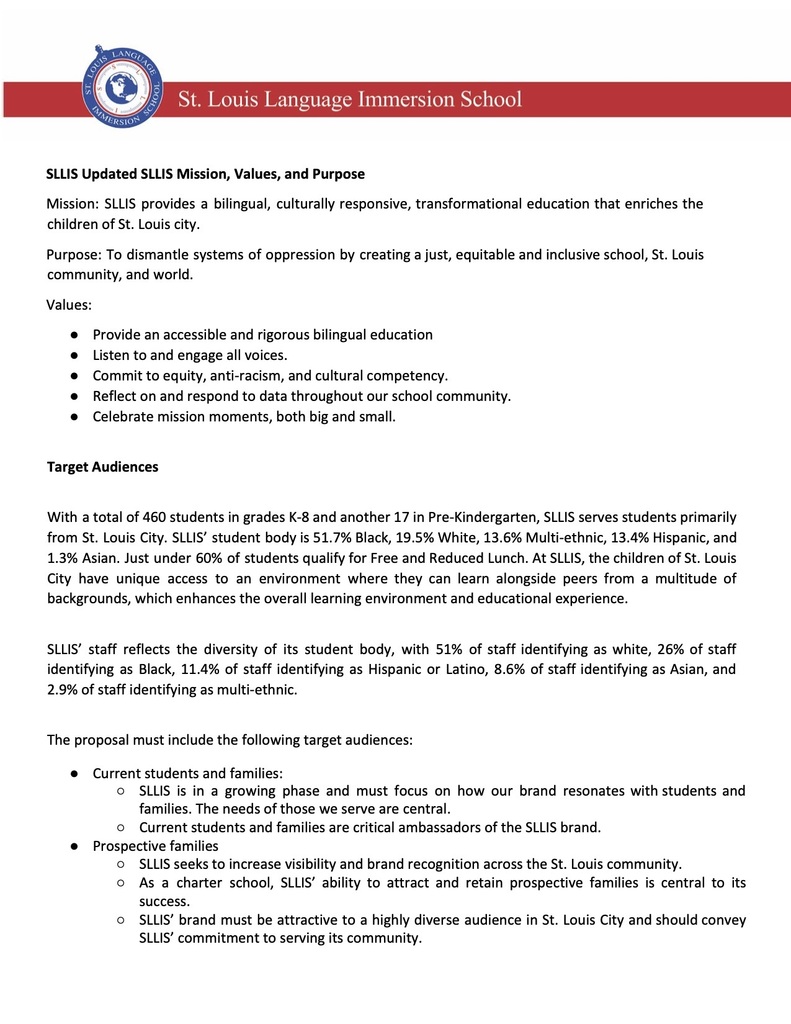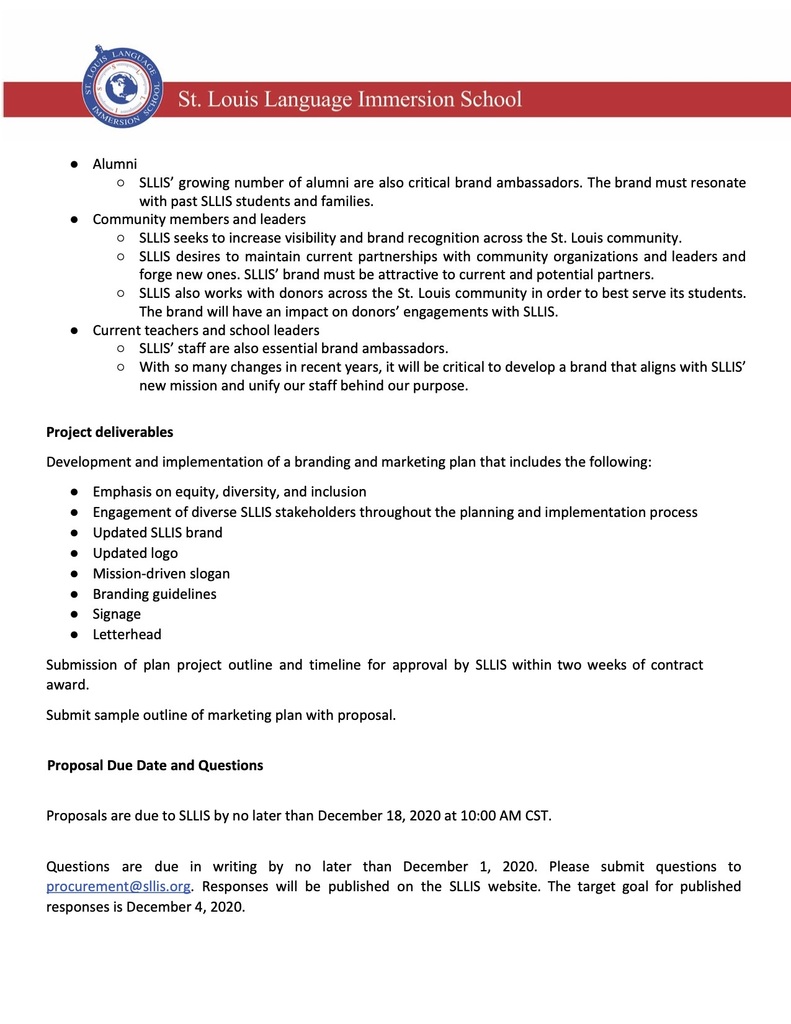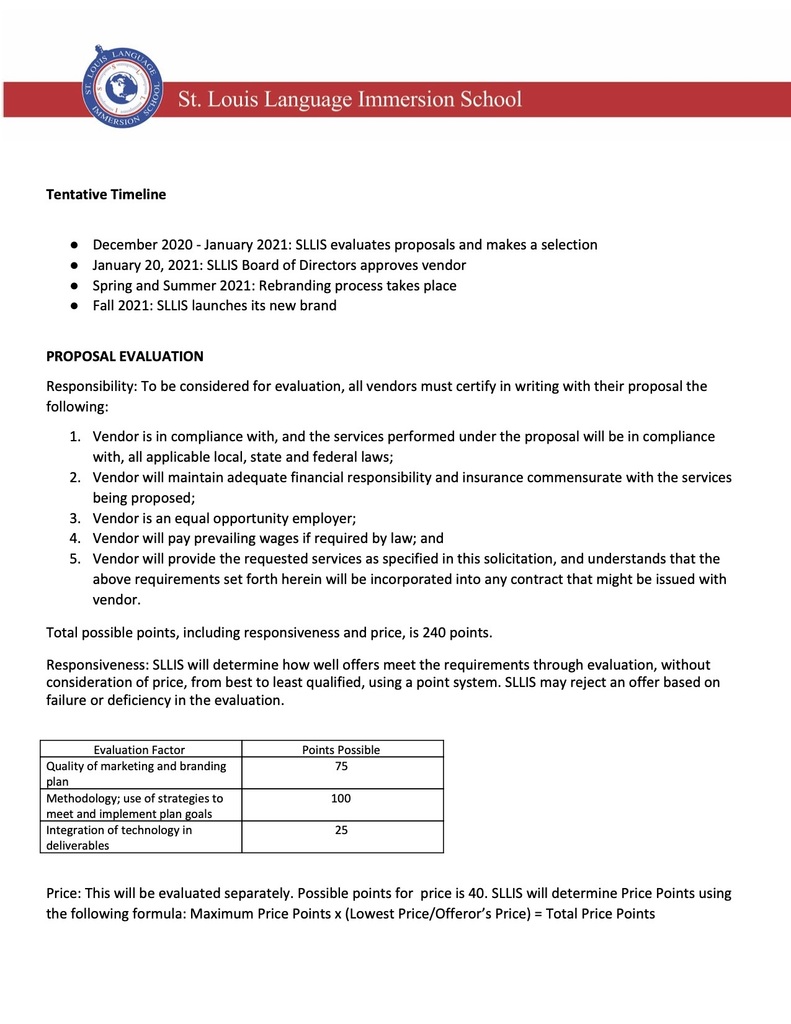 Please read the attached letter regarding return to school. Have a safe and happy Thanksgiving break!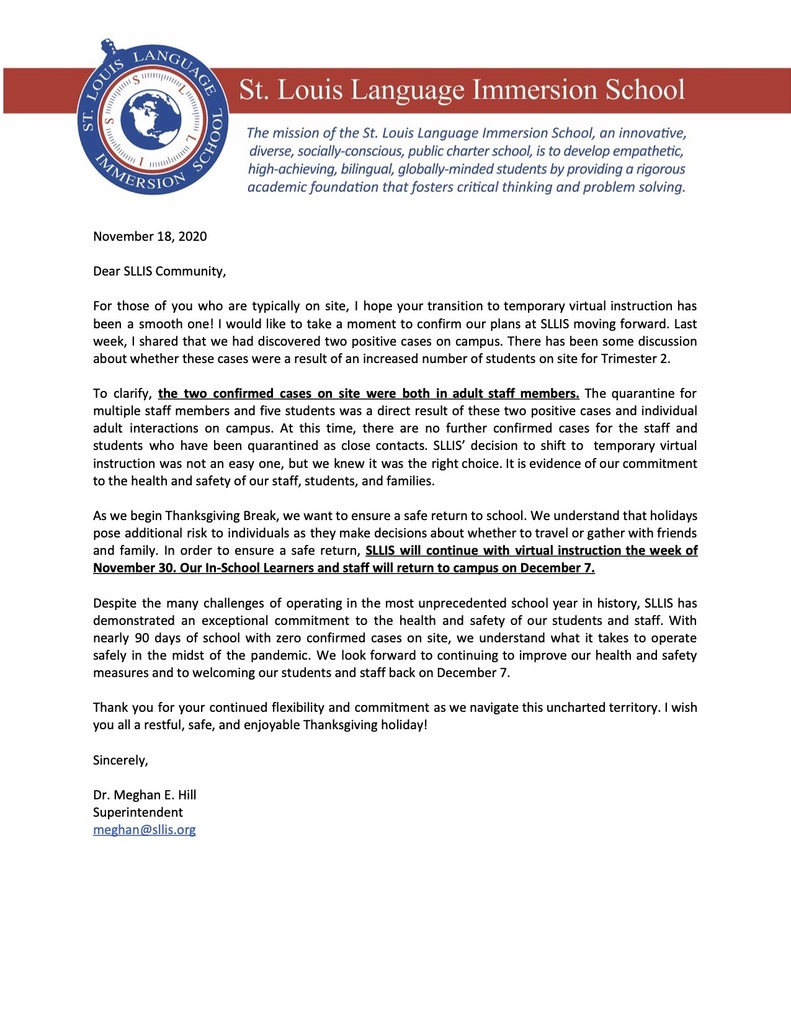 Hello, SLLIS! To ensure security of our virtual Zoom Board of Directors meeting, we will be recording tonight's meeting and posting the recording after the meeting ends. Thank you for your patience!

Good morning, SLLIS! Attached is the agenda for November's Board of Directors meeting set for 11/18/20 at 6:00 pm. You can tune in on Facebook Live. If you would like to make a public comment at tomorrow's meeting, please email your comment to
info@sllis.org
.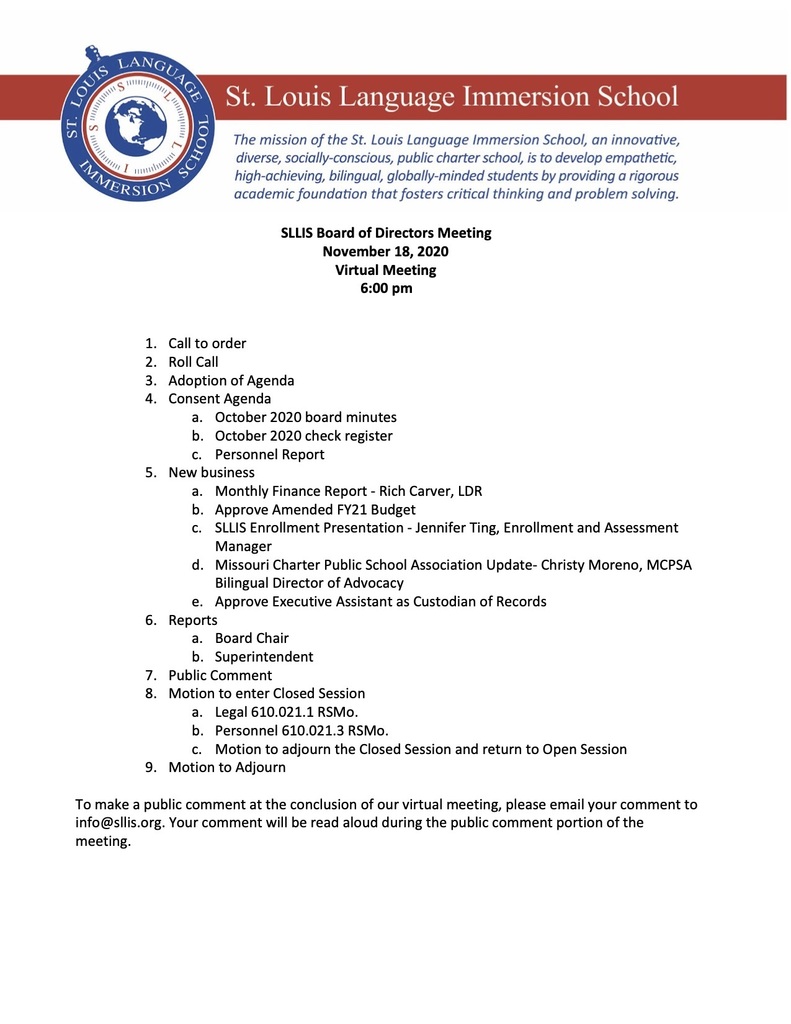 Hello! This is a reminder that SLLIS will not be in session tomorrow, November 6, due to Parent Teacher Conferences. Thank you!

Please review the attached documents with a summary of information provided by the CDC regarding safety practices during the winter holidays. Revise los documentos adjuntos con un resumen de la información proporcionada por los CDC con respecto a las prácticas de seguridad durante las vacaciones de invierno.
https://5il.co/mr54​
https://5il.co/mr55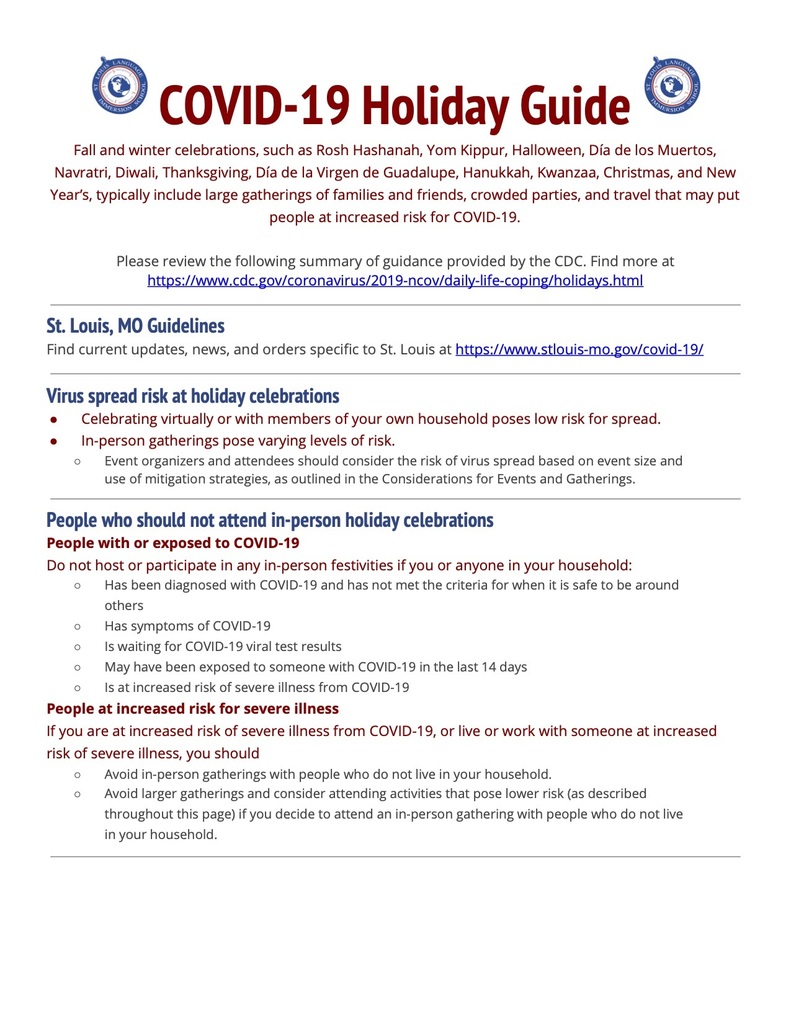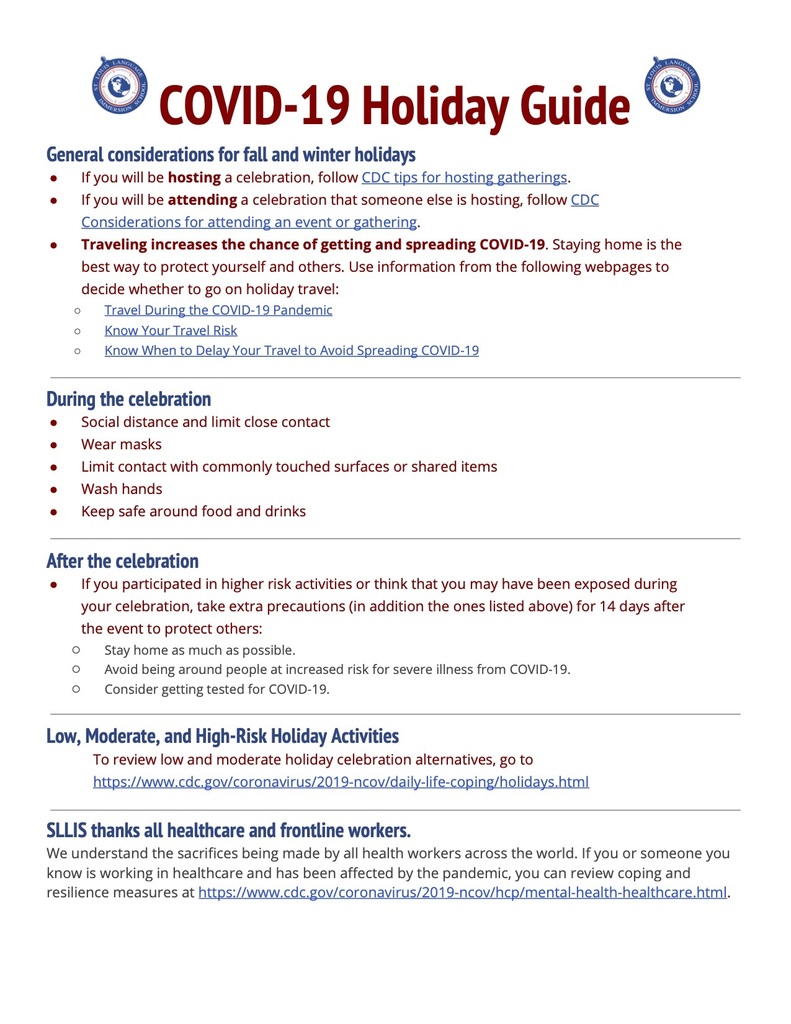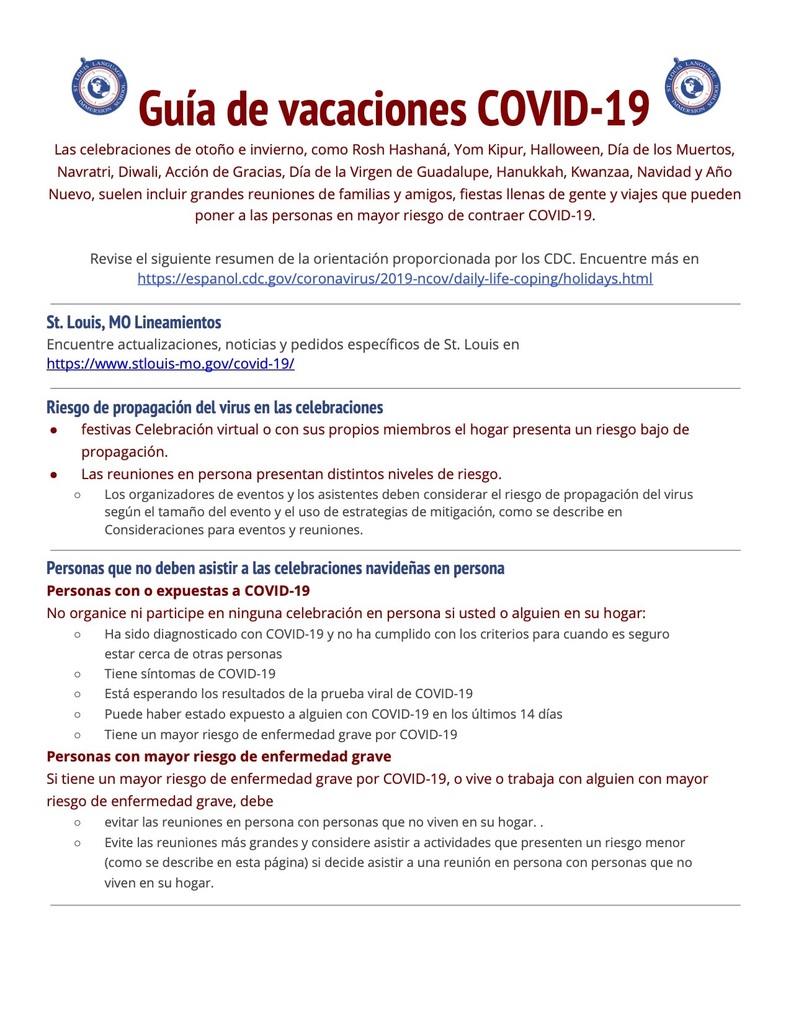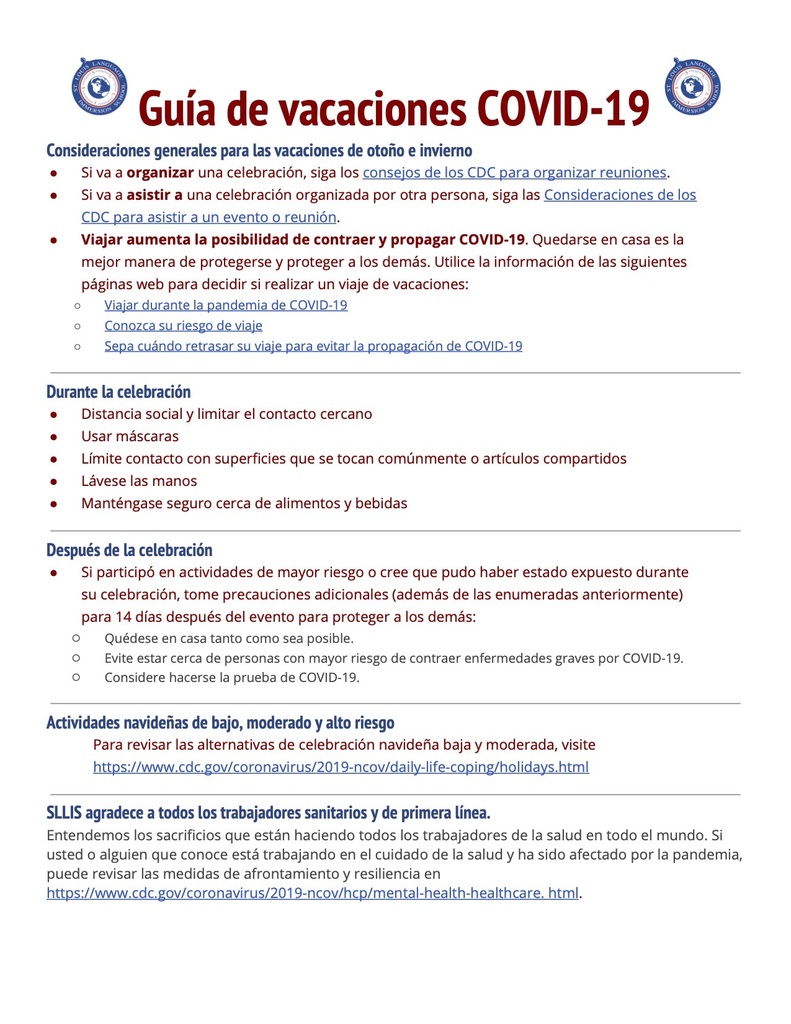 Good morning! Chat and Chew with Principal Blackwell is cancelled for tomorrow, 11/4. We will see you next time!
Reminder: Our Scholastic Book Fair begins today!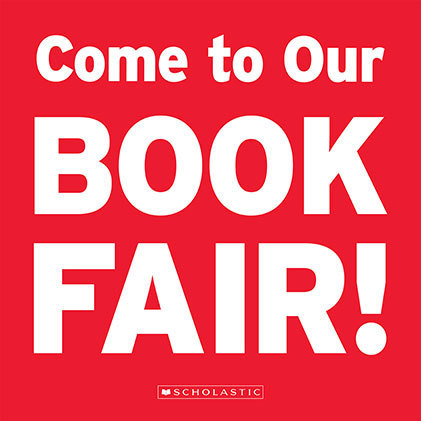 SLLIS Parents: If you have questions about Trimester 2 and weren't able to attend our Parent Q&A Sessions yesterday, make sure to review our Parent FAQs here:
https://5il.co/mmiv
. See you on Monday, November 2 for the first day of Trimester 2!
DON'T FORGET: The Scholastic Book Fair starts on MONDAY! Students in-person will have the opportunity to visit the fair at SLLIS, and we will be running a virtual book fair alongside it for our virtual students. For our in-person students, we are strongly recommending the use of the e-wallet system. This allows students to shop at the book fair as they would normally but will use their pre-paid account instead of cash. eWallet funds are not refundable. Any unused eWallet funds that remain after the Book Fair ends, or if the Book Fair is cancelled, are available for use in the Scholastic Store Online. Click the link below for more information on both the in-person and virtual book fairs and to learn more about the e-wallet system:
https://www.scholastic.com/bf/stlouislanguageimmersion
Thank you for supporting our student's love of reading! Thank You for supporting our book fair!