Board Meeting Information
Current Board of Directors: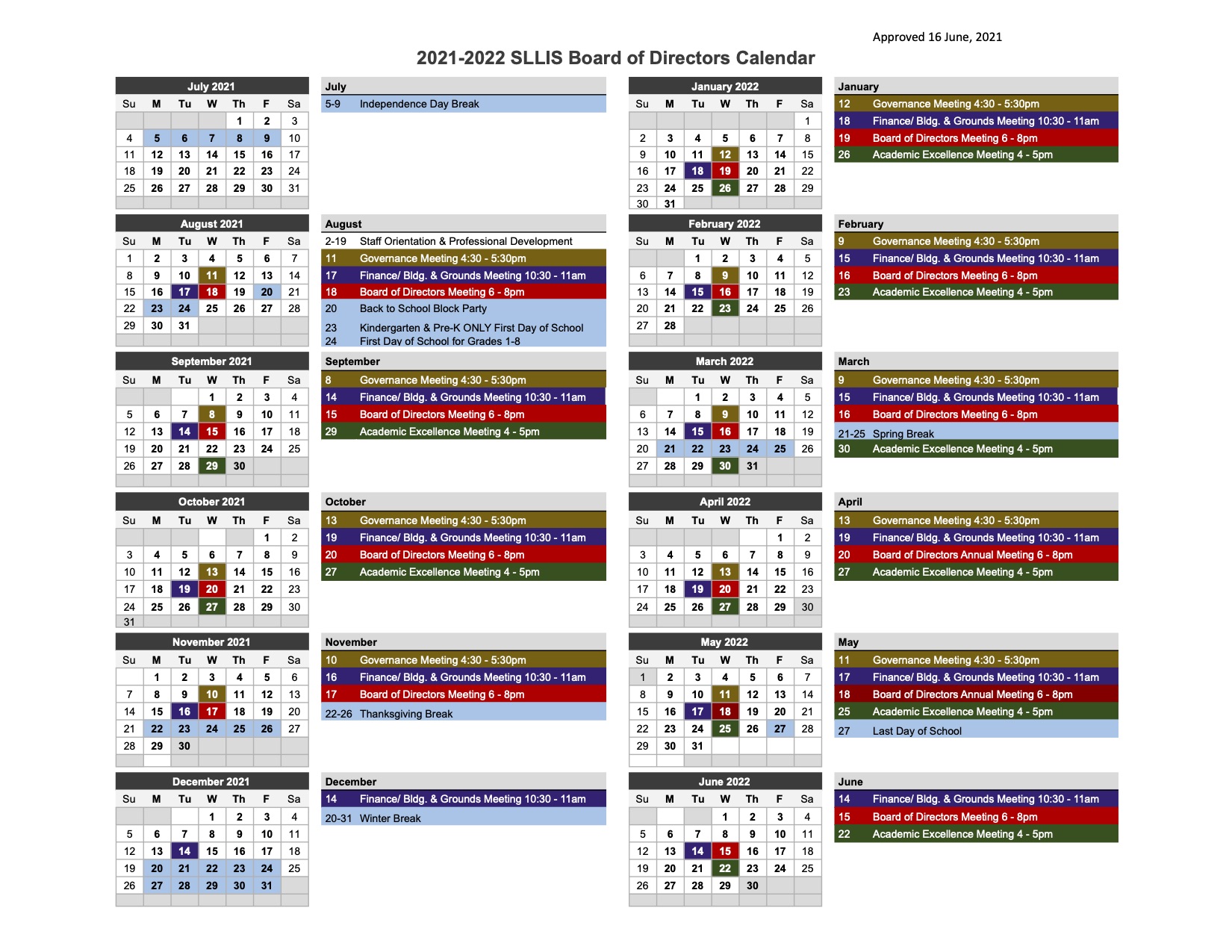 SLLIS NOVEMBER 17, 2021
Message from the Board Chair, Judy Fisher
Resilience
1.19.2022
We all know that the pandemic has been hard. It's been difficult in some obvious ways.
COVID-19 has brought illness and death. It's brought interruption and chaos. We, as members of the SLLIS community, know it's been an enormous challenge for education in general and for the schooling of our children in particular. We've been on a rollercoaster of emotions and reactions: confusion, fear, frustration, anger and denial.
To state the obvious, delivering education – always a challenge – is even harder in teaching through the massive disruption of this pandemic.
And still, even now, remain in it. The end of the pandemic remains more of a hope than a reality.
So, tonight let me offer a different message or a different emphasis. Maybe the pandemic has taught us all – teachers and students, administrators and staff, parents and extended family and community members – something that we might not ever have learned or learned as deeply without this otherwise terrible pandemic hitting us with its long and difficult impact.
I think we are all learning the necessity and value of resilience.
Even before the pandemic, this idea of resilience was receiving more and more emphasis in educational practice and school curriculum.
We know resilience is an important trait that contributes mightily to character formation, to individual success and to community achievement. And now, the pandemic is delivering an important lesson in resilience – one that wasn't exactly in our lesson plans. But it's one we've learned at a very deep level.
We're learning that we are resilient creatures. We've been at this for a long time and we've had our share of disappointments and setbacks, but you know what, we've also demonstrated our ability to adapt, to not give up and continue to teach and learn.
We may not have set out at the beginning of the pandemic to instill or to build resiliency, but, by golly, I think we have. While complaints and loss of morale are certainly understandable – maybe even unavoidable – we've had a minimum of that and instead we continue to push ahead, seeing many signs of progress and encouragement.
We have learned that SLLIS is resilient, that our kids are strong and that our community is dedicated to keeping the faith.
I have especially been thinking about resiliency during the observation of the Martin Luther King, Jr. Holiday.
Dr. King was resilient. In many ways he epitomized resiliency.
Resilience is defined as toughness, the capacity to recover quickly from difficulties.
Resilience helps us cope with challenges and regain control. It helps us manage life's setbacks, control our emotions, and prevent burnout. It keeps hope alive and it energizes us to keep moving forward when it's tempting to throw in the towel.
During this pandemic, resilience is an essential and valuable tool to help us maintain our equilibrium, to stay hopeful and positive, and to enable us to put one foot in front of the other in the right direction.
In his own way Dr. King was fighting a pandemic – one of injustice. He also faced overwhelming resistance in promoting freedom and equality. But he held steadfastly to that dream.
Beth Payne, an expert on resilience, had identified 5 factors of resilience that Dr. King exhibited and practiced. They are:
First, he took care of himself setting routines and carving out time every day for reflection and respite.

Second, he kept a positive outlook reframing negativity into an inspiring dream.

Third, King kept his focus on finding meaning and purpose even while jailed.

Fourth, he connected and communicated with others and drew support from those around him.

And finally, Dr. King was a problem solver who recognized issues he could influence while letting go of those he could not.
The daily grind of Covid-19 affects all of us. It can affect our physical health and darken our outlook on life.
So, let's remember not just what Dr. Martin Luther King Jr. accomplished, but also his resilience, his inner strength and his outward hopefulness as we continue to work for a more hopeful and healthy future.
There is a lot we all can do, large and small: take breaks, spend time outside away from work and screens, learn to relax. And get vaccinated.