Board Meeting Information
Current Board of Directors:
Trudy Ingalls- Board Chair, Chair of Governance Committee
Nicole Evans- Vice Chair, Chair of Diversity, Equity, and Inclusion Committee
Vince Schoemehl- Treasurer, Chair of Finance Committee
Christina Foster- Secretary
Lori Marusic- Chair of Academic Excellence Committee
Manuel Silva- Chair of Building & Grounds Committee
Judith Fisher
Shelita Gray
Dr. Arun Varadhachary
David Roodman
Edward O'Neal
Sarah Sandvoss
Dr. Meghan Hill- Superintendent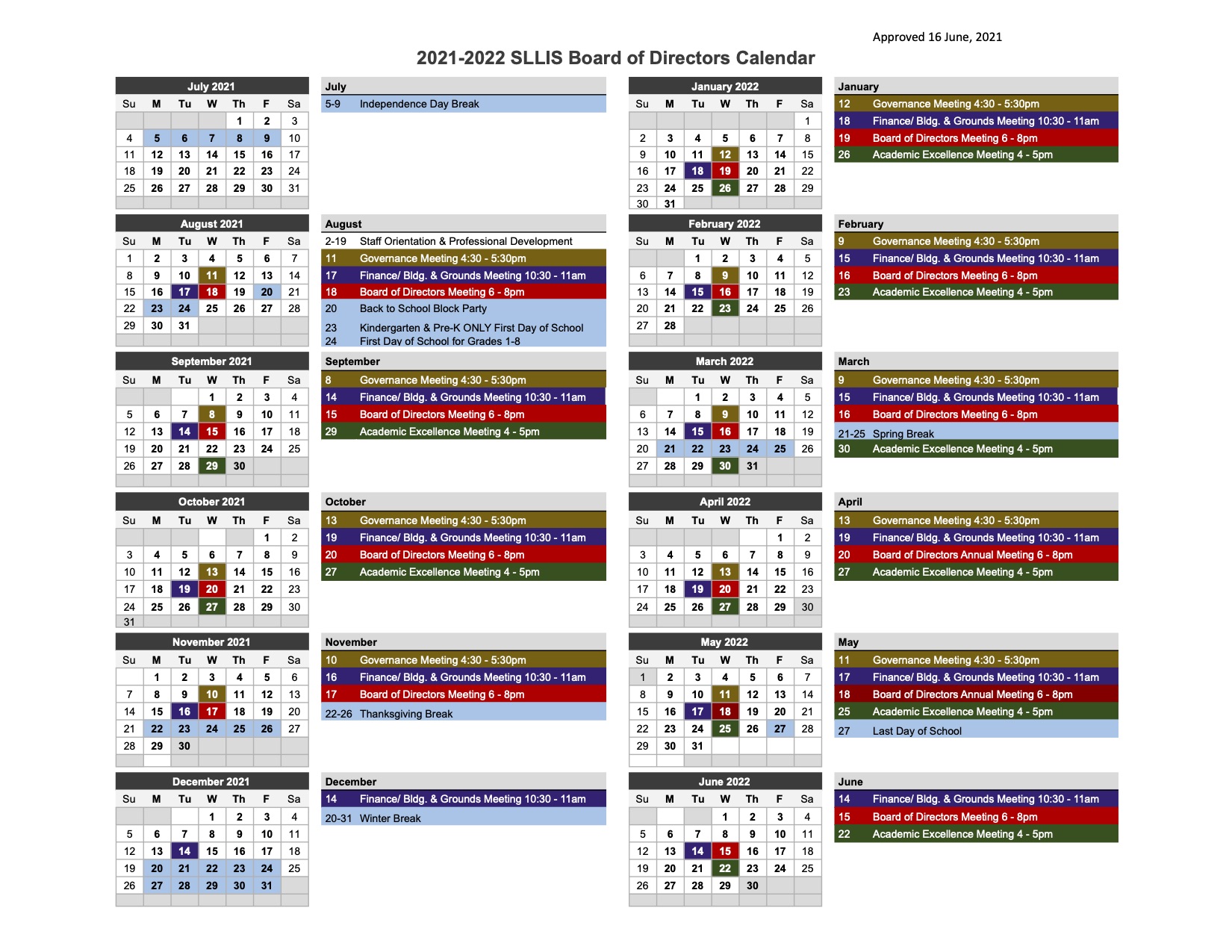 SLLIS APRIL 20, 2022
Message from the Board Chair, Judy Fisher
Why do I teach?
There are five educators on the SLLIS school board: five individuals who have worked in the profession and dedicated themselves to the mission of education. They are committed to learning. They have invested their own time, money and labor to acquire their education credentials – bachelor's degrees, masters and even doctorates. They hold different roles: among them we have teachers, curriculum specialists, principals, and some have even started their own school or educational enterprise. Many have volunteered their time to help others: children and families and schools. Among the five, many have presented at workshops and conferences throughout the region, the country and world.
Educators do a lot of different things. In addition to delivering instruction, they mentor, they counsel, they learn new curriculum and master the latest technology; they relate to children of many cultures, races and religions; they partner with parents; they monitor student health; they sanitize classrooms. They also receive their share of criticism and blame, when, for whatever reason, education disappoints or doesn't measure up to various expectations.
But if you ask any of these five educators what drives their dedication to a field offering modest pay, long hours, high expectations, they will first and foremost cite a passion, a commitment, a dedication to making a difference in children which transfers to making a difference in the world. Each will also acknowledge that teaching is just as much an art as it is a science. But it's also a lifelong mission – one that gets renewed with each new generation.
Building relationships with students is by far the most important thing a teacher can do. Without a solid foundation and relationships built on trust, respect, and affection, nothing much of significance – like learning – will happen.
Timothy Hilton (Education Week teacher)
Take a moment and remember a teacher who made a difference in your life, who made you feel special, unique and loved. You probably don't remember the individual lessons, or the flow of the curriculum. What you do remember is the relationship and connection you had with that teacher. And how he or she made you feel.
The creation or development of a masterful teacher is no accident. It is the intentional commitment of each individual to excellence and improvement as well as the time and open-mindedness it takes to grow and develop. It is an on-going, life-long journey. It involves continual learning in specific and general subject areas, in the emotional development of children. It requires an understanding of culture and other material circumstances on children. It is fueled by a knowledge of motivational techniques and the development of relationships including how to best communicate with families.
Teachers don't have all the answers, but they are tuned in to the right questions – and working daily to make progress and achieve the insight to find the answers. Here are a few of those essential questions, which for the purpose of this meeting was whittled from 20 to 6.
How do I become a better classroom manager?

How do I continually collect and use feedback from my students?

How do I learn the strengths and challenges of all my students?

How do I adapt when a lesson isn't working?

How do I listen and learn from my students, their parents, my administrators, my colleagues?

How do I find colleagues who can help guide my development?
Questions like these ignite a teacher's passion. And they focus our collective energies to make progress and open up new possibilities for all our students, who then pass the learning and teaching along to all that they encounter. Perhaps this is the wisdom expressed in the words of the poet who said: "Education is not the filling of a pail, but the lighting of a fire."