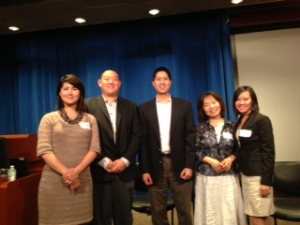 Lydia Featured at American Heritage Month Event
Lilith Werner
Tuesday, September 19, 2017
On Monday, May 20th, Anheuser Busch celebrated Asian American Heritage Month by recognizing outstanding Asian American St. Louis citizens.
Pac.Asia, the Asian Employee Resource Group at Anheuser-Busch, Inc., hosted a panel of speakers for conversation and Q&A.
Panel members:
Lydia Chen – Head of Chinese School, St. Louis Language Immersion School (SLLIS)
Nhi Doan – President, YAPA
Alexander Lee – President, AACC
Johnny Wang – V. President, AACC
Congratulations Lydia!